2014 Belgian Young Horse Championships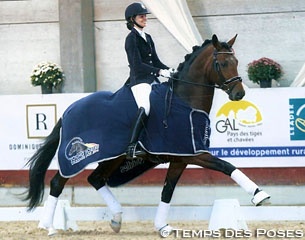 The Belgian Young Horse show circuit came to end last weekend with the 2014 Belgian Young Horse Championships held at the equestrian centre in Gesves, Belgium, on 10 - 12 October 2014. The 4-year old Quaterdance, the 5-year old El Capone and the 6-year old Double Dutch were the winners of the national young horse title.
The format for the Belgian Young Horse Championships demanded from the youngsters to contest no less than three tests on three days. All youngsters had to do two qualification rounds, ridden on Friday and Saturday, and the top 10 highest scoring horses were invited to the Finals on Sunday. The points of all three rounds were totalled to determine the overall winner.
In the 4-year old division Amandine Prevost produced a double whammy aboard the South German licensed stallion Quaterdance (by Quaterback x Expose), bred and owned by S.A. Montaigu. Prevost and Quaterdance won the 2014 French Young Horse Championships and now added the Belgian title to their list of achievements after winning the first two rounds (80.40 and 83.60) and placing second in the finals (77.20). The reserve title went to Julie Dossin's Dutch bred First Lady (by Sir Donnerhall I x Johnson). The pair moved from 4th place (75.00) to third (80.60) and back to a fourth in the finals (76,200) but points added up, it put her in second place. Larissa Pauluis and the Dutch bred Fame (by Bordeaux) landed the bronze with 75.60, 75.80 and 78.80.
In the 5-year old division Belgium's representatives at the World Young Horse Championships in Verden took centre stage. Tom Heylen and his Dutch stallion El Capone (by Tuschinski x Camus) were unbeatable, winning the first two rounds with 88.00, 84.00 and placing second in the final round with 82.40. Dominique Mohimont and the Dutch gelding El Corona Texel (by Wynton x Goodtimes) were the silver medallists with 81.60 (2nd), 80.80 (2nd) and 77.40 (3rd). Tom Heylen and his second ride, the Belgian warmblood gelding Jerrez H (by Stedinger x Wundermeyer) slotted in third overall with 74.40 (18th), 77.60 (3rd) and 85.20 (1st).
Nick van Laer and the bay Dutch warmblood bred Double Dutch (by Jazz x Wisconsin) reigned supreme in the 6-year old division, winning all three rounds with 87.80, 83.20 and 82.60 points. Fanny Verliefden and the Belgian warmblood Indoctro (by Rubin Royal x Gribaldi) were the reserve champions after placing fourth (80.00) and second twice (80.80 and 81.00). Isabelle De Cock and the KWPN bred Dinka (by Florencio x Flemmingh) were the bronze medallists with 80.80, 79.80 and 76.60 in the final round. 
Photo © Temps des Poses
Results - 2014 Belgian Young Horse Championships
4-year olds - Round 1
1. Prevost Amandine - Quaterdance - 80,400
2. Bosman Kara -  katharina -  76,200
3. Pauluis Larissa - First Step Fame - 75,600
4. Dossin Julie -  First lady - 75,000  
5. De Brabandere Emma - El Amore van de kempenhoeve  - 73,200   
6. Michiels Domien - Kokoschka Van De Burggrave - 72,600
7. Franckx Tom - Famous  - 72,200
8. Bosman Kara -  Berreaux -  71,400 
9. Schuurmans Cindy  - Fürst  -  70,400 
10. Vermeire Pieter -  Félisse  -   70,000
11. Bonnet Diederik-   Kadans V/D vogelzang - 69,400 
12. Sabbe Jozefien  -  Kalou v/h Westhof  -  69,000 
13. Van Orshaegen Mario  - San Amour II - 68,400
14. Pauluis Larissa  - See A Star Lh   -   68,200  
15. Clermont Anemone -  Future'S Pride - 67,200
16. Franckx Tom -  farieta -   67,000 
17. Schelstraete Celine -  Façonnable C&G -  66,800 
18. Opsomer Laura -  Kwarterline  - 64,600
19. Ploumen Flora -  Eros De Haute Melen  -  63,600
20. Hannotier Tatiana -  Emerton De L'aube -  63,000
21. Hannotier Tatiana  -  Karenina D\'es  -  58,600 
21. Vanderstichele Alain -  Sir Rubin VDS -  58,600
23. Verbrugghe Constance -  Scudéria du Jade EWalDress  - 50,00
4-year olds - Round 2
1. Prevost Amandine  - Quaterdance  -  83,600
2. De Brabandere Emma  - El Amore van de kempenhoeve   -  81,200
3. Dossin Julie  - First lady - 80,600
4. Michiels Domien - Kokoschka Van De Burggrave - 79,600
5. Schuurmans Cindy -  Fürst  - 79,200
6. Franckx Tom - Famous  -  78,800
7. Vermeire Pieter - Félisse - 77,800
8. Bosman Kara -  katharina  -  76,600 
9. Pauluis Larissa - First Step Fame - 75,800
10. Clermont Anemone -  Future'S Pride - 73,600 
11. Bonnet Diederik -  Kadans V/D vogelzang -   71,800
12. Ploumen Flora -  Eros De Haute Melen  -   71,400
13. Vanderstichele Alain -  Sir Rubin VDS  - 70,800
14. Franckx Tom - farieta - 70,400
15. Hannotier Tatiana -  Karenina D\'es - 70,200
16. Schelstraete Celine - Façonnable C&G  - 69,600  
17.  Opsomer Laura -  Kwarterline -  68,600
18. Bosman Kara-  Berreaux - 68,400
19. Sabbe Jozefien -  Kalou v/h Westhof -  67,400
4-year olds - Round 3
1. Pauluis Larissa - First Step Fame - 78,800
2. Prevost Amandine - Quaterdance -   77,200
3. Franckx Tom -  Famous  -  76,400
4. Dossin Julie - First lady - 76,200
5. Bosman Kara - katharina  - 74,200
6. Schuurmans Cindy -  Fürst - 73,800
7. De Brabandere Emma -  El Amore van de kempenhoeve - 73,200 
8. Michiels Domien - Kokoschka Van De Burggrave - 73,000
8. Vermeire Pieter  -  Félisse - 73,000
10. Bonnet Diederik - Kadans V/D vogelzang  - 71,200
4-year olds - top three
1. Prevost Amandine - Quaterdance
2. Dossin Julie - First lady
3. Pauluis Larissa - First Step Fame
5-year olds - Round 1
1. Heylen Tom - El Capone   -  88,000
2. Mohimont Dominique  -  El Corona Texel   -  81,600
3. Hegemann Hannelore  -  Dolce 'N'  -  80,200
4. Van Laer Nick  -  Entertainer Win T -  80,000
5. Franckx Tom -   evento d -  79,000 
6. Masselus Barbara  - Jersey Girl  - 78,600 
7. D'Hoore Brecht -   Edison H  - 78,000
8. Vermeire Pieter -  Ewald - 77,800
9. Walravens Stephanie  -  Esteban M -   77,600 
9. Verreet Katrien  -  Quorum Y   -  77,600 
9. Appelmans Eefje  -  Eldorado Pb  - 77,600
12. Jongedijk Marije -   Efgaristo  -  77,400
13. Graindorge Jean -   Exel  - 76,400 
14. Schelstraete Celine  -  Martini from Serenity Stables  - 76,000
14. Schuurmans Cindy -   Sambuca Tategoi   - 76,000 
16. Hassani Naoufal -   Ariane's Quazotti  -  75,600 
17. Meisch Linda -   Jane Toja -  74,600
18. Ghekiere Jessica  -  Elivia - 74,400
18. Heylen Tom  -  Jerrez H  - 74,400  
20. Vermeire Pieter  -  Juschinski Van De Vogelzang  - 73,800  
21. Dupont Melanie -   Enjoy jazz D - 72,600
22. Cappon Mieke  -  Jinta  -  71,200
23. Van De Keere Frederik - Esperance - 70,800
24. Pauluis Larissa -  Extasy -   70,200
25. Ulrici Caroline -  San Niro - 69,400 
26. D'Hoore Brecht -  Sicilia van de Helle  -   68,800  
27. De Keyser Heidi -  Jebe van het Keysersbos -  66,000 
28. Appelmans Eefje - El Divo   -  62,800   
5-year olds - Round 2
1. Heylen Tom  -  El Capone  - 84,000 
2. Mohimont Dominique -   El Corona Texel  - 80,800
3. Franckx Tom -   evento d  -  77,600 
3. Heylen Tom  -  Jerrez H -  77,600  
5. Hegemann Hannelore  -  Dolce 'N'  -  77,000  
6. Vermeire Pieter  -  Ewald - 76,600  
7. Masselus Barbara  -  Jersey Girl  - 76,200 
8. Verreet Katrien -   Quorum Y - 75,800  
9. Schuurmans Cindy  -  Sambuca Tategoi -  75,200 
10. Van De Keere Frederik  -  Broere Esperance - 75,000 
10. Van Laer Nick  -  Entertainer Win T  -   75,000
12. Walravens Stephanie  -  Esteban M - 74,400
13. Hassani Naoufal   - Ariane's Quazotti - 74,000
14. Ghekiere Jessica  -  Elivia -  72,200
15. Cappon Mieke   - Jinta  -   72,000
16. D'Hoore Brecht   - Edison H  - 71,800
17. Appelmans Eefje  -  Eldorado Pb  - 70,800
18. D'Hoore Brecht   - Sicilia van de Helle -  70,600  
19. Graindorge Jean  -  Exel  - 70,400
20. De Keyser Heidi  -  Jebe van het Keysersbos - 69,200
21. Jongedijk Marije -   Elvis Presley MVDL (Eldorado) - 68,800 
22. Dupont Melanie  -  Enjoy jazz D  - 67,800 
23. Schelstraete Celine  -  Martini from Serenity Stables  -  67,600
24. Vermeire Pieter  -  Juschinski Van De Vogelzang -  65,600 
25. Jongedijk Marije   - Efgaristo -  65,200
26. Ulrici Caroline  -  San Niro -61,600  
27. Appelmans Eefje  -  El Divo  - 60,000   
5-year olds - Round 3
1. Heylen Tom -  Jerrez H  - 85,200
2. Heylen Tom  -  El Capone  -  82,400 
3. Mohimont Dominique -   El Corona Texel - 77,400
4. Walravens Stephanie -  Esteban M  -  76,400 
5. Masselus Barbara  -  Jersey Girl  - 76,000
6. Hegemann Hannelore  -  Dolce 'N'  -  75,600 
7. Verreet Katrien -   Quorum Y   - 75,200 
8. Franckx Tom  -  evento d  - 74,400 
9 . Vermeire Pieter  -  Ewald  - 73,600 
10. Van Laer Nick  -  Entertainer Win T  - 70,200   
5-year olds - top three
1. Heylen Tom - El Capone
2. Mohimont Dominique - El Corona Texel
3. Heylen Tom -  Jerrez H
6-year olds - Round 1
1. Van Laer Nick  - Double Dutch  - 87,800  
2. De Cock Isabelle - Dinka - 80,800  
3. Vanderbeeken Laurens  - All Inclusive -  80,600
4. Verliefden Fanny -   Indoctro - 80,000
5. Van Dun Julie -  Fiderprincess - 77,600 
6. Borghys Maarten  - Isaura Ter Dolen -   76,600 
7. Van Oekel Daphne -   Faraon Alegria - 76,000 
8. D Hoore Wouter -   Drakkar Van De Moerhoek - 74,600
8. Smits - Vanderhasselt Vicky -   Safier Van De Wulfsdam -  74,600
10. Franckx Tom   - Dolores van de Kwikaard  - 73,600
11. D'Hoore Brecht -   Darcy - 73,400
12. Borrey De Coninck Eline -   Davinci  - 72,600 
13. De Brabandere Emma  -  Detroit -  71,600
14. Vileyn Bjorn  -  Ile D\'Amour v/d Kiekenhoef -  71,000 
15. Ceulemans Ellen  -  Dayana   -  68,600
16. Blomme Astrid  -  Gucci  -  68,400
17. Hassani Naoufal  -  Ariane's Wadest  -   66,400 
18. Dessauvages Julie  -  Don Juan -  65,20
6-year olds - Round 2
1. Van Laer Nick -  Double Dutch   -  83,200  
2. Verliefden Fanny  -  Indoctro  -  80,800 
3. De Cock Isabelle -   Dinka  - 79,800
4. Van Dun Julie  -  Fiderprincess   -  76,000
5. Vanderbeeken Laurens -   All Inclusive   -  75,200
6. Franckx Tom  -  Dolores van de Kwikaard  -   72,800 
7. Borghys Maarten  -  Isaura Ter Dolen  -  71,600
8. D Hoore Wouter   - Drakkar Van De Moerhoek -  71,400
9. De Brabandere Emma -   Detroit  - 70,800 
10. D'Hoore Brecht -   Darcy  -   69,000
11. Vileyn Bjorn  -  Feel Good - 67,800  
11. Borrey De Coninck Eline  -  Davinci  - 67,800
13. Smits - Vanderhasselt Vicky   - Safier Van De Wulfsdam -  67,200
13. Hassani Naoufal -   Ariane's Wadest  - 67,200 
15. Van Oekel Daphne  -  Faraon Alegria -   67,000 
16. Ceulemans Ellen  -  Dayana  - 65,600  
17. Blomme Astrid   - Gucci  - 64,600   
6-year olds - Round 3
1. Van Laer Nick -   Double Dutch   - 82,600 
2. Verliefden Fanny  -  Indoctro  -81,000
3. Vanderbeeken Laurens  -  All Inclusive - 80,200
4. De Brabandere Emma  -  Detroit  - 78,800 
5. D'Hoore Brecht   - Darcy  -  77,400
5. Franckx Tom  -  Dolores van de Kwikaard  -  77,400 
7. Van Dun Julie  -  Fiderprincess - 76,800
8. De Cock Isabelle  -  Dinka  - 76,600  
9. Van Oekel Daphne -   Faraon Alegria  -   72,000 
10.  D Hoore Wouter   - Drakkar Van De Moerhoek  -  71,600  
11. Borghys Maarten  -  Isaura Ter Dolen - 68,600   
6-year olds - top three
1. Van Laer Nick - Double Dutch
2. Verliefden Fanny - Indoctro
3. De Cock Isabelle - Dinka
Related Links
El Capone, Dolcherie and Sir Donovan Win 2013 Belgian Young Horse Championships
Roberto Cavalli, Zunora, First Junior Win 2009 Belgian Young Horse Championships
Weltmann, Saros and Rosantica, 2000 Belgian Young Horse Champions
Sentio, Rockefeller and Quavarotti win 1999 Young Dressage Horse Circuit