Belgian Dressage News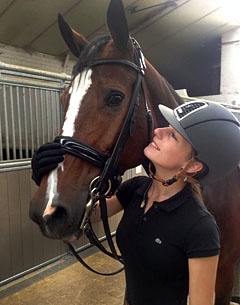 2014 Belgian Pony champion Antonia Arl will be making the move to junior riders' level next show season aboard her new ride Equestricons Ziggy, a 2012 European Championship team gold medal winning horse. Celebrating her 14th birthday yesterday, the tall Antonia has outgrown her ponies quicker than expected and will therefore be making an early transition to junior level.
To move smoothly into this new division and level, Arl has acquired Equestricons Ziggy, a 10-year old Dutch warmblood mare by Riverman x Flemmingh, which was previously shown by Antoinette te Riele.
Te Riele competed Ziggy in 2012, making it straight onto the Dutch A-team that representing The Netherlands at the 2012 European Junior Riders Championships in Berne, Switzerland. Under the careful supervision of Arl's long-time coach Carmen de Bondt, Antonia will be focusing solely on Ziggy for next show season to stay on top of her school duties as well.
"Ziggy is so much fun to ride. She's very new to me so I'll be taking my time to get to know her better this winter," Antonia told Eurodressage. It's a pity my time with ponies is over, but I'm very excited about the future. I feel that Ziggy and I can be a real match."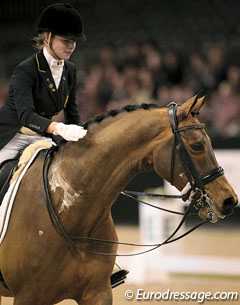 Antonia's 16-year old sister Lavinia will be taking a break from horses after fortune has not been playing in her advantage this year. Lavinia lost both her top horses. Her Grand Prix horse Don't Forget (by De Niro x Andiamo) had to be euthanized due to an unrecoverable injury in May and the same happened to her junior rider's mount Equestricons Next One (by Florestan x Parademarsch) in September.  The beautiful bay Next One suffered from an injury in December 2013 but came back to full fitness. At the end of August, Lavinia won silver with him at the 2014 Belgian Junior Riders Championships in Meerdonk, but the injury returned and was diagnosed incurable. Lavinia will now be on a gap year from horses focusing on her studies in Economics and Modern Languages at secondary school.
"It's been a really tough year for me," Lavinia admitted. "I lost my two horses, which I loved so dearly, and I feel really knocked down. I want to take my time and will step back from riding competitively for a while. I want to retrieve my passion for the sport slowly and meanwhile I'll focus on doing well in school."
Lavinia's father Jochen has two fantastic young horses in the wings for any of his daughters in the future. For the time being they will be trained and competed by two Dutch youth riders. Equestricons Bolita (by Uptown) has been acquired by Arl but the ride will be retained by Rosalie Bos, who won team silver and kur bronze with her at the 2014 European Junior Riders Championships. The sensitive Equestricons Walkure (by Romanov) will be trained by Dana van Lierop.
Photos © Astrid Appels - Anne Sophie Delattre - private
Related Links
Antonia Arl Succeeds Sister and Wins 2014 Belgian Pony Championships
Verberne, Verwimp and Vanommeslaghe Win 2014 Belgian Dressage Championships
Arl, Defalque, Verwimp, Missiaen Win 2013 Belgian Dressage Championships
Lavinia Arl Loses Under 25 Horse Don't Forget