2014 Italian Dressage Championships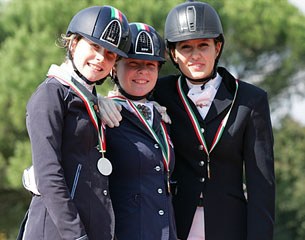 The 2014 Italian Dressage Championships gathered a huge field of Italian comptitors to contest a plethora of medals at the Arezzo Equestrian Centre in Arezzo, Italy, on 2 - 5 October 2014. With medals and overall titles for the technical tests as well as a separate set of medals for the freestyle, numerous riders were crowned Italian Champion. In the major divisions Lucia Berni, Valentina Remold, Annachiara Menin, Alice Redaelli and Valentina Truppa were the gold-getters.
In the Youth riders divisions the technical championship included two tests, the team champion and individual test, to determine the overall ranking. The Kur to Music counted for the freestyle championship. For Grand Prix riders the technical championship included the Grand Prix and Special and the Freestyle medal was of course determined by the Kur to Music.
Lucia Berni, who has been riding pony level as well as junior riders this year, was highly successful in Arezzo, winning Technical and Freestyle Gold in the Pony division on her 12-year old Dutch Riding Pony Blakt's Thomas (by Rietheim's Walter). She scored 70.538 in the team test, 70.902 in the individual test and 74.650% in the kur to music to remain untouched by the competition. Technical and freestyle silver went to Nina Teresa Zennaro on Duesmann (by Der Feine Lord), while technical and freestyle bronze were won by Viola Lucrezia Sansone on Real Nice Boy.
Berni also saddled her junior rider's horse, the 11-year old Westfalian gelding Ebony (by Ehrentusch), to claim technical junior gold after scoring 69.324% and 69.895%, and freestyle silver with a 72.775% earning test. Her greatest competition came from pony rider Valentina Remold who made the definite transition to Junior level after the 2014 European Pony Championships in August. Remold brought two horses to Arezzo, Broadway and Don Farino, but only the results with Don Farino were considered for the National Championship, as Remold entered Broadway for the open division, yet still won the team test for instance. With the 14-year old Oldenburg bred Don Farino (by Don Larino x Friesenstern) she won technical silver (68.838, 68.421%) and freestyle gold (72.825%). The technical and freestyle bronze went to Italian Junior Team rider Alice Campanella on the liver chestnut Dutch bred Varisto (by Jazz). She scored 68.243% in the team test, 63.289% in the individual and 71.225% in the Kur.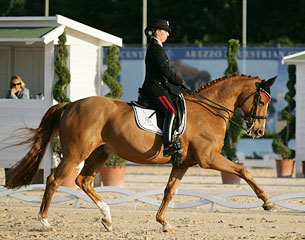 In the Young Riders division the same three riders ruled the podium places only the gold and bronze technical winners swapped spots in the freestyle. Annachiara Menin and the 13-year old Oldenburg bred Donatello van de Helle (by Donnerhall x Akzent II) were technical gold winners with 68.211% and 67.368% but finished on freestyle bronze with 68.275%. Austrian-Italian Xenia Herta Schumann and the 16-year old Bavarian gelding Remidemi (by Rabano x Pik Labionecs) were very consistent throughout the show and got technical silver with 66.50% and 65.50% and freestyle silver with 68.475%. Alice Redaelli and the 13-year old Belgian warmblood gelding Bonaire van de Mottelhoeve (by Landadel x Camus) earned technical bronze posting scores of 65.447% and 66.132% and freestyle gold with 68.575%.
At Grand Prix level there were no surprises whatsoever as Italy's number one Valentina Truppa took highest honours on her second Grand Prix horse Chablis, the 17-year old Danish warmblood by Castro x Leonardo II. She won technical gold with 71.280% and 69.706% and kur gold with 75.250%. Truppa's students also claimed silver and bronze in both divisions. Rustignoli and the 15-year old Italian warmblood Corallo Nero (by Sherwood x Landadel) earned silver with scores of 68.220%, 68.961% and 71.175%. Federica Scolari and her 16-year old Italian bred Beldonwelt (by De Niro x Weltmeyer) slotted in third with 67.720%, 68.392% and 69.875% in the Kur.
Photos © Marta Fusetti
Results - 2014 Italian Dressage Championships
Technical Championships
Pony Riders
1. Lucia Berni - Blakt's Thomas - 70.538 - 70.902 --- 141.440
2. Nina Teresa Zennaro - Duesmann - 67.179 - 68.317 --- 135.496
3. Viola Lucrezia Sansone - Real Nice Boy - 63.051 - 64.293 --- 127.344
4. Caterina Neri - Runio - 62.564 - 62.098 --- 124.662
5. Giorgia Ragaini - Harvard - 60.051 - 58.317 --- 118.368
Junior Riders
1. Lucia Berni - Ebony - 69.324 - 69.895 --- 139.219
2. Valentina Remold - Don Farino - 68.838 - 68.421 --- 137.259
3. Alice Campanella - Varisto - 68.243 - 63.289 --- 131.532
4. Beatrice Minghetti - Beaufort - 64.459 - 65.447 --- 129.906
5. Rebecca Teresa Brugnoli - Altamarea Welcome P - 62.405 - 64.211 --- 126.616
6. Carolina Accolla - Coco Fee - 61.216 - 63.158 --- 124.374
7. Filippo Di Marco - Legolas - 71.838 - 58.553 --- 120.391
8. Ludovica D'Acierno - Flori - 61.811 - 58.079 --- 119.890
9. Sara Maccalli - Rubes - 57.378 - 56.211 --- 113.589
10. Rachele Lucetti - Zeus de la Quinte - 59.595 - ELI --- 59.595
Young Riders
1. Annachiara Menin - Donatello van de Helle - 68.211 - 67.368 --- 135.579
2. Xenia Herta Schumann - Remidemi - 66.500 - 65.500 --- 132.000
3. Alice Redaelli - Bonaire van de Mottelhoeve - 65.447 - 66.132 --- 131.579
4. Simone Citelli - Gomera - 66.632 - 64.632 --- 131.264
5. Francesca Ecchia - Dumbledore - 65.737 - 65.763 --- 129.895
6. Carlotta Frandolig - Hilltop Don Rodrigo - 64.053 - 65.737 --- 129.790
7. Francesca Rapazzoli - Classiker - 63.500 - 65.763 --- 129.263
8. Valentina Croce - Nirvana XV - 63.289 - 65.763 --- 129.052
9. Monica Bernardis - Hidalgo - 65.737 - 63.132 --- 128.869
10. Flaminia Veneziani - Riverdance - 64.895 - 63.842 --- 128.737
11. Kimberly Fergola - Utah de la Fazenda - 64.868 - 59.842--- 124.710
12. Chiara Fornasiero - London Dreams - 62.211 - 60.947 --- 123.158
13. Roberto Callegari - Red Top - 61.421 - 60.526 --- 121.947
Grand Prix Riders
1. Valentina Truppa - Chablis - 71.280 - 69.706 --- 140.986
2. Micol Rustignoli - Corallo Nero - 68.220 - 68.961 --- 137.181
3. Federica Scolari - Beldonwelt - 67.720 - 68.392 --- 136.112
4. Ester Soldi - Harmonia - 66.300 - 67.235 --- 133.535
5. Giuseppe Utili - Ultimate Dream - 63.540 - 65.020 --- 128.560
6. Maria Milla - Serenate - 63.600 - 63.745 --- 127.345
7. Nadja Meuter - Bon Jovi - 62.940 - 61.176 --- 124.116
8. Pierluigi Sangiorgi - Florence - 61.680 - 60.725 --- 122.405
9. Lucia Martinello - Lady Sinclair M - 60.180 - 57.471--- 117.651
10. Norma Paoli - Tatler - 65.620 - DNS --- 65.620
Freestyle Championships
Pony Riders
Judges: Ferguson, Verbeek, Hamoud, Wessels, Poncino
1. Lucia Berni - Blakt's Thomas - 74.650
2. Nina Teresa Zennaro - Duesmann - 70.425
3. Viola Lucrezia Sansone - Real Nice Boy - 66.350
4. Giorgia Ragaini - Harvard - 52.550
Junior Riders
Judges: Poncino, Rovida, Hamoud, Wessels, Petaccia
1. Valentina Remold - Don Farino - 72.825
2. Lucia Berni - Ebony - 72.775
3. Alice Campanella - Varisto - 71.225
4. Matilde Pirazzini - Diallo - 68.525
5. Carolina Accolla - Coco Fee - 63.525
6. Beatrice Minghetti - Beaufort - 62.250
7. Ludovica D'Acierno - Flori - 61.400
8. Rebecca Teresa Brugnoli - Altamarea Welcome P - 60.100
9. Sara Maccalli - Rubes - 59.975
Young Riders
Judges: Hamoud, Poncino, Rovida, Petaccia, Ferguson
1. Alice Redaelli - Bonaire van de Mottelhoeve - 68.575
2. Xenia Herta Schumann - Remidemi - 68.475
3. Annachiara Menin - Donatello van de Helle - 68.275
4. Monica Bernardis - Hidalgo - 65.975
5. Francesca Ecchia - Dumbledore - 65.600
6. Simone Citelli - Gomera - 63.875
7. Francesca Rapazzoli - Classiker - 63.600
8. Flaminia Veneziani - Riverdance - 63.425
9. Valentina Croce - Nirvana XV - 62.825
10. Carlotta Frandolig - Hilltop Don Rodrigo - 62.650
11. Roberto Callegari - Red Top - 62.575
12. Kimberly Fergola - Utah de la Fazenda - 61.275 
Chiara Fornasiero - London Dreams - ELI
Grand Prix Riders
Judges: Hamoud, Rovida, Wessels, Petaccia, Poncino
1. Valentina Truppa - Chablis - 75.250
2. Micol Rustignoli - Corallo Nero - 71.175
3. Federica Scolari - Beldonwelt - 69.875
4. Ester Soldi - Harmonia - 69.150
5. Pierluigi Sangiorgi - Florence - 65.625
6. Giuseppe Utili - Ultimate Dream - 64.525
7. Eva risa Maria Teresa Rosenthal - Xeres do Zambujal - 64.175
8. Nadja Meuter - Bon Jovi - 63.150
9. Lucia Martinello - Lady Sinclair - 60.550
Related Links
Berni, Mauro, Citelli, Truppa Win 2013 Italian Dressage Championships
Valentina Truppa Sweeps the 2011 Italian Dressage Championships
Pierluigi Sangiorgi Wins 2008 Italian Dressage Championships