2014 Horse of the Year Show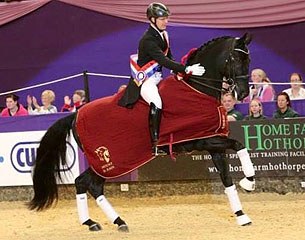 Danish international rider Anders Dahl hailed "a brilliant opportunity" for dressage after he won the Mount St John Future Elite Championship at 2014 Horse of the Year Show in Great Britain on Friday 10 October 2014. Horsham-based Anders guided the prodigiously talented Selten HW to victory, defeating Great Britain's Michael Eilberg and the World five- and six-year-old Champion Woodlander Farouche, with another British combination - Spencer Wilton and Alfons - finishing third.
The battle between Selten W and Woodlander Farouche was eagerly awaited, given their status as two of the hottest young prospects in world dressage, and it was Anders who triumphed on a score of 79.20 per cent, while Michael posted 76.45 per cent.
The invitational competition is judged using the Intermediate I Freestyle test to music, and a total of eight horses competed, including two wildcard invitations issued by Horse of the Year Show, in conjunction with the British Dressage senior selection committee. Dahl had announced that Hickstead in August would be Selten's last PSG level competition but he decided to add the Horse of the Year Show to his PSG list nonetheless.
"I think it is an absolutely brilliant opportunity they are giving us, and I am so happy we are here," Anders said, in tribute to HOYS organisers. "For the Small Tour horses it is a perfect opportunity to perform in front of a big crowd. I had a very good feeling tonight. He was tense in the beginning, but he kept working for me. There were a few mistakes, but in general I was very happy. He is a very powerful horse, and I love riding him. My riding style fits very well with his temperament."
Although World Equestrian Games team silver medallist and European Championship team bronze medal winner Michael had to settle for the runner-up spot, he was still delighted by the horse's first Intermediate test.
"It was very good. The atmosphere was great and the horse was really good with her first time at that level," he said. "She is a very exciting horse for the future, and if I can get her up to Grand Prix level, then there is no reason why she is not going to be scoring high scores. We will just continue with her training now. I hope we can do Small Tour next year and some big shows, which will be really good experience for her to develop. It is all about teaching her the range of movements in the Grand Prix, because that is really what I have my eyes set on. Everybody wants to watch her, and I find myself at home sometimes getting the other guys at the yard to ride her just because I want to watch her. She has got that star appeal that draws attention."

Results - 2014 Horse of the Year Show
Judges: Lehrmann, Clarke, Halsall
1. Anders Dahl - Selten HW - 79.2
2.  Michael Eilberg  - Woodlander Farouche - 76.45
3. Spencer Wilton - Alfons - 75.99
4. Matt Frost - Don Rosso - 73.7
5. Emilie Faurie - Bohemo Tinto - 72.49
6. Sarah Gallop - Zelham - 69.71
7. Charlie Hutton - Super Blue - 68.91
8. Daniel Watson - Amadeus - 68.70
Related Links
Mount St. John, the State of the Art Dressage Breeding Centre in Great Britain
Anders Dahl and Selten HW, Rare Partnership Harvesting Fruit of Success and More to Come
Qualified Pairs for Mount St John Dressage Future Elite Championship at 2014 Horse of the Year Show