2014 CDI-W Tallinn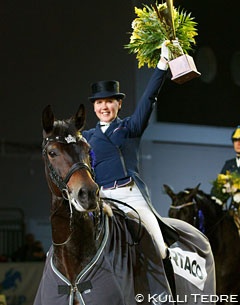 For the first time the biggest indoor equestrian competition in the eastern Baltic region - the Tallinn International Horse Show - featured a World Cup qualifier in dressage on 3 - 4 October 2014. Russian routinier Inessa Merkulova and her 10-year old Trakehner Mister X (by Egeus x Derbi) swept the Grand Prix with 73.020 and the World Cup qualifier freestyle with  76.875%. 
The CDI-W Tallinn masterlist of 10 showed a small but high-quality list of riders, including 5 combinations that competed at the 2014 World Equestrian Games in Normandy last August. Those were Ukranian Inna Logutenkova and Don Gregorius, Russians Inessa Merkulova on Mister X and Tatiana Dorofeeva and Upperville and the only local Estonian rider and hometown favourite, Dina Ellermann on Landy's Akvarel. Russian WEG rider Marina Aframeeva and Vosk also arrived in Tallinn, but unfortunately the horse did not feel well after the long trip and was withdrawn from the competition.
The competition program featured two dressage classes; the Grand Prix on Friday and Grand Prix Freestyle on Saturday. The top three ranking combinations were the same on both days, the winner being Inessa Merkulova with Mister X, who showed high quality especially in passage, piaffe and pirouettes. Merkulova lifted the GP Freestyle score to a whopping 76.875%, their personal best at an international competition.
The 50-year old Merkulova runs a stable with 140 horses in Moscow and is the national coach for Russian riders. Inessa bought Mister X as a three year old together with Vox, which her sister Marina Aframeeva rides on the Russian Grand Prix team. Inessa's 12-year old daughter Victoria is a junior and will take over her mother's older grand prix horse next year. Inessa's husband Anatoly Merkulov is the mastermind behind all this, although he had nothing to do with horses at first. "I did not plan the stable so big, but he wanted me to become a world champion," she commented. When asked if he is a dream husband, Inessa replied "Every day I thank God for him."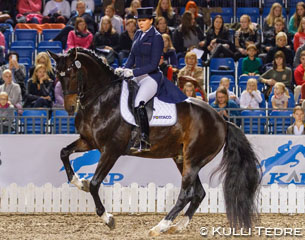 At the World Equerstrian Games Merkulova promised her horse he would get a one-month break, but her victory in Tallinn proved that Merkulova cut that full month break short. At her yard in Russia there are 5000 roses which she tends herself. "I do all my flowers myself and love it that people think my stable is in fact a park. I promised Mister X if he does well he gets a month's vacation with massage and spa treatment," she stated in August.
Ukrainian Inna Logutenkova and Don Gregorius, a pair representing Ukraine but living in Belgium, finished second in the 2014 CDI-W Tallinn freestyle, followed by Swedish Malin Hamilton and Fleetwood.
Polish 5* judge Wojtek Markowski stated that the level of competition in Tallin was good. "Before this year the show organisation has held several CDI* and CDI **, which gave them experience," Markowski explained. "It allowed Eva Maria Warmington, the dressage manager of the Estonian Federation, to run the event in a very effective way. We were very surprised to see riders from Denmark and Norway not attend. The Polish riders were also missing as they went to the CDI Fot."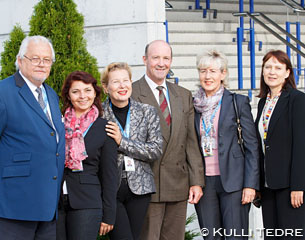 Markowski vouched for the excellent organisation of the event and added that "the conditions there for the show are very good; the arena, the footing, and the stables. The spectators there are very enthusiastic and fair. I hope this show will help the development of dressage in the three Baltic countries (Lithuania, Latvia, Estonia) as well as for St Petersburg region in Russia."

During the CDI-W Tallin a meeting of the Dressage Working Group Members of the European Equestrian Federation took place. Group members attending were Markowski and Vint-Warmington alongside representatives of Dressage of the Finnish Equestrian Federation (incl. Paula Nysten). The main topic of discussion was the co-operation for the development of dressage between national federations in the Baltic region.
Photos © Külli Tedre
Related Links
Scores: 2014 CDI-W Tallinn
Home Town Girl Dina Ellermann Sweeps 2013 CDI Tallinn