2014 CDI Saumur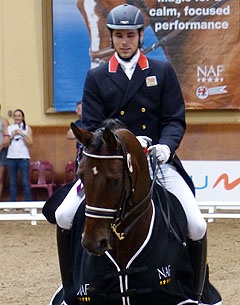 A sunny 2014 CDI Saumur on 26 - 28 September 2014 saw British Charlie Hutton and Douglas IV take out the small tour and Danish Rikke Svane and Finckenstein win the big tour classes. Both riders put whopping seventy percentage scores on the board and collected a nice set of trophies at the French show hosted at the renowned Cadre Noir.
Hutton won the Prix St Georges with 73.684%, the Intermediaire I with 75.21%, and the Intermediaire I kur with 75.675%, while Svane posted a 70.66% in the Grand prix and a 71.725% in the Grand Prix Special.
"Douglas felt fantastic," the 25-year old Charlie told Eurodressage. "We had the National Championships the week before, where we were second, and this gave us a confidence boost to try and do one better in Saumur. I have had the ride on Douglas for a year, and we have really clicked."
Owned by Charlotte Dunkerton, Douglas a 12-year old Danish warmblood gelding (by Diamond Hit x Welt Hit II x Bellucci), was originally owned by Aram Gregory. The dark bay is very sensitive and nervous horse and is now with his third rider since 2012. Before Hutton he was been campaigned by Samantha Thurman-Baker and Carl Hester. Hutton  says that when Douglas IV has confidence in you, he gives you everything. "The short term plan is to do Grand Prix but we will see for next year," he added.
In terms of other horses in work, Charlie has a very talented chestnut by Don Vino, Ironically called Don Dino, who is a 10-year old Charlie will be showing at Grand Prix next year. "We have taken it very slow with him but it should pay off in the long run, and I also have lots of nice young horses coming up through the levels. "
Heading to Germany in a couple of weeks to pick up two new 3-year olds that Charlie bought from breeder Jella Tupay, Hutton will continue his training with Carl Hester, but keep his horses at his home base. "I train at the Talland School of Equitation where we offer training for everybody in the Cotswolds, he said.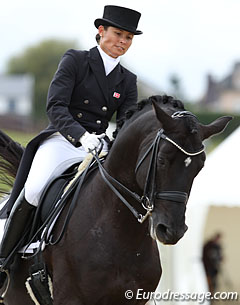 Danish Rikke Svane was thrilled with her 12-year old Trakehner Finckenstein (by Latimer x Kennedy) in Saumur and praised the show for its excellent conditions and organisation.
"There was sunshine every day in Saumur," said big tour winner Rikke Svane. "We had great boxes and it was very nice and quiet there, so the horses had a lot of rest and you could easily walk your horse without any trouble."
Rikke was very impressed by the helpful attitude of the staff at the CDI, and says stable manager Frederick did a great job keeping everybody happy. "He was there throughout the show and was very helpful. As we arrived to Saumur he came to us at once bringing a helper with him, who helped us carrying our locker and things to the box. They also offered a shuttle service taking you to the Show office or Grand Manege as the Saumur Show grounds are enormous."
Rikke also wanted to mention the guided tours the OC offered. On Saturday she did not take part in the competition, so Rikke went to the caves of Bouvet Ladubay. "We got picked up at the show grounds by a very enthusiastic lady named Jacqueline who went on the guided tour with us," she explained. "For her it was the fourth time on the tour! It was great to see and learn a bit about the area of Saumur. Of course, it ended in a wine tasting session and it was all sparkling wine. I tasted sparkling red wine for the first time and it was very delicious. Madame Jacqueline drove us back, of course, and she was there the day after on sunday to wish us good luck. Bouvet Ladubay was also one of the sponsors and I was so lucky to win a bottle of their delicious wines."
Finckenstein, a licensed Trakehner breeding stallion, has been with Rikke since he was  five years old and he is 12 now. "I bought him in Germany and I guess I was in the right place and the right time," she said. "I had looked for a horse for about two years and I knew as soon as I saw him in the box that this was the special one."
Trained by Danish coach Fie Skarsø, the duo is based in Luxembourg, and according to Rikke, Fie is the reason for the pair to have reached this level. "Finckenstein and I have trained with her for four and a half years now. Fie is very consistent, enthusiastic and very dedicated to her students. We are a great team!"
by Sarah Warne for Eurodressage - Photo © Judy Peploe / Astrid Appels
Related Links
Scores: 2014 CDI Saumur
Hannah Biggs and Weltzin Bag Grand Prix Kur at 2014 CDI Saumur