2014 CDI Saumur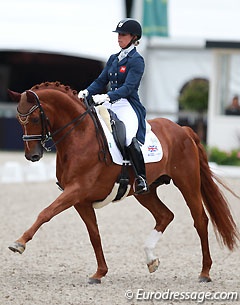 British Grand Prix rider Hanna Bisson-Biggs impressed with a victory and high placings at Saumur CDI3* held at the Cadre Noir in Saumur, France on 25-28 September 2014. Hannah Biggs and Weltzin sealed their first international victory in the Kur, following a solid sixth place with 67.36% in Friday's Grand prix. The pair rocked the grand hall with a new programme to head a hot line-up in Saturday night's grand prix kür.
Hannah and 'superstar stallion' Weltzin, a 15-year-old son of Weltbogen, scored an impressive 73.57% to fend off second-placed Christoph Koschel for Germany and the Gribaldi-sired 15-year-old gelding, Tiesto. The German duo's performance earned 73.25%.
"I'm so happy," said a delighted Hannah. "Saumur was a great show, everyone was so friendly and welcoming and Weltzin felt really on form all week."
"We went into the arena for our kür with new music created by Tom Hunt, from the Superman movie 'Man of Steel'. It's so fun to ride and really showcases Weltzin's strengths. Highlights were our huge extended trots and flowing, expressive half passes and the high collection work of the piaffe, passage and pirouettes."
"We were bang on time with the music, everything flowed effortlessly and we really were dancing together. Even if we hadn't won, I would still have been over the moon, I was so proud of him. Winning our first international was just the icing on the cake. Weltzin is a very proud and sensitive horse, who knows when he's done well. He was very pleased with himself, and that means the world to me!" added Hannah.
The Dorset-based 35-year-old was quick to thank her support crew: "It really is a team effort though, and special thanks must go to my groom Rebakah, my sponsors and to World Class for all their hard work and support behind the scenes!"
Text by British Dressage - Photo © Astrid Appels
Related Links
Scores: 2014 CDI Saumur
Platinum Born This Way with Hannah Biggs