KWPN Breeding News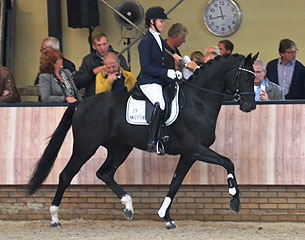 Eleven dressage stallions have begun the 2014 KWPN Autumn Stallion Performance Testing at the KWPN head quarters in Ermelo, The Netherlands, on 30 September 2014.
The contending stallions had to participate in a saddle presentation on 8 September and were presented again by their own riders in the morning of 30 September in front of the KWPN stallion committee. They cast their final decision whether a colt was allowed to begin the performance testing or not.
Several colts were now rejected and asked to try again during the 2015 KWPN Spring performance testing. Grappa (by Fidertanz x Special D) was absent because of a skin infection. Gadget W (by Apache x Uphill) and Galandro (by Bon Bravour x Donnerhall) were presented but in agreement with the owners referred to the spring testing as well as Grappa.  Gillhaus (by Apache x Lupicor) can be delivered at the autumn testing next week. He wasn't entirely sound at the vet check.
"It seems like this will be a very interesting test with stallions who are interesting in their performance and bloodline," said Wim Ernes, head of the licensing committee
The autumn testing concludes on Saturday 15 November.
The participating stallions are:
Galaxy Win T (by Apache x Jazz x Zeoliet)
Guardian S (by Bodyguard x Trento B x Juventus) - originally named Guardiola S
Google (by Bordeaux x Johnson x Kommandeur)
Goldstrike (by Bretton Woods x Scandic x Papillion) - originally named Gobarde E
Grande E (by Charmeur x Jetset-D x G.Ramiro Z)
Go Ferro (by Ferro x Farmer x G.Ramiro Z)
Gibson (by Jazz x Lingh x Ferro)
Genesis (by Jazz x Silvano N x Concorde)
Governor STR (by Totilas x Jazz x Ulft)
Gaucho (by Apache x Donnerhall x Akzent II)
Gunner KS (by Belissimo x Vincent x Donnerhall)
Photo courtesy KWPN.NL
Related Links
Glamourdale, Champion of the 2014 KWPN Stallion Licensing
Giovanni and Toto Jr, Winners of the 2014 KWPN Spring Stallion Performance Testing