2014 Portuguese Junior/Young Riders Championships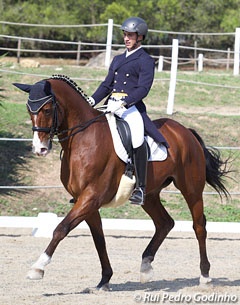 Portugal's young stars were on show at the 2014 Portuguese Junior and Young Rider Championships held in Estoril, Portugal on 26-28 September 2014. Junior rider Miguel Castelo produced a hat trick of wins to take the gold in the well attended field of nine juniors, while Rita Ralao Duarte easily swept the gold in the Young Riders division with only two riders contesting.
Junior Miguel Castelo and his 14-year old Hanoverian bred Weserprinz (by Weserstar S x Wendenburg) scored 67.86% in the team championship test, 68.34% in the individual test, and 71.89% in the kur to music with a freestyle arranged by Rui Pedro Godingho to claim the national title with a total of 208.090%. The silver went to Joao Nogueira with 202.200 points. The bronze was for Gonçalo Pedro with 198.780 points.

"The show went very well and we achieved our goal," said 17-year old Miguel. "I have only been riding this horse for nine months, but the everyday work, along with the personality of the horse, has enabled me to conquer the Junior title. I'm very pleased!"
Weserprinz is a very trustworthy horse which will help Miguel improve his riding skills.
"He gently accepts my mistakes and for that reason it is very good to train with him," said Castelo about his schoolmaster, who was competed last in Germany by Pedro Almeida Pavao.
Training at the Equitop stable with Camilo Borges since he was 12 years old, Miguel is excited to be starting with new trainer Daniel Pinto in the coming month.

"Next year I'll also make the change to the Young Rider division, so it is a new stage in my career, and I hope it goes as well as it has gone so far," he added.
Young Rider Gold for Debutante Rita Ralao Duarte
Making her debut into dressage competition this year Rico, the Grand Prix horse she took over from her father Olympian Miguel Ralao,  Rita Ralao Duarte claimed the the triple crown winning the Young Rider title with 69.34% in the team Prix St Georges, 69.6% in the Individual, and 70.31% in her first ever Kur test. With only two riders competing in the YR division, the silver easily went to Ines Valença Cancio.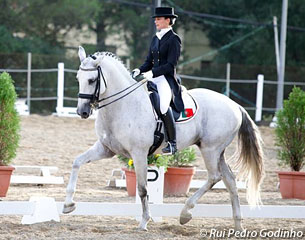 "My horse felt great throughout the competition," said 21-year old Rita. "However on the first day he was a little bit excited in the box due to a pony that he fell in love with. Overall he was always relaxed, in the box, in the warmup arena, and during the tests. Super behavior and always available!"
Rico, a 16 year old Lusitano stallion by Hostil, was bred by Guilherme Borba and has been briefly campaigned by Kyra Kyrklund, before the grey stallion returned to Portugal to continue his career with Miguel Ralao. He is a horse with a particular personality.
"He is far too intelligent for a horse and he can get you to do what he wants without you even noticing it. I found the love of my life in the shape of a horse," Rita told Eurodressage.
While the competition did experience some rain and thunder on the Saturday, Rita's tests were met with mostly good weather and the highlight of the three days was receiving the first place awards from both her grandmothers at the award ceremony.
"I only started riding Rico more seriously in May this year when António Borba Monteiro, Rico's owner, gave me this amazing opportunity. I will always be very grateful for that," she stated.

Rita is still not with a set plan for next year, but knows for sure she would like to stick around horses.
"My dad is my trainer and I couldn't have a better one! Without him none of this would have been possible. I thank him for this everyday from the bottom of my heart!"
Photos © Rui Pedro Godinho
Results - 2014 Portuguese Junior and Young Riders Championships
Junior Riders
1. Miguel Castelo - Weserprinz - 67.860 - 68.340 - 71.890 --- 208.090
2. Joao Nogueira - Zelo do Ilheu - 66.100 - 66.140 - 69.960 --- 202.200
3. Gonçalo Pedro - Vendetto C - 64.700 - 65.680 - 68.400 --- 198.780
4. Manuel Maria Ferreira - Traviata - 63.320 - 64.000 - 65.830 --- 193.150
5. Sarah Alisson Santos - Xiribi do Olival - 63.580 - 61.360 - 66.510 --- 191.450
6. Isabel Telles Querios - Lince - 63.220 - 62.520 - 65.060 --- 190.800
7. Maria Palma Ruivo - Lynggaardens Logo - 61.700 - 62.680 - 64.520 --- 188.900
8. Alexandra Fernandes - Universal - 62.340 - 61.640 - 64.130 --- 188.110
9. Catarina d'Oliveira Sousa - Visto - 61.380 - 60.720 - 62.090 --- 184.190
Young Riders
1. Rita Ralao Duarte - Rico - 69.340 - 69.600 - 70.310 --- 209.250
2. Ines Valença Cancio - Xeque Mate - 66.980 - 66.900 - 69.440 -- 203.320
Related Links
Maria Caetano Wins 2014 Portuguese Dressage Championships