2014 Asian Games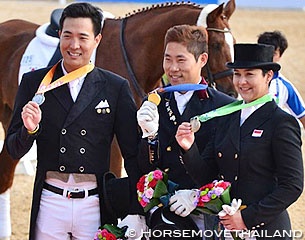 Making full use of their home country advantage, Korean dressage riders Young Shik Hwang and Dong Seon Kim took individual gold at silver  at the 2014 Asian Games in Incheon, Korea on 18 - 21 September 2014. Indonesia's Larasati Iris Rischka Gading captured the bronze. Young Shik Hwang reclaimed the individual title which he snatched four years ago on mare Laura at the 2010 Asgian Games in Guangzhou.
Winning the Prix St Georges team test and Intermediaire I with 74.342% and 76.711% and finishing second in the Kur to Music with 76.575%, Young Shik Hwang and the 11-year old Westfalian Furstenberg (by Furst Piccolo x Dunhill) claimed the individual gold medal. The pair showed maturity, progress and improved relaxation in Incheon compared to their performance at Asian Gamesin Guangzhou four years ago.
"I was less tensed up this time, and I had more time to prepare myself," Hwang told Eurodressage. "Besides this I also felt my horse adapted well to his new environment. Therefore, I really enjoyed competing in this year's Asian Games."
Young Shik found the atmosphere amazing and cherished the fact that not only the foreign riders, but also the Korean team members had trained so hard with everybody performing so well.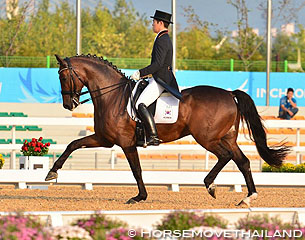 "Compared to the Asian Games 4 years ago, I had the impression that the level of difficulty was higher this time," Hwang stated. "Not only was the level of competition higher this time, but also the scores given by the judges. The riders from the other nations improved a lot since then."
Young Shik told Euroressage that just to qualify for the Asian Games is very difficult with riders commuting between continents all the time. In Korea the teams usually have two dressage competitions every month that they can easily attend, if the horses are on location.
"I train in Germany with Martin Schaudt for part of the year, and then for the other part of the year I am in Korea, and I talk with him and ask for his advice on the phone or I exchange e-mails with him," said Youngshik. "For the big shows, Martin usually comes to Korea to train me in person."
Silver for Dong Seon Kim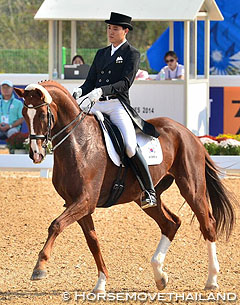 Third in the Prix St Georges team test with 71.237%, Korean Dong Seon Kim and his 13-year old Hanoverian Finally (by De Niro x Capri Sonne), took second in the Intermediaire Iwith 73.474% and then lifted again to win the kur with 77.225%. Their totalled scores earnedhim individual silder.

"Although I missed out on individual gold to the other Korean rider, this show was very meaningful to me since I've earned 77.225% in the freestyle as a finale, the highest score in Asian Games' history," Dong Seon told Eurodressage.
Finishing just three points below the gold medal winner, Kim considered the Asian Games a well-equipped and top quality show with solid organization and facilities.
"It was just as good as European CDI's," says Dong Seon.  "I think the level of Asian Dressage was better than ever. Also the enthusiastic crowds enhanced the warm and friendly atmosphere."
Kim considered the 2014 Games very competitive with several riders able to obtain scores over 70%, meaning the race for the top three spots was fierce.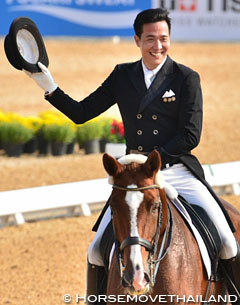 "As more and more Asian riders are training in Europe with European trainers, the more it reflects dressage riding quality," he explained.
Kim competed at the 2014 World Equestrian Games in Caen, France, at the end of August 2014 with his Grand Prix horse Bukowski (by Briar). His small tour mount Finally is a horse with a strong fighter mentality, always trying his best, and never losing his energy. "I think he will have a more successful career as a Grand Prix horse in the future," Dong Seon said about the horse's qualities.
As for dressage in Korea, Kim is more pessimistic.  "Compared to Europe, Korea lacks the number of shows, good/experienced trainers, horses, and well-developed facilities with good footing. Lack of these crucial elements makes it very difficult for riders competing in dressage in Korea," he said.
Korea misses a sport horse breeding industry and needs to import competitive horses from Europe to build the sport. "The Hanwha group is starting its first professional sport horse breeding program in Korea," Dong Seon explained. "Our main goal is to provide the whole of Asia with top quality warmbloods for jumping and dressage." 
Training alone at his stable in Korea one hour from Seoul, Dong Keon has been a Florida regular and he also attends clinics with trainer Hubertus Schmidt in Paderborn, Germany, aiming to ride like his trainer.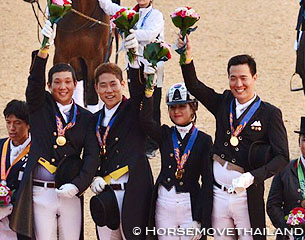 "I think his riding style is very classical, systematic, and fair to the horse," he added. "I hope to build a sustainable equestrian sports arena in Korea, modelled after the Dutch and Danish system, in which quality horses are bred, trained, and competed at a high level. As a rider, I eventually would like to win an individual gold medal at the Olympics one day."

With a firm belief that Korea will be able to compete against the European nations, Dong Keon believes this will depend in the breeding of top quality horses, among other things.
"Many Asian riders start training in Europe with top quality horses under good guidance for many years. However, for the horse sport in Asia to become as competitive as Europe will take a much longer time. Breeding, good training, riding, popularity of the sport, the number and quality of the shows must all develop simultaneously for the sport itself to reach the European level."
Larasati Gading Got the Bronze
Fourth in the team championship test with 70.684%, Indonesian rider Larasati Gading and her 16-year old stallion Wallenstein (by Wolkentanz x Wildfang) lifted to take third in the Intermediaite I with 71.632% and Kur to Music with 74.075%, to secure the bronze spot in the overall individual championship.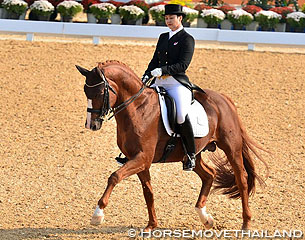 "I felt relieved to be there at all because the preparations were really difficult this time," Larasati confessed. "We had only six to eight weeks to match the team riders to their mounts, then injuries and off time too, and organisation and funding issues. It felt like a miracle to be there at all."
Larasati was unimpressed by the many behind the scenes "happenings" that caused great distress, but says that she wouldn't even know where to begin listing them.
"The atmosphere in Korea was somewhat grand, a huge setting and stadium feel. I wished there would have been an opportunity to gather all participants in an official social event, to create more opportunity for getting acquainted," she stated. "It was very competitive because apparently everybody seemed to have invested in their mounts and skills. There were very fine horses around, as well as quality coaches who did their best to assist their riders."
Gading's partner in crime is Wallenstein, who according to Larasati, is the perfect gentleman, the always reliable kind of stallion. "He has a very gentle, exceptional personality, and is generally loved by everyone who knows him," she said. "His uncut forelock is his signature "hairstyle". Sometimes he does a bit of power play with me, just to test if I do my job right."
Representing Indonesia at the Asian Games, Larasati knows that competing in dressage and being from Indonesia is a bit difficult, as the general interest in the sport is not so high. "Plus, there aren't many competitions. It is very difficult to find sponsors and participants, and on a higher level there are only a handful of horses, so it isn't very competitive. I keep my international competition horses in Germany to keep them and myself competitive," she explained.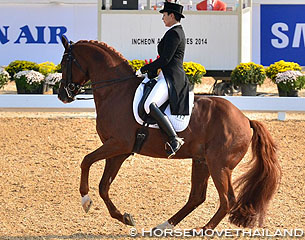 Trainining in Würselen, Germany, with Team Rüben, Larasati is mainly coached by Hans Rueben who turns 80 on 6 October 2014. "My plan is to keep riding and refine my skills in Grand Prix," she added. "Who knows where that will take me. Of course, like anyone else, I dream to participate in the Olympics one day, but currently it seems like reaching for the stars, looking at the quota given. To be competitive against European nations seems to be very difficult and I don't really think it will happen. The sport is so deeply rooted in Europe. But who knows? Never say never."
As for the future of dressage in Asia Larasati says it will certainly grow in numbers and quality but that like everything else in dressage, it takes a good amount of time, patience, and persistence. "Change can only come if people are willing to change and work on themselves, and make personal sacrifices for the sport," she said frankly.
by Sarah Warne for Eurodressage
Photos © www.horsemovethailand.com
Related Links
Scores 2014 Asian Games
Thai Dressage Team On The Road to the 2014 Asian Games
Hwang Young Shik Wins Individual Gold at 2010 Asian Games
Team Indonesia and Gading Go for Gold at 2011 South East Asian Games
Jun Sang Choi Wins 2006 Asian Dressage Champion's Title