2014 CDI Saugerties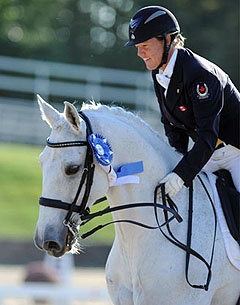 Canadians Jacqueline Brooks and Diane Creech handily won their FEI classes at CDI Saugerties NEDA Fall Festival held 16 - 21 September 2014, in Saugerties, NY, U.S.A. Kicking off Canada's victorious streak was two-time Olympian Brooks, of Cedar Valley, ON on her 15-year-old Swedish Warmblood gelding D Niro (D-Day x Napoleon), winning both the Grand Prix (68.920%) and the Grand Prix Freestyle (71.725%) tests.


"We had such an amazing weekend," said Brooks, who also represented Canada at the 2008 Beijing Olympics. "D Niro is feeling so much stronger and more confident in the movements that he is really starting to enjoy the tests. The new freestyle is really starting to click for both of us as well. I couldn't be happier with him and his desire to get in the ring and do his job."
Diane Creech of Caistor Centre, ON rounded out the top four (67.120%) in the Grand Prix test with Devon L, a 14-year-old Hanoverian gelding (De Niro X  Wolkenstein II) owned by Doug Leatherdale. With her 12-year-old Danish Warmblood mare, Countess (by Donnerhall), Brittany Fraser of New Glasgow, NS, was fourth in the Grand Prix Freestyle with 68.025%.
In the Prix St Georges test, Creechwas victorious, with 72.500%, riding Robbie W, an 11-year-old Oldenburg gelding sired by Rubin Royal and owned by Doug Leatherdale. They also won the Inter I I Test by almost 3% with a score of 72.588%.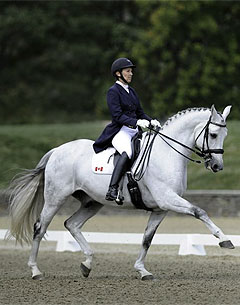 "I am so happy with Robbie W's two great rides. He is a wonderful horse, that focuses and always tries very hard in the ring for me," said Creech. "Mr. and Mrs. Leatherdale are so excited about the great results in Saugerties. We will declare him for the 2015 Pan Am Games and are looking forward to the upcoming show season in Florida."
Placing second (71.009%) in the Prix St Georges test was Shannon Dueck, who currently resides in  Loxahatchee, FL, riding eight-year old British Sport Horse, Allegro II (by Negretto x Grannex), owned by Sally N. Alksnis. Christian Garweg, who was originally based in Toronto, ON, but has been living and training in Germany for the past 10 years, was third with 70.088% riding Dynamica (by Don Larino x Pageno), his nine-year-old Oldenburg mare. Dueck also rode Cantaris (Compliment x Eiger I), Elizabeth Ferber's 11-year-old Hanoverian gelding, and finished in fifth place with 68.070%, while Rebecca Cowden, who resides in Califon, NJ, piloted Arami (by Akinos x Fanal Prydsholm), Pam Wildman's 11-year-old Danish Warmblood gelding, to sixth place with 67.588%. With Ribot (by Reno x Cor Noir) a 12-year-old Oldenburg gelding owned by Carla Bahr, Tom Dvorak of Hillsburg, ON, was seventh (67.456%), and rounding out the top eight was his daughter Alexa Dvorak, also of Hillsburg, with 66.140% riding Rubinio (by Rubin-Royal x Feiner Stern)  an 11-year-old Oldenburg gelding.
Second in the Intermediaire I test were Garweg and Dynamica with 69.868%. Winning the Inter I Freestyle was Tom Dvorak and Ribot, scoring 70.175%.
The ground jury for the event consisted of President, Liselotte Fore USA FEI 5*, Maribel Alonso de Quinzanos MEX FEI 5*, Francis Verbeek NED FEI 5*, Lorraine MacDonald CAN FEI 4*, Kjell Myhre NOR FEI 4* and Jane Weatherwax USA FEI 4*
Related Links
Scores: 2014 CDI Saugerties
Eliane Cordia-van Reesema Breeding for Success, Proving Form at 2014 CDI Saugerties