2014 Swiss Warmblood Young Horse Championships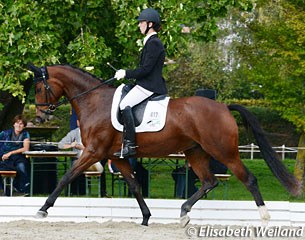 The 4-year old Orla vom Loo, the 5-year old Show Girl and the 6-year old Delioh von Buchmatt were the winners of the 2014 Swiss Warmblood Young Horse Championships held at the National Equestrian Centre in Avenches, Switzerland, on 19 - 21 September 2014. It was girl power in the 4-year old as well as athe 5-year old division with mares taking the top three places on the leader board.
Jasmin Isenschmid steered the Denise and Peter Luder's bay mare Orla vom Loo (by Sir Donnerhall x Don Corleone) to victory in the 4-year old division. Scoring a total of 64 points, Orla vom Loo got 7s and 8s for gaits and impressions from the judges. Andreas Rohner and the dark bay mare San Amora B (by San Amour x Londonderry) were the runners up with 62.2, followed by Käthi Ziörjen on the bay mare Donna Domenica (by Del Cuore x Donnerschlag) with 59.6 points.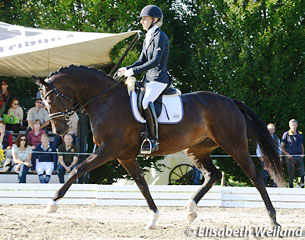 Grand Prix rider Melanie Hofmann landed first place in the 5-year old division aboard Christina Ernst's dark bat mare Show Girl (by Show Star x Davignon) with a total of 8.47 points. Corinne Stingelin and her own chestnut mare Donna vom Eigen (by Don Frederico x Weltmeyer) were the reserve champions with 7.84, while Adrian Hertig and Denario's Danseuse (by Denario x Wolkenstern) finished third with 7.80.
Hofmann earned another champion's sash in Avenches in the 6-year old class aboard her World Young Horse Championship ride Delioh vom Buchmatt (by Danone x Wolkenstein II). Jorg and Manuela Aeberhard's black gelding scored 72.13 points for victory. Silvia Schneider and the chestnut gelding Simply the Best (by San Remo x Rubinstein I) slotted in second with 67.30 and edged out Hildegard Krenger-Schmid on the dark bay gelding Riambolero (by Riccione x Donnerhall) on 64.46 points.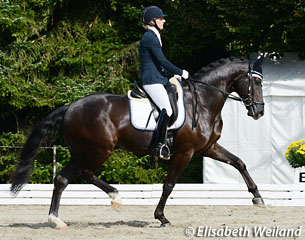 The 2014 Swiss Warmblood Young Horse Championships also feature a "super promotion final" at M-level, which included horses aged 7 to 15, and at S-level, which included only three horses. Philipp Hess won the M-level final aboard the 7-year old Miss Miola de Lully (by Mr G x Apartos) with a 70.93% score. Gilles Ngovan and Furstentraum (by Feinsinn x Davignon) aced the S-level class with 68.44%.
Photos © Elisabeth Weiland
Complete results: 4-year olds - 5-year olds - 6-year olds - M-level - S-level
Related Links
Show Girl, Delioh von Buchmatt, Furstentraum Win 2013 Swiss Warmblood Young Horse Championships
Delioh von Buchmatt, Furstentraum, Ruwina Win 2012 Swiss Young Horse Championships
Furstentraum, Weltjunge, Dandy de la Roche Win 2011 Swiss Young Horse Championships
Kayal du Perchet, Dandy de la Roche, Don Camillo II Win 2010 Swiss Young Horse Championships
Bugatti G, Darko of De Niro, Del Cuore Win 2009 Swiss Young Horse Championships
Scores: 2006 Swiss Young Dressage Horse Championships
Fiesta de Lully, Weltgraf II and Wicento Win 2004 Swiss Young Horse Championship