American Dressage News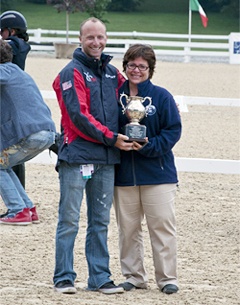 The 2014 Patsy Albers Award Perpetual Trophy has been awarded to Region 1 Chef d'Equipe Debbie DelGiorno, at this year's North American Junior & Young Rider Dressage Championships held in Lexington, KY, last August.
"I can think of no better person to win this award.  Debbie works tirelessly on behalf of the Region 1 Team, both before and during the event.  The fact that Debbie stepped into the Region 1 Chef d'Equipe position to fill Patsy's shoes after her untimely passing makes this even more special" stated Roberta Williams, USDF FEI Jr/YR Committee Chair.
The Albers Award is named in honor of long time USDF Region 1 Chef d'Equipe, supporter, and good friend, Patsy Albers. The award is presented annually at the North American Junior & Young Rider Dressage Championships to the dressage chef d'equipe who best demonstrates the same level of dedication, enthusiasm, and team spirit shown by Patsy throughout the years. The award is open to all of the dressage chefs d'equipe and any competitor or chef d'equipe can nominate a candidate by submitting a written explanation as to why that chef deserves to win the Albers Award.
The Patsy Albers Award is dedicated to Chef d'equipes. The original recipients were Jeremy Steinberg and Rosalind Kinstler, followed by Ellen Dvorak. The recipients get presented with a trophy, while the permanent one is kept in the USDF Hall Of Fame at its headquarters at the Kentucky Horse Park.
The Dressage Foundation also gives training grants from the "Patsy Albers Fund". U.S. Grand Prix WEG team rider Adrienne Lyle received the award in July 2014.  The  grant is available annually to the highest placing dressage rider at the USEF High Performance Championships (Intermediare I or Grand Prix), who was also a rider competing for the U.S. at a North American Junior/Young Rider Championship.
Related Links
Adrienne Lyle Receives 2014 Patsy Albers Award
Kathleen Raine First Recipient of Patsy Albers Award
Patsy Albers Award Fund to Honour High Performance Young Riders
Patsy Albers Passed Away