British Breeding News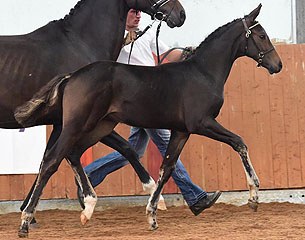 The 2014 British Futurity series has seen some outstanding British bred young potential dressage horses and ponies. Seven hundred young horses from foals to three year olds have been evaluated for their potential in one of the main disciplines dressage, eventing, showjumping and endurance.
The top scoring potential dressage horse of the 2014 Futurity, across the age groups and disciplines was dressage colt foal, Fiderstar, owned and bred by Rosie Moreton-Deakin from Gloucestershire. Fiderstar attained an elite premium of 9.63. An elite premium indicates that the horse has the potential and outlook to perform at international level.
Young horse producer, Darren Mattia who led Fiderstar up at Catherston said, "He is a very elastic and short coupled foal with lots about him. Rosie will keep him and he will be produced as a dressage horse". Fiderstar is by the stallion Fiderbach.
Fiderstar's dam, D'J'adore has always been a broodmare, she has several offspring that are out doing very well. Darren continued, "Carl Hester has one of D'J'adore's babies by Negro, there are two by Fiderbach and a Dimaggio. They are all out and about and looking to be successful horses".
International dressage rider Rosie said, "D'J'adore was my 21st Birthday present, we broke her in but I am 5"11 and she is quite small so we decided to breed from her. Fiderstar is her 8th foal and they all have amazing temperaments, I think each foal is just getting better and better! I am based at Darren's yard and his advice is invaluable. My ambition is to aim for the top with a horse I have bred myself".
Fiderstar will be the only one of D'J'adore's foal to be kept by Rosie, who added, "All the others have been sold to good competition homes but Fiderstar will stay with me. He will be left entire for now, although his ridden career will come first. Fiderstar will go back to the Futurity as a three year old to hopefully be selected for the Futurity equine bridge".
Rosie and Darren also bred a filly foal, Dominique that attained an elite premium of 9.24 at the Solihull 2 Futurity held on the 19th August. Dominique is by Dimaggio and is out of the state premium mare, Cora.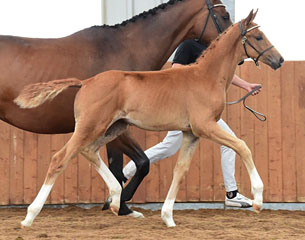 Darren Mattia and Charlotte Hughes bred the second top scoring potential dressage horse of the 2014 Futurity. This was filly foal, Dimaggika, now owned by Cresta Ellis Perager. Dimaggika attained an elite premium of 9.57. Dimaggika was bred from Charlotte's mare, Apple. Darren said, "Dimaggika's dam, Apple has an excellent damline, she is related to former German Olympic horse, Piccolo. Her first foal Desire, (a full sister to Dimaggika) took a very high elite premium at the Futurity last year. She is back in foal to Dimaggio for next year. Dimaggio who is my all-time favourite stallion, I found him with Suzanne Lavandera when he was a three year old".
Cresta has bought Dimaggika as a potential dressage horse, Darren added, "Cresta has been looking for a really lovely youngster for a good while".
Ben St John James from Hampshire bred colt foal, Ferdinand who attained an elite premium of 9.55 in the dressage section. Ben said, "Third place overall is just amazing, Ferdinand has everything you could want – the Futurity really confirmed my thoughts about him. It was also really interesting that his overall Futurity marks were so consistent". Ferdinand is out of Ben's mare Bluewood Illusion, a graded Hanoverian, Ben continued, "I bought Bluewood Illusion from the Bluewood stud as a foal, she is a very tall and elegant horse with brilliant trainability". Ferdinand is by Gemma Appleton's stallion, Fine Time, the current Grand Prix National Champion. Ben added, "Ferdinand is a really special horse and I am thrilled with him. It would be lovely if he did go for stallion licensing, but his priority will be as a competition horse".
Also scoring elite premiums from Ben's yard were colt foals, Fine Romance and Jaeger. Fine Romance was bred by Wendy Head and Ben and Jaeger was bred and is owned by Joanna Sawford.
Ben went on to say, "We brought three foals to the Futurity and all received elite premiums – this is the first year this has happened! All three colt foals are first foals for their dams as well. I have ridden all three mares, which I believe has given me an extra insight into them. This has helped when deciding which stallion to put them to. We are strong believers that 75% of the foal comes from the dam and so our policy is that the stallion must improve two things on the mare".
Heading the dressage three year olds at the 2014 Futurity was Timolin owned and bred by Aram Gregory of Gloucestershire. Three year old colt, Timolin attained an elite premium of 9.43. This is the third time Timolin has been to the Futurity and the third elite premium he has attained. Timolin's dam, Samira was successfully competed by Aram's wife, the late Olympic dressage rider Jane Gregory. Timolin is by the dressage stallion Totilas. He was presented at the Futurity by Charlotte Dicker from the Catherston Stud.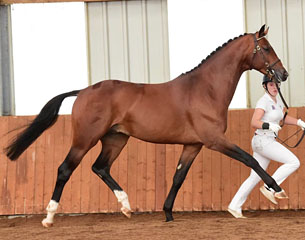 Anne Dicker from Catherston said, "We are all very excited about Timolin, very few other horses have attained elite Futurity premiums every year they have been presented. Timolin is destined for a dressage career. We are waiting with bated breath for his first crop of foals which are due in 2015. Timolin will go for Sports Horse Grading this October and will be aimed at age classes next year. He is a charming character and loves showing off".
Two year old dressage colt, Summertime Blues headed his age group for owner and breeder Lynne Crowden. Summertime Blues scored an elite premium of 9.21. Lynne said, "Summertime Blues is a cracking horse, he has developed really well. He goes for licensing a week tomorrow". The Futurity evaluators said, "He has good uphill carriage and is balanced with good reach". Summertime Blues is by Spoercken and out of Lynne's homebred Margue H mare, Moulin Rouge.
Lynne also bred the top scoring dressage sports pony of 2014, Woodlander Wales. This very consistent three year old colt scored an elite premium of 9.14. This is the third time Wales has been to the Futurity and the third time he has scored an elite premium. Lynne said, "Wales is so consistent, we are very excited about his future. He is now under saddle and will go to Germany for his performance test later this year and we are also keen to go for selection for the equine bridge". Wales is approved to three stud books; the SPSS, WBFUK and Weser EMS. Wales is by Woodlander Wavavoom and out of the Welsh Pony and Cob Society registered Talon Teifion mare, Drysiog Helen.
Best dressage yearling at the 2014 Futurity was the gelding, Fortunatus with an elite premium of 9.02 for owner and breeder Sandra Tinker from Cheshire. Sandra said, "We didn't take Fortunatus to the Futurity as a foal and I am thrilled that he has attained an elite premium as a yearling. We plan to keep him and produce him. He is the closest we have bred to having natural grand prix material. He is a gelding as he had a scrotal hernia last year which is disappointing as you wait a long time to breed a horse that has stallion potential". Fortunatus was champion foal at the Hanoverian Championships last year. He is by Floriscount and out of Sandra's Der Lord mare, Delta.
The Futurity is a continually evolving process, 2013 saw the introduction of the Futurity equine bridge which is now being run as an extension of the Futurity evaluations. The Futurity equine bridge provides top Futurity graduates with the direction and support they will need as 4 year olds so that they begin their early years under saddle in a way that allows for sustained physical and mental development. In order to be eligible for the Futurity Equine Bridge all horses must obtain a Futurity score of 8.5 or above in their three year old year.
Head of Equine Development at the British Equestrian Federation, Jan Rogers said, "The Futurity is now in its ninth year and over this time we have seen it develop to provide real support to British breeders to help achieve their aims. Through their carefully planned breeding decisions, year on year we are seeing an improvement in the horses presented at the Futurity for evaluation".
With entries limited to 60 at each evaluation venue, places are keenly sought after. Entries are categorised by discipline with age groups for foals, yearlings, two and three year olds and each horse is evaluated in hand and loose in a safe indoor environment as well as undergoing a vet's assessment.
The BEF Futurity Evaluations are held at 11 venues over 14 days throughout the UK and young horses go home with a BEF Premium (grade), a stylish rosette and a detailed, informative score sheet. An attractive certificate to keep and frame follows on after the event.
Photos © Kevin Sparrow
Related Links
British Bred Dressage Horses Top 2013 BEF Futurity
Six Elite Premiums Awarded at 2013 BEF Futurity in Hartpury
A Golden Year of British Breeding Celebrated at 2013 Breeders' Awards Ceremony