2014 British Dressage Championships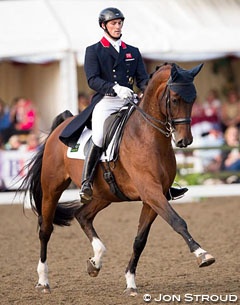 Michael Eilberg was crowned British Grand Prix level Champion today after winning the Grand Prix Freestyle with a personal best score of 75.90%. Michael and the 14-year-old Latvian gelding – owned by Ferdi Eilberg – danced their way to victory using music from the film, Transformers. Following the withdrawal of Dances With Wolves, the duo went into the freestyle in poll position after coming second in Saturday's Grand Prix.
Despite battling a chest bug during the week, Michael and Marakov – or Marco as he's known by his friends – beat 2013 National Champions Carl Hester and Jenny Green's Fine Time 13, who scored 74.53%. The win marks Michael's first British National Champion title, which is quite apt as Marco was the first horse to take Michael to grand prix.
"It's incredibly special to win it with him," gushed Michael. "I said to dad that with the cold and everything I had to be careful that I didn't get too emotional. It means everything, especially for all of us - not just me. It's been a team effort with this horse. We've had him right from a baby, everybody's contributed and to have something like this come off, it makes everything worthwhile."
Speaking about the music, Michael stated: "It's lovely music which really suits him. I produced the programme with Tom Hunt, I did the floor plan and he did the music to it. It's quite mystical and he's a very majestic horse, so it's a perfect fit. Today everything just worked; we were on the beat throughout and I didn't feel I had to catch up anywhere. I could relax and just let it flow."
And how's the 2014 National Champion going to celebrate? "With a lemsip!" he joked.
British Young Horses Take Centre Stage
It was an extremely tense affair in the finale of the Potential International Dressage Horse. In the four year olds, the accolade of champion went to FJ Veyron (Vivaldi x Fidermark) ridden by Garry Williams with Charlotte Dujardin in runners up spot with Mount St John Best of All (Bordeaux x Sir Donnerhall). The five year title went to River Rise Escarla (Lord Leatherdale x Ferro) with Exige M (Samarant x Jazz) second under Dan Greenwood.
These four then came forward for the supreme championship under judges Mariette Sanders and Raphael Saleh with Daniel Sherriff acting as the ridden judge. All four horses were immaculately behaved throughout but with commentary from Mariette, it was obvious that they were also four very different prospects. FJ Veyron, owned by F James, is a big rangey type, full of power while MSJ Best of All is a petite dainty mare. F James's River Rise Escarla is your archetypical dressage model with presence and Exige M, owned by Jenny Welham, is again petite but with a sporty frame.
Dan Sherriff had made a plan with the judges with what they'd evaluate with each horse and he masterfully put each youngster through its paces. He found positives in each one but his final ride was the steel grey Exige M and you could see the a wave of delight come over Dan with every step, confessing at the end 'I don't want to get off'.
The judges went into their final huddle and the tension built until silence fell over the crowd…and Dan and Exige were pulled out as Champions much to the delight of the crowd as he did 12 months ago.
A truly delighted Dan told us a bit about Exige M; "He's by Samarant out of a Jazz mare and he's got the best attributes of both. He's got the engine and the go of Jazz but then the ease and rideability of Samarant. He's an absolute joy. If you see him stood, he's not that special but when he's going it's a completely different story.
"His owner showed me a video of a horse she wanted to buy aged three. I said it was okay but thought we could do better and it had a poor hind leg. She ignored me and it now has a fabulous hind leg! But what do I know!"
And the future for Exige M; "His owner Jenny rides him along with me. She's qualified him for the Novice Winter regionals and hoping to qualify at elementary and in turn the six year olds for next year."
Text by British Dressage
Photo © Jon Stroud
Related Links
Scores: 2014 British Dressage Championships
Hester and Wilton Win on Day Three at 2014 British Dressage Championships
Wilton Wins Intermediaire I Title at 2014 British Dressage Championships
Eilberg and Griffith Win First Titles at 2014 British Dressage Championships
2014 British Dressage Championships Set to Begin at Stoneleigh Park