2014 North American Junior/Young Riders Championships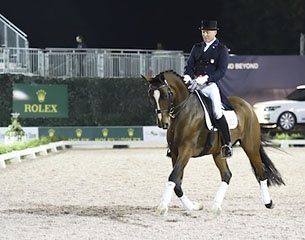 A moving retirement ceremony was held for Jan Ebeling's World Cup
and 2012 London Olympic Games mount Rafalca during the 2014 Central Park Dressage Challenge on Saturday evening 20 September 2014 in Central Park, New York.
The mare concluded her
successful show career after an injury forced her to withdraw from 2014 World Equestrian Games U.S. Team contention.
At 17 years of age, the Oldenburg mare owned by
Beth Meyer, Ann Romney and Amy Ebeling will now enjoy her time at
Ebeling's farm The Acres in California. Ebeling has plans to breed her
at the beginning of the year and will keep the mare in light work. "I
would like to see her out of my window with a baby in my back pasture,"
he smiled.
"It was bittersweet, of course. She went fantastic.
She didn't feel like she's 17 at all!" Ebeling said of Rafalca's
beautiful retirement ceremony and final freestyle performance. "This
horse has given me so much."
"The
decision was made to retire her, and what a place to retire a horse," he
stated. "This horse show is unbelievable. Thanks to the organizer. I
know you really have to stick your neck way out to do these events. I'm
speechless. Thank you for giving me the opportunity to retire my horse
here. I'd like to also say thank you to my family, friends, and sponsors
that have made this journey for me possible. I hope I come back with
another horse. I was familiar with Central Park, but I never thought I
would ever ride here!"
Related Links
Eurodressage Photo Database: Rafalca
Werth and El Santo Win 2014 Central Park Dressage Challenge
Ebeling and Rafalca Withdraw from 2014 U.S. WEG Team Contention
Jan Ebeling Withdraws from First U.S. WEG Selection Trial at 2014 CDI Fritzens
Twelve Riders Accepted Invitation to Ride in 2014 Central Park Dressage Challenge
Peters and Ebeling Ace the Big Tour Classes at 2014 CDI San Juan Capistrano