2014 Bundeschampionate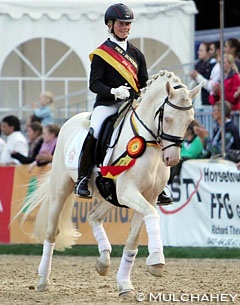 Pocketing a whopping and historic four gold medals to claim a new record at the 2014 Bundeschampionate in Warendorf (GER) on 3 - 7 September 2014, Wibke Hartmann-Stommel was named the title winner in three different pony classes, as well as one riding horse class, and was overwhelmed and very grateful for her success.
"It was just unbelievable," said the 33-year old. "I really feel that I need a few days to understand it. It is just so crazy!"
Aboard Melissa Mulchahey's perlino Golden West, a Westfalien stallion by Golden Dream x Golden Moonlight, she took out the 3-year old Riding Pony Stallions division, scoring a 9.0 for trot, canter, and training, an 8.0 for walk and a 19 from the guest judges, to finish in the gold spot on 62.50 points.
"Golden West has an absolutely top character. He is always cool and every day easy to ride," said Wibke. "I would give him like a '12' for character!"
With Ann Kathrin Linsenhoff's palomino Global Player, a Westfalien stallion by Golden Dream, she won the 4-year old Riding Pony Stallion classs, scoring a 9.5 for trot, canter, and training, 9.0 for walk, 8.5 for confirmation, and 18 from the guest judge riders, to finish on 64.00 points.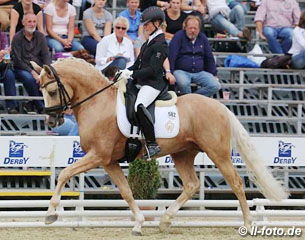 "Global Player has lots more energy and loves the time outside in the paddock," Stommel explained. "He is a wonderful dressage pony for the big shows!"
Her third gold medal she achieved in the 3-year old Riding Ponies Mares and Gelding division on the tall chestnut Tropensonne, a mare by the pony stallion Totilas x Top Nonstop II, which scored a 9.0 for trot, canter and walk, 8.5 for training, 8.0 for conformation, and 17.50 from the guest judge riders. The mare won with 61.00 points.
"She has an amazing quality but is really a sweet baby, and she gives all the best at every show," Wibke told Eurodressage.
For her fourth and final gold she saddled Equitaris, a Westfalian stallion by Estobar x Rubiloh, and took out the 4-year old Riding Horses - Stallions division. The big bay stallion earned himself a 9.5 for trot, and canter, a 9.0 for training, an 8.5 for canter and conformation, and a 20 from the guest judge riders to rounded it off to a tidy 65.00 point total.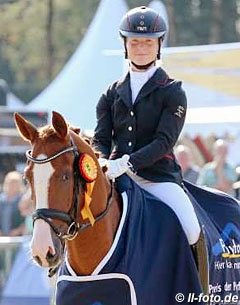 "This stallion is just wonderful to ride, and he an amazing quality he likes to show off in public," Wibke stated.
Very grateful to have a super team behind her,  Wibke owes her four gold medal success to her family at home and her team at the stable. She is lucky to have discovered such great dressage talents.
"I don't find the ponies,the ponies find me," she said about the secret to her success. "The owners contact me and show me the ponies and then we talk together about what is the best way for the future. "
Off or a week's holiday with husband and kids, Wibke hopes to uncover new talents so that she can continue to work with interesting horses and ponies into the future.
The fourth riding pony class of the 2014 Bundeschampionate -- the 4-year old riding ponies mares and geldings division -- was won by Christina Schankat aboard Tanzbär T (by Timberland x  Golden Dancer).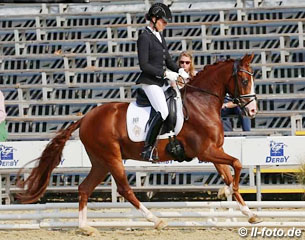 The pair scored an 8.5 for canter and training, a 9.0 for conformation, an 8.0 for walk, a 7.5 for trot, and a 17.00 from guest judge riders, to finish with 58.80 points.
"He is like a very good friend in the ring and at home," said Schankat. "You can always count on him and he is always willing to work and concentrated on you. He is an absolute children's pony.
Tanzbär T is bred by the family Tüpker and when Christina spotted the pony she just had to take him home. However, she never expected becoming Bundeschampion with him!
"The was a big dream and it has been fulfilled. I still can't really believe it right now," Schankat admitted. "Tanzbär is the absolute dream pony!"
By Sarah Warne - Photos © Melissa Mulchahey - LL-foto 
Related Links
Scores 2014 Bundeschampionate
Eurodressage Coverage of the 2014 Bundeschampionate