Spanish Dressage News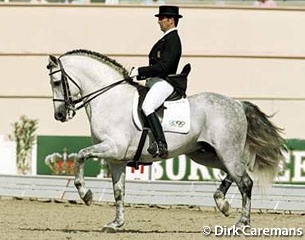 Legendary Spanish PRE dressage horse Evento has passed away at age 29. Under Ignacio Rambla, Evento was one of the key horses that brought Spanish dressage to a world stage at the 1996 Olympic Games in Atlanta.
Together with Invasor and Distinguido, Evento was one of the most important horses PRE horses to launch dressage in Spain. He was nick named "the Icebreaker PRE."
Bred at Yeguada Militar, Evento was born in 1985 and was sired by Leviton. He arrived at the Real Escuela in Jerez de la Frontera as a 3-year old and first came to Ignacio Rambla's attention with student Joaquin Vazquez. In 1994 Alvaro Domecq matched Evento to Rambla and an unforgettable partnership started.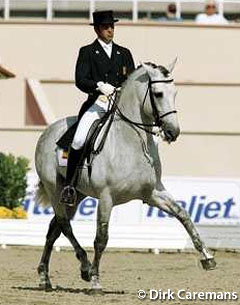 Evento became the Spanish Grand Prix Champion in 1995, 1996 and 1997. He competed on the Spanish team at the European Championships in 1995, 1997, 1999 and 2001, and at the World Equestrian Games in Rome in 1998. At the 1996 Olympics in Atlanta he finished 11th individually.
Evento's most famous offspring was Distuinguido, which won team bronze at the 2003 and 2005 European Championships.
Photos © Dirk Caremans
Related Links
Rafael Soto's Invasor Passed Away
Distinguido Operated On
Scores: 1998 World Equestrian Games
World Equestrian Games 2002 in Jerez de la Frontera, Spain
Scores: 1996 Olympic Games