2014 Bundeschampionate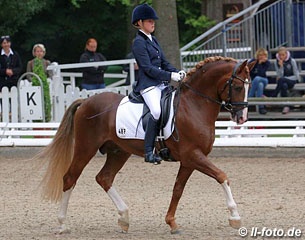 The 2014 Bundeschampionate are not a young horse extravaganza just for tall warmbloods; Germany's best bred and moving young riding and dressage ponies also take centre stage at these national championships hosted at the German Equestrian Federation's head quarters in Warendorf, Germany.  Dreidimensional was crowned 5-year old Dressage Pony champion and Der Kleine Konig took out the 6-year old Dressage Pony title.
German Riding Pony stallion Dreidimensional  (by Dance Star x Dreamdancer) was fourth in the qualification round but rose all the way to the top of the class and highest step on the podium in the finals. Under Francesca Heil he scored an 8.5 for trot and general impression, a 9.0 for walk, and an 8.0 for canter and submission. He earned the gold with a total of 8.4.
His rider Franscesca Heil confessed that she went into the Bundeschampionate with high hopes but was thrilled to have won the 5-year old division.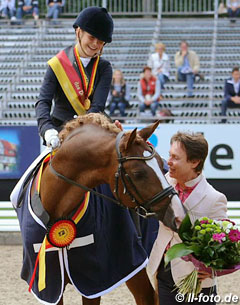 "In the lead up to Bundes I was very confident about him as he was getting better and better each training day," Franscesca told Eurodessage. "At the Bundeschampionat it was lots of fun to ride and present him and I think it was fairly visible that he also had lots of fun to compete in front of so many people."
Bred and owned by Adolf Theo Schurf, the pony is easy to handle, both at home and in the show ring. Franscesca is very taken with his loving temperament.
"It was very special for me to win gold with him because nobody, especially me, expected that we could win the title," she said.
After winning the qualification round Julia Barbian and Der Kleine König (by Dornik's Donovan x Don't Worry) were the hot favourites for the gold in the 6-year old dressage pony division. With a tidy 8.60 overall score, the kept all competition far at bay. The pair scored a 9.0 for canter and general impression, 8.5 for trot and submission, and 8.0 for walk.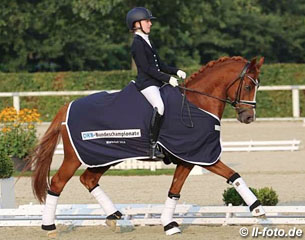 "I am very happy," said Barbian. "Der Kleine König is a very sensitive pony in the ring and at home and he senses that if I am tired he is also like that. In the ring I always try not to overact and to stay patient because he is the exact mirror of me!"
Discovered at the stable of the Walterscheidt family two years ago, Der Kleine König is a definite international future FEI pony star for young Barbian, who is trained by Stefanie Wittmann. The 11-year old Julia  fell in love with him from day one and thinks he is the perfect pony!
"I was so so glad to come into the Bundes, and I couldn't even imagine when we arrived in Warendorf that I will leave with a gold medal," she said frankly.
By Sarah Warne - Photos © LL-foto
Related Links
Scores 2014 Bundeschampionate
Eurodressage Coverage of the 2014 Bundeschampionate