2014 Bundeschampionate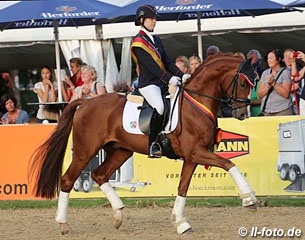 Anja Wilimzig and the Westfalian licensed stallion Sir Heinrich captured the biggest title for dressage horses at the 2014 German Young Horse and Pony Championships in Warendorf (GER) on 3 - 7 September 2014. The "Bundeschampionate" showcases Germany's high standard of horse breeding and dressage. This year's edition was set under some sunny skies with horses able to show their brilliance and future dressage potential.
In the 6-year old Dressage Horses class, the gold medal went to Anja Wilimzig and Oldenburg stallion Sir Heinrich (by Sir Donnerhall x Furst Heinrich) on a final score of 8.7. In silver was Johanna Klippert and gelding, Hollister (by Hotline x Don Frederico) on 8.4, and on 8.3 was Christoph Koschel and his mare Solitaire (by San Amour x Davignon).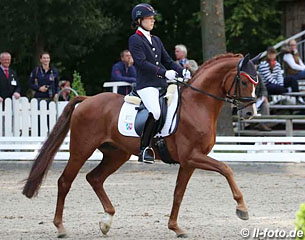 Wilimzig and the chestnut stallion scored 8.5 for walk, trot and canter and 9.0 for submission and general impression to total a winning 8.7 score.  Working with Sir Heinrich since he was three, it was third time lucky for Anja, who after becoming runner-up two years running, was happy to finally take the gold.
"This horse likes to move and has a very self-confident and positive attitude to his training," Wilimzig told Eurodressage. "He was really good this year during the Bundeschampionate and I felt that he was concentrating on me and we made no big mistakes. After placed second in 2013 and 2012, it felt great to win this time!"
Owned by Nordrhein-Westfälische Landgestüt' in Warendorf,  "Heini" will now have a little free time, until Anja begins her preparation for next year when they tackle S-level.
Johanna Klippert and Rebecca Messing's Hanoverian gelding Hollister (by Hotline x Don Frederico) were the silver medallists after scoring 8.50 for trot and canter,  9.0 for walk, 7.5 for submission and 8.5 for general impression. They averaged 8.4 and placed second.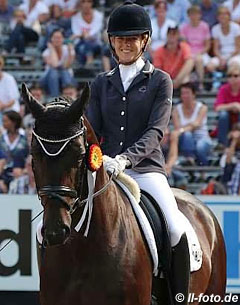 Klippert felt that Hollister went amazingly for her at the Bundeschampionate and she is taken by his ability to keep on improving at every show. "He just gets better and better. I am really surprised, he just loves to go to competitions," said Johanna.
Known as being a bit of a clown, Hollister likes to have fun and Johanna is very grateful to the Messing family for the ride on this talented youngster. "I friend of mine, Anke Simon, who was riding the horse last year, told me "try him," and I did…and now WOW! Our future plans are to get to S-level and then see what happens."
Qualifying for the final via the consolation round, Christoph Koschel and Philipp Koschel's Oldenburg mare Solitaite (by San Amour x Davignon) made a stellar comeback to take the bronze medal. The pair were eliminated in the first round when the horse showed some blood in the mouth, but they fought back bravely in the consolation finals in which they scored 7.9 for rank fourth. It was sufficient for a spot in the final and the pair improved even more to land third spot.
Solitaire scored and 8.3 total after receiving 8.5 for trot, 7.5 for walk, 8.5 for canter, submission and general impression. Christoph acknowledged that the mare did a great job in the final particularly as she is still very new to the world of dressage.
"She is still quite green in the sport and this was the first time she was in such an arena in front of a big crowd," Koschel told Eurodressage. "I was very pleased with the result. She is a super type and like I said before she is still green in the show ring but when she hears the bell ringing she is a real fighter and gives her best!"
Based at Hof Beckerode in Hagen, Germany, Koschel added that the mare is a joy to work with on a daily basis. "She is always in a good mood and not every mare is like this. She learns very quickly," he added.
Christoph feels it was a stroke of luck to find her at a foal show. He is certain the decision to buy her was a great one. "My father was judging her at the foal show and loved her right away," he said. "To win a medal was a great feeling and she really deserved it."
Set for some easy weeks now on the racetrack and in the field,  Solitaire will pick up the winter work afterwards. Christoph would love to show her in the Nürnberger Burgpokal qualifications next year. "She has a huge talent for piaffe and passage. You can feel that under the saddle and she is so willing to learn that we really hope she has a great future," he stated.
By Sarah Warne - Photos © LL-foto
Related Links
Scores 2014 Bundeschampionate
Eurodressage Coverage of the 2014 Bundeschampionate