Hanoverian Breeding News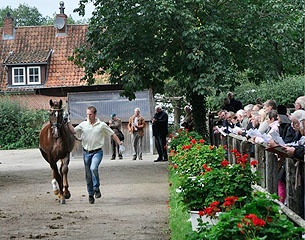 More than 500 2,5-year old colts have been entered to participate in the Hanoverian Stallion Pre-Selection days on 9 - 18 September 2014 in an attempt to get qualified for the 2014 Hanoverian Stallion Licensing in October.
The Hanoverian Stallion Pre-Selection days take place at 22 different venues where groups of about 10 to 30 young colts are presented each times. The pre selection days kicked off yesterday on three locations, in Winsen, Oetzen and Nienhagen. Other venues include Barver, Wallenhorst, Bersenbruck, Loningen, Meppen, Filsum, Wallmoden, Hoya, Alsfeld, Monchengladbach, Hollenstedt, Hepstedt, Verden, Wingst, Freiburg, Neuhaus-Oste, Cuxhaven, Stade, and Dorum.
Offspring scheduled to appear are sired by established stallions Chacco-Blue, Jazz, Weltmeyer, Alabaster, De Niro, Sir Donnerhall, and Londonderry amongst others, but there will also be offspring of young recently licensed sires such as Grey Top, Destano, Quasar de Charry, Sporcken, Dannebrog, Valentino, Belstaff, Perigueux, etc.
The 2014 Hanoverian Stallion Licensing takes place in Verden, Germant, on 23 - 25 October 2014.
Check out the list of colts registered for the pre-selection days
Related Links
Slim Pickings at 2013 Hanoverian Late Licensing
Strong Crop and Big Prices at 2013 Hanoverian Stallion Licensing
Reason to Celebrate at 2013 Hanoverian Stallion Licensing
Form or Function at the 2012 Hanoverian Stallion Licensing