2014 Bundeschampionate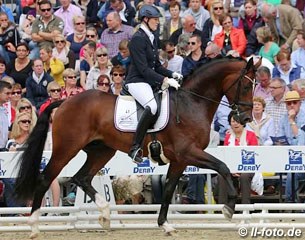 The Westphalian association turned out to be the most successful association at the 2014 Bundeschampionate, the Germany Young Horse and Pony Championships held at the head quarters of the German Equestrian Federation and DOKR in Warendorf, Germany, on 3 - 7 September 2014. Westphalian Riding Ponies and Horses won a third of all medals.
What a sensational success! Westphalian riding ponies and horses won an impressive 11 gold medals at this year's Bundeschampionate. In addition, another five silver and three bronze medals completed the result. In all places and in all disciplines Westphalian horses stood out with top performances and won a third of all awarded medals (19 of 60 possible medals). The result of the Westphalian riding Ponies was also very impressive as 11 out of 19 ponies won medals.
After the 2014 Bundeschampionate one can definitively say that horses and ponies from the Westphalian breeding area stand for top quality! Many thanks and congratulations to all breeders, owners, riders and participants
Here is an overview of Westphalian medals:
3-year old Riding Horses, Stallions
Gold went to the premium stallion of the 2013 Westphalian Stallion Licensing, Baccardi. The Belissimo M x De Niro son (Breeder: Agnes Beckhoff, Rietberg) and his rider Claudia Rüscher, Greven impressed with top marks (trot, canter, training level 9.0, walk 10.0). Baccardi is stationed at the breeding station Wilhelm Rüscher-Konermann in Greven.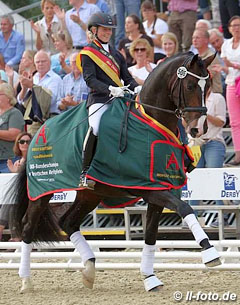 4-year old Riding Horses, Stallions

Equitaris by Estobar NRW x Rubiloh (Breeder: Norbert Borgmann, Ostbevern) was the winning horse of the 4-year old stallions. The premium stallion of the 2012 stallion licensing convinced under his rider Wibke Hartmann-Stommel.
Another stallion of the Westphalian licensing presented in Warendorf was Bonamour (by Boniface x Rousseau) under Janine Ebben. (Breeder: Ute and Andreas Brinkmann, Saerbeck, Station: Kampmann Stud, Lingen) who was decorated with bronze. The Rhinish registered Fürst Fohlenhof by Fidertanz under Lisa Neukäter, Hünxe, was also premium stallion of the 2012 stallion licensing.
6-year old Jumpers

Champion of the 6-year old jumpers was Coco Berlini (Breeder: Heinrich Sterthoff, Hamm). The Caspar x Quidam de Revel-daughter convinced under Lucas Deryckere. Silver was won by Fairmont E (by Ferragamo x Rockwell, breeder: stud Ecienhof, Bielefeld) under his owner Mario Stevens, Lastrup.
6-year old Eventing Horses

Vanessa Bölting, Münster and Carlson B (by Chambertin x Akito xx), bred by Vanessa's father Dieter, won gold in the eventing class of the six year old horses.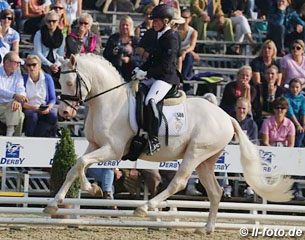 4-5 year old Driving Horses – one horse carriage

The Warendorf state stud stallion Flavis (by Flanagan x Ehrentusch, breeder: Hermann Berger, Ascheberg) with his driver Christian Koller is champion at the 4-5y. buggies.
3-year old Riding Pony Stallions

The title of the champion in this age group was awarded to Golden West (by Hesselteich's Golden Dream x FS Golden Moonlight, breeder: Bianca Weidner, Steinhagen, owner: Melissa Mulchahey, USA). Ridden by Wibke Hartmann-Stommel and stationed with Heiner Rohmann in Marl, the second Reserve Champion of the 2013 Westphalian Pony licensing, impressed the judges and the audience with his outstanding movements.
Bronze went here to Drei D AT (by Dance Star AT x Dreamdancer, breeder and station: Adolf Theo Schurf, Bedburg) under the breeder's daughter Jaqueline Schurf. Drei D AT, a premium stallion of the same licensing in 2013, is a full brother to the Champion of 5-year Dressage Ponies, Dreidimensional AT.
4-year old Riding Ponies, Stallions

In this age class, again Wibke Hartmann-Stommel won the gold medal. This time, Wibke was successful with the 4-year old Stallion Global Player AT (by Hesselteich's Golden Dream x Don Pepone, breeder Adolf Theo Schurf, Bedburg). Global Player was 1st Reserve Champion of his licensing in Münster-Handorf in 2012. On the second place again a pony bred by Adolf Theo Schurf was ranked. D-Day AT (by Dancestar AT x Notre Beau) and Jaqueline Schurf won silver.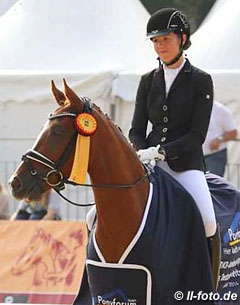 4-year old Riding Ponies, Mares and Geldings

The Timberland x Golden Dancer son Tanzbär T scored on the first place at the 4-year old Riding Ponies, mares and geldings. Tanzbär T is bred by Hans-Dieter and Eva-Maria Tüpker, Westerkappeln and was presented by his owner Christina Schankat, Krefeld.
5-year old Dressage Ponies

The 5-year old Dressage ponies made a great Westphalian success out of the Bundeschampionat. All three medals were won by Westphalian ponies. In the final test with 12 finalists, 6 ponies were Westphalian ponies, a total of 50%!
The winner was the 2nd Reserve Champion of the 2011 licensing, Dreidimensional AT (by Dance Star AT x Dream Dancer, breeder: Adolf Theo Schurf, Bedburg) under his rider Francesca Heil, Düsseldorf.
Silver went to the Dance Star AT x Marsvogel xx son Del Estero AT. He was bred by Antonius Sternschulte in Welver and presented by Sophie Dupree. This approved stallion is stationed at Danica Duen in Bad Oeynhausen.
Maike Mende from Wolbeck won bronze with Timberlake (by Timberland SH x Top Karetino, breeder: Karl-Heinz u Gaby Sander, Lüdinghausen, owner: Sabina Hübner, Löhne).
5-year old Jumping Ponies

Philipp Schulze Topphoff from Havixbeck and For fun TF are the new reserve Bundeschampion at the 5-year old jumping ponies. The bronze medal winner of the Pony European Championship (team) and vice champion of the German Pony Championships in 2014 and his For Kids Only x Principal Boy Son (Breeder: Berthold Triebus, Ennigerloh) impressed with three convincing rounds.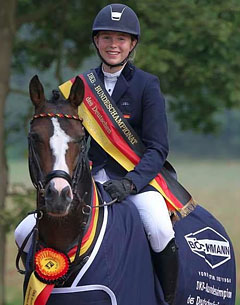 6-year old Jumping Ponies

Gold was won by the licensed Magic Cornflakes, stationed in Lastrup, by Miraculix x Nibelungenheld (Breeder: Jana Lasarzik, Schapen) and his rider Leonie Böckmann. Last year, the couple could already won the titel of the Champion at the five year olds and is thus double Bundeschampion.
5-6 year old Eventing Ponies

The eventing ponies represented once more their special variety.
Bundeschampion is the 6-year-old Nordkap by Nagano x Wortley Magic (Breeder: Werner Lülf, Borken) under Celine Geissler, Bobenheim. Nordkap also scored on an excellent fourth place in the final of the 5-year old jumping ponies with his rider Isabelle Gerfer, Odenthal.
Silver went to the 5yeear old son of Principal Boy x Bolero, Prinz S.W (Breeder: Hugo Schulze-Wartenhorst, Everswinkel). With his rider Annika Schnüpke, Westbevern, he was also qualified for the 5-year old dressage and jumping ponies.
Most successful Westphalian rider was once again Wibke Hartmann-Stommel, who won four gold medals. Breeder of four medalists is Adolf Theo Schurf from Bedburg.
Photos © LL-foto