2018 World Equestrian Games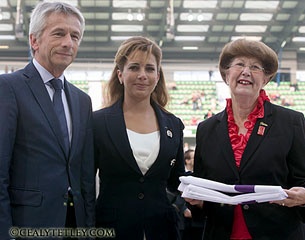 With the 2014 World Equestrian Games in Normandy, FRA coming to an end during the Closing Ceremonies on September 7, Canada stepped into the spotlight as the official host country of the eighth edition of the Games, to be held in Bromont, QC in 2018. As announced by the FEI on June 9, 2014, the Jeux Équestres Mondiaux 2018 (JEM 2018) Bid Committee was unanimously awarded the 2018  World Equestrian Games, with Bromont and Montreal, QC acting as the official host cities.
The awarding of the bid was showcased at the closing of the Games in Normandy during a special presentation. The FEI flag was lowered from the D'Ornano Stadium in Caen, FRA, and presented to FEI President HRH Princess Haya, who in turn presented the flag to Pauline Quinlan, Mayor of Bromont.
"We hope our successors from Canada and the city of Bromont live up to the same passion, preparation, organization, and realization of this magnificent organization," said Laurent Beauvais, Chairman of the Organizing Committee of the Alltech FEI World Equestrian Games 2014 and President of the Lower Normandy Region in his Closing Ceremonies speech. "Long live the World Equestrian Games. We'll meet again in Bromont in 2018!"
The 2018 World Equestrian Games Bromont/Montreal will take place from August 11-26, 2018 at the Bromont Olympic Equestrian Park. Planning of Canada's Games will be headed up by Paul Coté, President of the Bromont Organizing Committee.
In addition to world-class competition in the eight FEI disciplines of Dressage, Driving, Eventing, Endurance, Jumping, Reining, Para-Equestrian, and Vaulting, the 2018 Games are set to be a spectacular celebration of the horse, featuring one-of-a-kind opening and closing ceremonies that highlight the talent of Canadian performers and entertainers. Over 500,000 spectators are expected to attend the Games, along with an international equestrian trade show of more than 300 exhibitors. For media, it is estimated that 1,600 media representatives will bring the Games to life in print and online, plus broadcast to over 450 million television viewers in 157 countries.
As for the Normandy Games, Canada had a total of 32 athletes from seven teams participate, with six teams earning top 10 finishes. Highlights include Canadian Para-Equestrian athlete, Lauren Barwick of Aldergrove, BC winning individual Silver and Bronze Medals, and the Canadian Vaulting Team earning a top 10 finish in their first-ever Games as a full Squad.
"It's been a wonderful experience watching and cheering on our Canadian Equestrian Teams in Normandy. We are very proud of all of our athletes, and their performances here at the 2014 Games," commented Equine Canada President, Al Patterson. "We congratulate every nation's athletes for their successes, and look forward to welcoming everyone to Canada - home of the 2018 Games!"
Photo © Cealy Tetley
Related Link
Eurodressage Coverage of the 2014 World Equestrian Games