2014 German Youth Riders Championships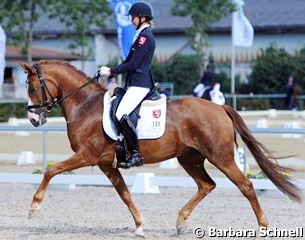 Pony rider Maike Mende, junior rider Anna Christina Abbelen and young rider Sönke Rothenberger were the title winners of  the 2014 German Youth Riders Championships in Zeiskam, a championship met with both sun and rain, and of course tough national competition.
Heading up the pony title on her 8-year old Desert Rose (by Don't Worry x Cockey Dundee), Maike Mende scored 76.538%  and 77.195% to win both the team and individual tests, and lifted further to take the kur with a stellar 82.575%, defeating Germany's unbeatable pony rider Semmieke Rothenberger.
"My pony was very relaxed in all three days of competition and it felt so good," the 16-year old Mende told Eurodressage. "The Freestyle was just amazing!"
According to Maike, competition was fierce as riders came from the whole of Germany and the level was very high at all competitions. "The atmosphere was very good because it is also so much fun with the riders from the other federal states," she explained.
Nicknamed "Diddle", Desert Rose has been with Maike since April 2013. The temperamental chestnut mare, who was unable to perform at top level at the 2014 European Pony Championships in Millstreet, Ireland, due to tension, has beenn a talented pony from the start of her career. Diddle won the Bundeschampionate when she was 3 years old.
"I train Diddle with Helen Langehanenberg. She is a very good trainer, because she has many good tips for me everytime I have a lesson. I also have my horse in training Rothschild, a 10 years old by Roh Magic x Pik Labionics, which I ride at junior level. I was very pleased with his results at the youth championships too, finishing sixth overall."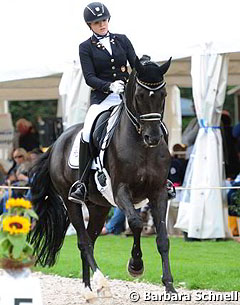 Fürst on Tour lived up to his name in the Junior division, taking his rider Anna-Christina Abbelen to overall gold with 77,883% in the team test, 77,456 % in the individual, and 84,450% in the kur. Abbelen finished her junior riders' career in total glory, after capturing triple gold at the 2014 European Junior Riders Championships in Arezzo in July.
"Fürsti felt very very good in Zeiskam," she said. "He always paid attention and I feel he is now like a little professor that I can totally trust at all times."
The 18-year old Abbelen says that her 9-year old by Fürst Heinrich x Rubioso can sometimes be a bit cheeky and tries to bite her. "However this is never with a bad intention and his attitude towards the sport or the "work" is always positive," she explained. "He gives 100 percent at all times. In the competition arena he puts his ears forward, "smiles", and I think he is thinking 'look at me, here I am'!"
Anna Christina discovered her horse at a very small local show in a young horse class and her parents bought him directly after the show. She has been riding and training him ever since with the help of Heiner Schiergen, who couldn't make it to Arezzo two months ago after breaking his leg. "Heiner is always with me at every show ! We are a really great team and I'm very happy that I have the chance to work with him," she added.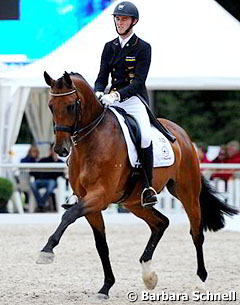 Happy to be a part of the very competitive Youth Championships, Anna-Christina knows that in Germany there is a very high class of dressage, and while she is going to concentrate on her studies for the moment, she hopes to remain part of German dressage in the future. "At the end of September I would like to try to qualify for the Nürnberger Burgpokal in Donaueschingen and afterwards I'm going to concentrate on Young Riders," she said.
Reaching for the stars on Cosmo, Sonke Rothenberger set out to show the potential of his horse and took first in all three tests, with 76,930% in the team test, 78,070% for the individual, and 80,025% in the kur. Claiming the gold he certainly reached his goal.
"I achieved this goal by dominating all three classes with personal records if not the highest of the year ridden by anyone," said Sönke proudly. "In addition I was 12th individually in the jumping," the 19-year old multi-talented rider added. "During the championshipd my horse felt exceptional, to be honest. I really have the feeling I am achieving a greater link with Cosmo all the time through our hard work at home, which is allowing us to show our possibilities inside the ring."
Cosmo, a talented 7-year old Dutch warmblood gelding (by Van Gogh x Landjonker) was discovered in The Netherlands when he was 4 and since then Sonke's father Sven had mainly been training him. "One and a half years ago, after my father injured himself, I started riding him and have never given him back," he quipped.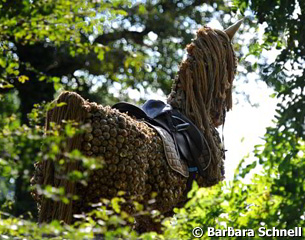 The unique thing about the German Youth Rider championships, according to Sonke, is the atmosphere and the fact that both jumping and dressage are held at the same location. "It's fun to have jumping friends as well as dressage friends from all over Germany in the same spot. The weather was not that nice. However, I was lucky to be able to perform when it was dry."
Trained by his parents at home in Gemrany, Sonke is excited about his future with Cosmo and just how far he can go with the star horse. "I don't think that a Grand Prix is easy due to the fact that I have zero experience at this high level," he admitted, "but I am not anxious about the future. My horse is looking promising for the future tasks that will come. He has showed his skills at home for the more difficult parts of a Grand Prix and he is really eager in showing his capabilities in his one and two tempis after 'only' being allowed to do those at home on special days. To be honest, I have tested piaffe and passage after the Young Rider season was over and that felt super, like basically everything else I have tried with him up till now. "
Sonke plans to complete his Bachelor degree at the Frankfurt School of Finance and Management and then fulfill his life dream. "I would love to compete in Aachen once in my life," he said.
Text by Sarah Warne - Photos © Barbara Schnell
Results - 2014 German Youth Riders Championships - Zeiskam
Pony Riders
1. Desert Rose - Mende, Maike - 76,538 - 77,195 - 82,575 --- 236,308
2. Golden Girl - Rothenberger, Semmieke - 76,026 - 75,163 - 80,200 --- 231,389
3. Schierensee's Don't do it - Netz, Raphael - 71,496 - 71,748 - 74,350 --- 217,594
4. Cyrill WE - Manganaro, Annabelle - 70,641 - 71,789 - 73,750 --- 216,180
5. Dow Jones - Laabs, Luna - 71,410 - 71,341 - 172,800 --- 215,551
6. Danilo - Krause, Nadine - 66,880 - 71,748 - 76,575 --- 215,203
7. Now an forever Feivel - Burschik, Kim - 70,897 - 70,569 - 73,075 --- 214,541
8. De Long - Nehls, Lea Luise - 72,692 - 72,805 - 68,800 --- 214,297
9. Voyager - Schroer, Tabea - 69,359 - 70,813 - 71,550 --- 211,722
10. Daddy's Daydream - König, Celine - 70,556 - 72,358 - 67,925 --- 210,839
11. Carlos WE - Holzknecht, Paulina - 68,077 - 69,512 - 72,300 --- 209,889
12. Den Ostriks Dailan - Raumanns, Lana - 69,872 - 68,862 -  - 70,150 --- 208,884
Junior Riders
1. Fürst on Tour - Abbelen, Anna-Christina - 77,883 - 77,456 - 84,450 --- 239,789
2. Geisha - Rothenberger, Semmieke - 71,622 - 73,509 - 79,250 --- 224,381
3. Revers Side - Krieg, Jessica - 71,892 - 73,553 - 77,500 --- 222,945
4. Babylon - Richter, Leonie - 69,099 - 72,368 - 74,425 --- 215,892
5. Comtessa - Ridder, Julia de - 70,450 - 70,965 - 73,650 --- 215,065
6. Rothschild - Mende, Maike - 71,261 - 70,044 - 73,175 --- 214,480
7. Zwetcher - Biermann, Christin - 70,568 - 70,000 - 71,550 --- 212,118
8. Habitus - Michels, Luca - 67,658 - 67,895 - 72,400 --- 207,953
9. Rio de Janeiro - Arnold, Ann-Kristin - 68,288 - 69,123 - 70,450 --- 207,861
10. Don Henrico - Walterscheidt, Lena Charlotte - 69,595 - 70,658 - 66,725 --- 206,978
11. Weltinda - Falke, Nadine - 68,288 - 68,947 - 69,700 --- 206,935
12. Depeche Mode - Welschof, Lia - 68,378 - 68,904 - 66,925 --- 204,207
Young Riders
1. Cosmo - Rothenberger, Sönke - 76,930 - 78,070 - 80,025 --- 235,025
2. FBW Daktari - Klössinger, Lisa-Marie - 70,614 - 74,825 - 76,000 --- 221,439
3. Fair Play RB - Nowag, Bianca - 71,491 - 72,807 - 75,400 --- 219,698
4. Barclay - Middelberg, Petra - 70,307 - 70,263 - 74,225 --- 214,795
5. Fascinate - Nuscheler, Juliane - 69,737 - 70,877 - 73,125 --- 213,739
6. Condio B - Averkorn, Claire-Louise - 69,825 - 71,272 - 72,375 --- 213,472
7. Don Dayly - Thüning, Joline - 69,956 - 71,930 - 69,575 --- 211,461
8. Long Island Ice Tea - Maier, Lisa - 67,675 - 70,044 - 71,875 --- 209,594
9. Dana - Ries, Natalie - 68,158 - 69,825 - 70,125 --- 208,108
10. Welcome Forever - Budde, Michelle - 70,351 - 69,167 - 67,650 --- 207,168
11. Dos Santos - Ehlen, Marie-Sophie - 68,465 -68,728 - 68,850 --- 206,043
12. Wells Fargo - Schmitz-Heinen, Jonas - 67,632 - 67,719 - 70,525 --- 205,876
Related Links
Rothenberger, Abbelen, Niemann Win 2013 German Youth Riders Championships
Rothenberger, von Platen, Kienbaum Win 2012 German Youth Riders Championships
Walterscheidt, Voigtlander, Rothenberger Win 2011 German Youth Riders Championships
Photo Report: All the Action from the 2010 German Youth Riders Championships
Scores: 2009 German Youth Riders Championships
Photo Report: 2008 German Youth Riders Championships in Hannover
Photo Report: 2007 German Youth Riders Championships in Steinfeld
Photo Report: 2006 German Youth Riders Championships