2014 Danish Elite Foal Auction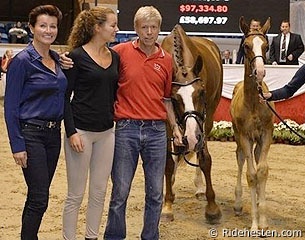 The Danish Warmblood's auction committee was more than satisfied with the result of the 2014 Danish Warmblood Elite foal Auction in Vilhelmsborg on 30 August 2014. Strandagergaards Sirocco became the price highlight of the auction.
Forty out of 49 foals were sold, resulting in a sales percentage of 82 percent. The average price was 12,950 euro, which is the highest ever average price achieved at the Danish Elite Foal Auction.

"It is laudable that the breeders year after year put forth their best foals for the Elite Auction," said Ulrik Kristensen, chairman of the auction committee. He also applauds the new format of the Elite Auction which has developed into an evening event with a dinner and a subsequent party.
The first foal in the ring was the Dressage Colt of the Year 2014, Strandagergaards Sirocco (by Sezuan x Don Romantic), bred by Jens Jørgen Abildskov. After a bidding duel between Andreas Helgstrand and an alliance consisting of Kristin Andresen and stallion station Katrinelund, the latter won after the hammer knocked down on 73,810 euro.
"I buy promising foals and horses for my daughter Alexandra Andresen and other talented Norwegian riders," said Kristin Andresen from Norway.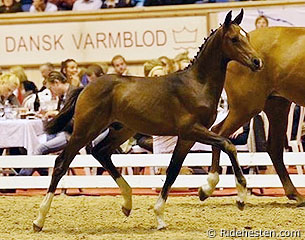 Two foals sold for 29,550 euro and both were sold to California. The black filly foal Lipas Adele (by Sezuan x Aljano) was purchased by a Dutch agent for a Californian client. The bay colt foal T-Hawk Axe (by Tomahawk x Zack) sold to Tomahawk's American owner Jamie White-Welling in partnership with Christy Reich.
Three dressage foals were sold for approximately 20,150 euro. One of them is Stenagers Falcon (by Franziskus x Wilkens) who is a full brother of the most expensive foal at last year's auction. He sold to Anne Lyngby. Her daughter, Grand prix rider Helene Melsen, is so fond of this filly that she decided to purchase the brother.

International Grand Prix rider Nathalie zu Sayn-Wittgenstein had – amidst all the preparations for and competition at the WEG – also found herself a favourite in the auction collection. The chestnut colt Fredensdals Fifty Cent (by Franziskus x Donnerball), bred by Linda Falensteen and Martin Strande, became hers for 20,135 euro. Who knows – maybe we will see the pair compete at WEG 2022.
Photos © Ridehesten
Related Links
Strandagergards Sirocco and JJ Sasha, 2014 Danish Warmblood Foal Champions
2014 Danish Warmblood Elite Foal Auction Boasts Impressive Collection