Danish Warmblood Breeding News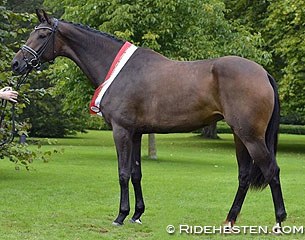 The Danish Warmblood Elite Mare Show came to an end conclusion on Sunday 31 August 2014 with the exciting final of the 3- and 4-year-old mares and the appointment of the two champion mare titles.  Lillevangs Pari-Diva became Dressage Champion Mare.
Forty-five young mares were awarded a breeder's medal at the 2014 Danish Warmblood Elite Mare Show: five gold medals, 13 silver and 27 bronze medals.

No 3-year-old dressage mares found their way to the final of five mares. This final ring consisted of two 4-year-old dressage mares, one 4-year-old and two 3-year-old show jumping mares. of the five gold medal winning mares in the final only two were dressage bred! They are:
Filuca S (by Fürstenball x  Milan), bred and owned the Servé family, and Lillevangs Pari-Diva (by Zack x Fanal Prydsholm), bred by Jytte & Poul-Erik Simonsen, and owned by Christian Nygaard Hansen & Nikolaj Hansen. Lillevangs Pari-Diva cantered away with the title as Dressage Mare of the Year.
"She is a large-framed and beautiful mare that has the highest riding test result of 2014 - 887,5 points. She received a 10 for her canter. The mare comes out of the famous Pari damline and is being prepared for a sport career under Jan Christensen, who has already qualified Lillevangs Pari-Diva for the semi-finals of the Danish dressage championships this year," said the press officer of the Danish warmblood society.
Photo © Ridehesten
Related Links
Stigma Named 2013 Danish Warmblood Mare of the Year
Fabrix Miss Ésandri, 2009 Danish Warmblood Mare Champion
Bøgegaardens Don Romina, 2006 Danish Warmblood Mare of the Year