2014 CDI-W Nizhniy Novgorod
Judging since 1979, Australia's 4 star judge and previous dressage Olympian, Ricky Macmillan, felt that the 2014 CDI-W Nizhniy Novgorod on 10 - 13 June 2014 was held at an excellent facility, with brand new footing, a proven drainage system and presented a great show of dressage talent in Russia.
The top three placed horses in the Grand Prix Kur to Music made up for the Russian team that competed at the 2014 World Equestrian Games.
" I think Russia can be proud of its team and the increasing strength of the sport in Russia," Macmilland stated. "Shows have been held here in Nizhniy Novgorod  for thirty years, initially encouraged by Olympic gold medal winner, Elena Petushkova. An international derby was held with nations from all over Eurasia including Japan and Korea as well as nations bordering Russia," said Macmilland. "At these shows all riders rode horses provided by Passage Club.  This year Junior, small tour and the CDI-W were held. There were riders from Belarus and Russia."
The event was organized by Passage Riding Club and is run by the Balykin family, headed by Anatoly and ably assisted by his children, Michael and Olga Kulikova.
Ricky says that in Nizhniy, many riders travelled long distances and some horses arrived a little tired after traveling in very hot conditions.
"During the first day of the show, a thunderstorm struck and caused a delay of about 20 minutes but the temperature dropped and became much more comfortable for the horses."
Having judged all over the world, Ricky knows that we aren't yet seeing 100% scores, so the things that need work in Russia are the same all over.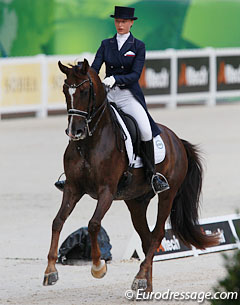 "What can the riders do to get higher scores? It is easy to say suppleness could be better and self carriage and this is nearly always close to the mark. However no two horses are alike and one of the interesting things about being a judge is that you can observe, up close, the way different riders approach the training of different horses. Russia has a proud history including gold medals. However, the standard in our sport is improving quite rapidly. No nation can afford to stand still and all nations seeking to improve their ranking must seek out and learn from the world's best and then move ahead from there. I believe many of the riders in Russia are striving to do this."
With some lovely horses in the Junior and small tour as well as the CDI-W, Ricky noted that there were quite a few horses from Western Europe as well as from the Baltic States competing at the show.
"There were also a couple of outstanding Russian-bred horses with the talent to be top quality Grand Prix horses," she stated.

Juniors were scoring up towards 70 %, with the Junior Tour dominated by Viktoriya Sokolova from Belarus and the 10-year old Latvian gelding Mandats and, according to Ricky, all levels produced highly talented riders, with a few who could sit more quietly to better enable their horse to balance and a few who were moving their hands a lot!
"The phrase from previous FEI rules that "the horse should do seemingly of his own accord what the rider asks with nearly invisible aids" always needs to be kept in mind," said Ricky. "The highlight for me was the GP freestyle. Musically there were six performances that really stood out.
The three top placing horses constituted the Russian team for the 2014 World Equestrian Games.  Macmillan gave her views on the top three placed pairs:
The winner, Mister X, a 10-year old Trakehner ridden by Inessa Merkulova (née Poturaeva) performed a great freestyle with some innovative lines and with a moderately high degree of difficulty. The final centre line did include some 20 meters of a highly collected canter that didn't seem to lead to anything. No doubt the rider will add to this in time. An impressive finish to the presentation is such a plus. This horse has an expressive piaffe and passage, good transitions, three correct paces and no real weaknesses.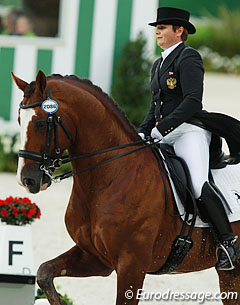 Second was the Russian bred 9-year old Hannoverian Vosk. He is also a quality horse with a really promising future although at this stage the freestyle is not of high difficulty. Marina Aframeeva showed him in a good frame and in self carriage. So far the trot half passes were shown more at small tour angle and use of the arena could be improved. A lot of the impressive passage was shown along the track down the long side away from the short side judges. Quite a lot of canter was also shown in long straight lines down the long side. Vosk clearly shows correct training and has quality paces. This combination is definitely one to watch in future.
Third was Upperville, a 13-year old stallion by Cabochon. He is an impressive stallion, ably ridden by Tatiana Dorofeeva. She presented a powerful performance with difficult sequences although the trot half passes could be ridden at a tighter angle. Riding both the collected and extended walks down the centre line from X to G was an unusual line but the walks were not presented to enable the short side judges to give best marks. Upperville showed highlights in the piaffe, passage and transitions and especially in the canter pirouettes in both the Grand Prix and Freestyle. The music really suited the combination well and Dorofeeva included good interpretation.
by Sarah Warne
Photos © Astrid Appels
Related Links
Scores: 2014 CDI-W Nizhniy Novgorod
Ricky MacMillan on Half Marks and Home Bred Horses
Ricky MacMillan Wins the 2004 Australian Dressage Championships