2014 Dutch Outdoor Pony Championships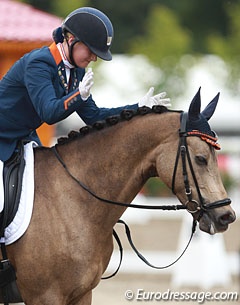 Lisanne Zoutendijk has ended her FEI pony career by winning the 2014 Dutch Outdoor Pony Championships in Ermelo, The Netherlands, on 30 August 201. Aboard her number one Champ of Class, Zoutendijk won the championship class with 75.53%. The silver went to Febe van Zwambagt, while Zoe Kuintjes claimed bronze.
The 2014 Dutch Outdoor Pony Championshps were held over two rounds: a qualification round taking place in two arena's simultaneously, which serves as qualifier for the championship class in the afternoon. Forty riders contested the qualifier and ten  participated in the Finals' round. Only two members of the bronze medal winning team that competed at the 2014 European Pony Championsips were at the Nationals. Demy Kurstjens and Joelle Peters were absent.
Zoutendijk and her 10-year old German bred gelding Champ of Class (by Champion de Luxe) scored 75.53% for gold and edged out Febe van Zwambagt on Coco Jambo (by Champion de Luxe). She finished on the silver step of the podium with 72.32%. Zoe Kuintjes and the grey Elin's Nonsisdador were good for bronze after posting a score of 69.96%.
"Everything went the way I wanted it," Zoutendijk told Eurodressage. "I was very happy with it went there. It's a pity my pony time is now over, but on the other hand a new time is coming up going into junior riders. Let's hope I can score at that level as well." Lisanne added that she will compete at two more pony events, in Zandhoven and Roosendaal, with her second pony Amaretto this year but her career with her top star Champ of Class has ended.
Photo © Astrid Appels
Results - 2014 Dutch Outdoor Pony Championships - Ermelo
1. Lisanne Zoutendijk -  Champ of Class - 75,53
2. Febe van Zwambagt  - Coco Jambo - 72,32
3. Zoe Kuintjes  -  Elin's Nonsisdador -  69,96
4. Daphne van Peperstraten  -  Don Camillo Du Bois  - 69,35 
5. Veronique van der Panne  -  Rhyfedd Spike -  68,50
6. Esmee Donkers -   Boticelli  -   68,01
7. Guusje Van Heeswijk  -  Majos Cannon - 66,63
8. Rianne Kooistra   - Diamond's Are Forever - 66,54
9. Romée van Paassen -   Keulse Hoeve's Zico -   65,77
10. Myrthe Wedda   - Golden Sunlight Mw  - 64,02
Related Links
Lisanne Zoutendijk Wins 2013 Dutch Outdoor Pony Championships
Van Zwambagt and Dr. Watson Win 2012 Dutch Outdoor Pony Championships
Sanne Vos and Champ of Class Win 2011 Dutch Pony Championships
Te Riele Concludes Pony Career with 2010 Dutch Pony Champion's Title
Antoinette Te Riele, 2009 Dutch Outdoor Pony Champion
Te Riele and Danny Boy B Win 2008 Dutch Outdoor Pony Championships
Angela Krooswijk, 2007 Dutch Pony Champion
Michelle van Lanen, 2006 Dutch Pony Champion