Danish Warmblood Breeding News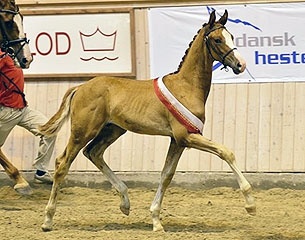 Strandagergårds Sirocco and JJ Sasha were named Colt and Filly Champion at the 2014 Danish Warmblood Foal Championship in Vilhelmsborg, Denmark, on Saturday 30 August 2014.
The judges for the Foal Championships assessed the foals selected at regional foal shows.
The filly JJ Sasha (by Sezuan x  Sandro Hit) bred in Norway by JJ Horses and owned by Kristin Andresen was named dressage filly champion. "This feminine, charming, expressive and very correctly built filly was selected at the Norwegian foal show. JJ Saccha moved convincingly with rhythm, suppleness and elasticity in all three gaits," wrote the press officer of the Danish warmblood society. This is the third consecutive year that JJ Horses has bred a Danish champion foal.
Strandagergårds Sirocco (by Sezuan x Don Romantic) was named dressage colt champion. The chestnut colt is bred and owned by Jens Jørgen Abildskov. "This colt is an exquisite mover. He has a very good walk and excellent trot and canter. He moves with a lot of action and rhythm, even in a slow pace," said the society.
Photo © Ridehesten
Related Links
Horgaard Tabasco and Springborgs Gateway, 2013 Danish Dressage Foal Champions
JJ Filippa and Tailormade Attraction Named 2012 Danish Dressage Foal Champions
JJ Fuji and Ellely's Tornado Named 2011 Danish Dressage Foal Champions
Dancing Boy and Stigma, Danish Dressage Foals of the Year 2010
Bjerggaards Don Perignon, 2006 Danish Warmblood Foal of the Year and Top Auction Foal