2014 Horse of the Year Show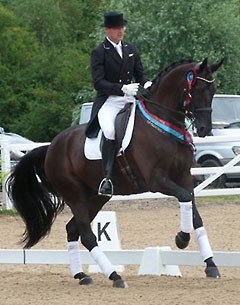 In a nail-biting climax, Hickstead CDI3* hosted the final qualifying leg in which top international dressage partnerships battled it out for a place in the Mount St John Dressage Future Elite Championship at this year's Horse of the Year Show (HOYS).  Following top performances from all riders, the final six spots for this year's final, which will be held at the NEC, Birmingham, on Friday 10th October, have now been confirmed.
Anders Dhal (Selten HW); Spencer Wilton, who has qualified both Alfons and Zamboucca, and Matt Frost (AMD Don Rosso II), have already verbally
confirmed their intentions to compete in the Mount St John Dressage
Future Elite Championship at HOYS. Qualification will move down the line
if there are any non-acceptances.
The final standings for the Mount St John Dressage Future Elite Championship are as follows:
SELTEN HW - Anders Dahl - 76.50%
WOODLANDER FAROUCHE - Michael Eilberg - 76.01%
ALFONS - Spencer Wilton - 74.81%
ZAMBOUCCA - Spencer Wilton - 74.20%
FLAVIO - Henriette Andersen - 72.86%
DON ROSSO II - Matt Frost - 72.44%
EXCALIBUR - Matt Hicks - 72.28%
BAROLO - Charlotte Dujardin - 72.27%
DON JOVI - Christian Llandolt - 72.26%
CARINSIO - Becky Moody - 71.87%
FURST RUBIN - Sarah Millis - 71.82%
D-J - Maria Griffin - 70.58%
AMBIENCE IV - Roland Tong - 70.55%
SUPER BLUE - Charlie Hutton - 70.54%
ZELHAM - Sara Gallop - 70.49%
ZIDYLLIC-S - Nicola Buchanan - 70.35%
HEADMORE BOADICIA - Alice Oppenheimer - 70.27%
HALF MOON DYNASTY - Michael Eilberg - 69.72%
BOHEME AF SULSTED - Keith Robertson - 69.63%
DIMAGGIK - Ben Martin - 68.88%
Just six automatic qualifying places are allocated for this prestigious event, showcasing the top up-and-coming dressage animals in Britain, gained by averaging percentages gained at British Dressage Premier League Shows and domestic CDIs. A further two places will be offered as wild cards, the recipients of which will be determined by Horse of the Year Show and British Dressage's senior selection committee.
Helena Pettit, Managing Director of HOYS organiser Grandstand Media Ltd, said: "We're so pleased the Mount St John Dressage Future Elite Championship was such a success in 2013 and is now evolving into a national final showcasing our exciting dressage talent. We'd like to wish the final six, and the soon-to-be-announced wild card combinations, in contention for the £2,000 first prize the very best of luck."
The six finalists, and two wild card combinations, will perform the Intermediate I Freestyle Test to Music in front of a packed house and three international judges, including FEI Dressage Judge General, Olympic Judge and Internationally renowned trainer Stephen Clarke.
Emma Blundell, Owner and Director of Mount St John Equestrian, said: "Mount St. John is excited to see the future talent of GB dressage showcased at HOYS in this dressage final."
The Mount St John Equestrian team breeds from only the top sporting bloodlines in the world. It focuses on using top class mares and selecting the best European stallions to suit, therefore building a strong foundation on which to breed the next generation of future elite dressage horses.
Tickets for HOYS 2014 are now on sale. For show information, including the show timetable, and to book, visit www.hoys.co.uk or call 0844 581 8282.
Related Links
Anders Dahl and Selten HW, Rare Partnership Harvesting Fruit of Success and More to Come
Mount St. John, the State of the Art Dressage Breeding Centre in Great Britain
Eilberg and Half Moon Dynasty Win Inter I Kur at 2014 British Indoor Championships
Half Moon Dynasty Wins Future Elite Championship at 2013 British Horse of the Year Show