2014 World Equestrian Games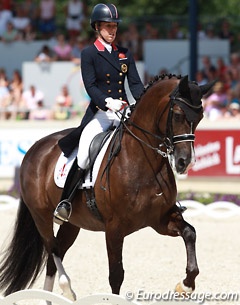 FEI press release -- The crackle of electricity is in the air ahead of the much-anticipated opening to the Dressage discipline at the 2014 World Equestrian Games in Caen, Normandy (FRA) on 25 August. In the history of this exacting sport there has never been a more fascinating contest in prospect for both the team and individual medals, and some very big questions will be answered over the coming days.
The Dutch managed to break the German grip on the team title for the first time at the last edition of the Games in Kentucky (USA) in 2010 but, four years on and the Germans once again look the ones to beat. German Chef d'Equipe, Klaus Roeser, has a formidable force at his disposal, and that includes the horse that took Kentucky by storm when providing his Dutch rider, Edward Gal, with the honour of becoming the first-ever competitor to take three gold medals at a Dressage World Championship. 
Heady days
That horse, of course, is the already-legendary Totilas whose story since those heady days has been something of a roller-coaster. The black stallion's sale, his disappearance from the competition arena for two years and his sudden return to the very top of the game with Germany's Matthias Alexander Rath in recent months ensures his presence is intriguing. 
Meanwhile the weight of expectation on the shoulders of Great Britain's Charlotte Dujardin is enormous. Holder of all three world record scores in Grand Prix, Grand Prix Special and Freestyle following a spectacular three-year run that included double Olympic glory with the brilliant Valegro, the 29-year-old rider and her trusty steed faltered under the spotlight at Aachen (GER) last month while Rath and Totilas simply relished the heat of the intense competition. 
The tale of two horses whose mesmerising talent has succeeded in opening up this previously conservative sport to a whole new world of followers in recent years looks set to enter a new and exciting chapter as they come face-to-face once again next week. And with Dujardin in determined mood this time around, it may be the Ground Jury who come under the greatest pressure as they try to separate these two giants on the scoreboard.
A great deal more
Of course there is a great deal more to the seventh World Equestrian Games Dressage contest, with 103 horse-and-rider combinations from 31 countries in action at the D'Ornano Stadium in the city of Caen. A total of 25 nations will line out in the team event, bidding to claim the first team spots for Rio 2016, before the Grand Prix Special and Freestyle medals are decided.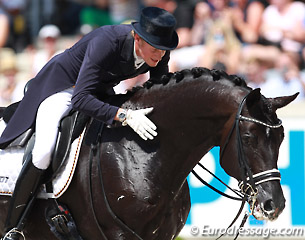 The main team medal contenders look likely to be from Germany, Netherlands and Great Britain, the countries that filled the steps of the winner's podium at last summer's 2013 European Dressage Championships in Herning (DEN). 
Dujardin and Valegro spearhead the British assault along with their trainer and mentor Carl Hester riding the relative newcomer Nip and Tuck, while Michael Eilberg partners the lovely grey mare Half Moon Delphi and Gareth Hughes competes DV Stenkjers Nadonna. As a team they will need to be at their best however, because Denmark, Sweden and the rising tide from the USA will be amongst a host of other countries waiting to pounce if they are not.
The same British side - with the exception of Uthopia as Hester's ride - took bronze in Herning where they were just 0.427 adrift of the silver-medal-winning Dutch side, while Germany came out on top by a further margin of 0.684.
The Dutch foursome at Normandy is also very similar, again with only a horse-change for Hans Peter Minderhoud who this time partners Johnson instead of Romanov. Danielle Heijkoop made an impressive senior team debut with Siro in Denmark, while the two big scorers in the Dutch line-up were Edward Gal, whose Undercover has gained a great deal more experience in the intervening period, and the double World Cup Dressage champions Adelinde Cornelissen and Parzival.
Sensational one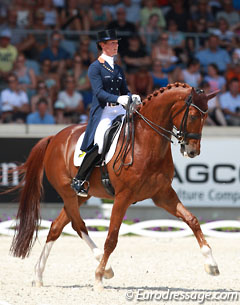 There is only one replacement rider on the victorious German side, with Fabienne Lutkemeier and D'Agostino making way for Matthias Alexander Rath and Totilas, while Isabell Werth has a change of horse, and it's a sensational one. 
Werth's personal record throughout the 24-year-history of the World Equestrian Games™ is as solid as it gets. The 45-year-old rider claimed team gold and individual silver with Gigolo at The Hague in 1994 and team and individual gold with the same horse in Rome in 1998. She did the double again on home ground in Aachen in 2006, this time with Satchmo, and in Kentucky in 2010 was in the bronze medal winning German side with Warum Nicht.
She travels to Normandy with a horse she describes as "the best I've ever ridden!" - the 10-year-old chestnut mare Bella Rose which she has been carefully nurturing over the last few years and which showed fantastic form and potential as they sparkled and shone in Aachen last month. 
With Kristina Sprehe and Desperados FRH and Helen Langehanenberg riding her 2013 World Cup™ Dressage champion Damon Hill NRW this looks an awesome German foursome, and Langehanenberg is likely to be amongst the string of horse-and-rider partnerships strongly challenging for the individual medals as well. 
Super-star horses
All eyes of course will be on the three super-star horses - Valegro, Damon Hill, and Totilas - throughout the entire week of competition. When at their best, both Dujardin's gelding, Langehanenberg's stallion and Rath's stallion have the ability to cast a spell over spectators and to earn colossal scores for their flair and flamboyance as they execute the most difficult of Dressage movements with the greatest of ease. 
The three horses however need the support and expertise of their riders, and the Dressage Championships at the World Equestrian Games™ 2014 will be as much a test of character for Rath and Dujardin as anything else.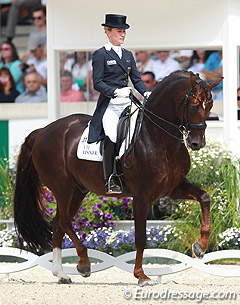 Rath has made an incredible comeback with the horse that achieved the first-ever score above 90 per cent in the history of this sport and who claimed team, Special and Freestyle gold in Kentucky a year after exploding onto centre stage when claiming double-gold at the European Dressage Championships in Windsor (GBR) in 2009 with Gal on board. 
It hasn't been easy to follow in the Dutchman's footsteps with Totilas, who is now 14 years of age, but after a difficult start it seems the Rath/Totilas partnership has gelled at last and, now, anything is possible.
Dujardin's confidence was shaken by her performances in Aachen last month where, following an extraordinary run which suggested they were all but invincible, Valegro lined up sixth in the Grand Prix and was runner-up behind Rath and Totilas in the Special. The British pair came back to win the Freestyle, but suddenly their bid for a clean sweep of Olympic, European and World titles seemed to be seriously undermined.
Together with Hester however she has been working away at home, preparing for Normandy with renewed vigour, so it seems the stage is set for a super-charged week of sport as the Alltech FEI World Equestrian Games™ 2014 medals are decided.
Facts and Figures:
Maximum 4 athletes and 4 horses per nation.
103 horse-and-rider combinations will compete.
31 National Federations will be represented.
25 National Federations represented by teams.
6 National Federations represented by individuals only.
Previous record stood at 89 horse-and-rider combinations from 33 countries, at World Equestrian Games™ in Aachen, Germany in 2006.
Ground Jury members: Isabelle Judet (FRA) President, Elizabeth McMullen (CAN), Susan Hoevenaars (AUS), Stephen Clarke (GBR), Liselotte Fore (USA), Dietrich Plewa (GER), Francis Verbeek (NED). Reserve member Susanne Baarup (DEN).
Judges Supervisory Panel: Dieter Schuele (GER), Ghislain Fouarge (NED) and David Hunt (GBR).
Technical Delegate: Maribel Alonso (MEX).
Chief Steward: Jacques van Daele (BEL).
3 separate competitions and 3 sets of medals.
Grand Prix/Team competition, Monday 25/Tuesday 26 August. The three medal-winning teams will book the first team spots for the Rio 2016 Olympic Games.
Grand Prix Special on Wednesday 27 August is open to top-30 horse-and-rider combinations plus ties for 30th place.
Freestyle on Friday 30 August is open to top-15 horse-and-rider combinations plus ties for 15th place.
Top scores before the Alltech FEI World Equestrian Games™ 2014 - all held by Great Britain's Charlotte Dujardin and Valegro: Grand Prix 87.129 set at the Reem Acra FEI World Cup™ Dressage Final in Lyon (FRA) in April 2014; Grand Prix Special 88.022 set at CDI Hagen (GER) in 2012; Freestyle 93.975 set at CDI-W London (GBR) Great Britain in December 2013.
by Louise Parkes, edited by Eurodressage
Photo © Astrid Appels
Related Link
Eurodressage Coverage of the 2014 World Equestrian Games