2014 Bundeschampionate Qualifier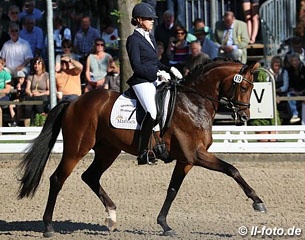 The 5-year old stallion Flinstone and the 6-year old stallion Herbstkonig were the winners of the L and M-level Bundeschampionate qualification classes held at the Hanoverian Regional Championships in Hanover, Germany, on 16 July 2014.
The Swedish rider Jessica Lynn Andersson and the Rhinelander stallion Flinstone (by Fidertanz x Abanos) dominated the 5-year old division with a winning score of 8.2. The liver chestnut stallion received 8.5 for trot, 7 for walk, 9 for canter, 8 for submission and 8.5 for general impression. Heiko Klausing and the Oldenburg stallion Justify A (by Jazz x Inselfurst) were thge runners-up with 8.1. They got 8.5 for trot and canter, 8 for walk, 7.5 for submission and 8 for general impression.
Theresa Wahler and the Trakehner stallion Herbstkonig (by Interconti x Timber) aced the 6-year old class with an 8.3 total score. The pair got 8.5 for trot, 8 for walk and canter, and 8.5 for submission and general impression. Esther Maruhn and the Hanoverian stallion Deep Purple (by Don Frederico x Weltruhm) landed second place with 8.2. They got 9 for trot, 8 for walk, 8.5 for canter, 7.5 for submission and 8 for general impression.
Photo © LL-foto
Results - 2014 Bundeschampionate Qualifier - Hanover
5-year olds
1. Jessica Andersson - Flinstone (by Fidertanz x Abanos) - 8.2
2. Heiko Klausing - Justify AS (by Jazz x Inselfurst) - 8.1
3. Anna Sophie Fiebelkorn - Schwarzgold (by Imperio x Consul) - 8.0
3. Maxi Kira von Platen - Danza (by Dimaggio x Rubin Royal) - 8.0
5. Sandra Frieling - Furst von der Heide (by Furst Nymphenburg x Cordoba) - 7.8
5. Mike Habermann - Furstbischof (by Furst Romancier x Plaisir d'Amour) - 7.8
7. Sandra Frieling - Liesel in Red PR (by Locksley II x Crazy Classic) - 7.7
7. Esther Maruhn - Fortuna (by Fidertanz x De Niro) - 7.7
9. Dora Asendorf - Beckham (by Benetton Dream x Don Davidoff) - 7.6
9. Heiko Klausing - Quadrupol (by Quaterback x Calypso) - 7.6
11. Nicole Deinzer - Sweet Belly (by Scolari x His Highness) - 7.5
11. Jolan Lubbecke - Dujardin HB (by Dancier x Connery) -7.5
11. Mette Samuli - Hosianna (by Hofrat x De Niro) - 7.5
14. Tanya Seymour - Sign of Freedom (by Sandro Hit x Hohenstein) - 7.4
15. Nicole Deinzer - Sotomayor (by Sarkozy x Don Primero) - 7.3
16. Achim Ostermeyer - Barclay (by Benetton Dream x Furst Piccolo) - 7.2
17. Wenke Tewes - Shirin's Diva (by Imperio x Ravel) - 7.1
18. Kathrin Dittmer - PAV Smart (by Soliman de Hus x Weltmeyer) - 7.0
19. Daja Bultmann - Sam (by Sir Donnerhall x Hohenstein) - 6.9
19. Katharina Wilts - Qualimero (by Quaterback x Don Frederico) - 6.9
Anja Rietbrock - Wenzels Roomy (by Serano Gold x Rubinstein) - RET
6-year olds
1. Theresa Wahler - Herbstkonig (by Interconti x Timber) - 8.3
2. Esther Maruhn - Deep Purple (by Don Frederico x Weltruhm) - 8.2
3. Leonie Bramall - Donizetti (by Don Frederico x Lauries Crusador xx) - 8.1
4. Wolfhard Witte - Floratio (by Florencio) - 7.8
5.  Ariane Dierkes - Rock For Germany (by Rock Forever x Carnando) - 7.6
5. Anna Sophie Fiebelkorn - Fritz (by Farewell III x Londonderry) - 7.6
7. Tabea Rauhut - Der Kleine Prinz (by Don Frederico x Wittinger) - 7.5
8. Magdalena Preisler - Dancing Paul (by De Chirico x Lorentin I) - 7.4
8. Gabriele Sohn Rux - Rosalinde (by Royal Blend x Alabaster-) - 7.4
10. Matthias Klatt - Rochee K (by Royal Blend x Fabriano) - 7.3
11. Malte Kalus - Royal Dream (by Royal Doruto x Florencio) - 7.2
12. Thomas Scholz - Douze Points (by Dauphin x Fabriano) - 7.1
12. Dirk von der Lieth - Quantanamera (by Quaterback) - 7.1
14. Ariane Dierkes - Fidelia (by Fidertanz x Alabaster ) - 7.0
14. Carla Reimers - Dondolo (by Diamond Hit x Chico's Boy) - 7.0
14. Eckhard Wahlers - Reethi Rah (by Rubin Cortes x Londonderry) - 7.0
17. Hans Peter Klaus - Londonhit (by Londontime x Sandro Hit) - 6.9
17. Nina Ossenberg - Furstino (by Furst Grandios x Weltmeyer) - 6.9
19. Tanya Seymour - For Christmas (by Fidertanz x Welt Hit II) - 6.8
Related Link
Eurodressage Coverage of the 2014 Bundeschampionate