2014 Bundeschampionate Qualifier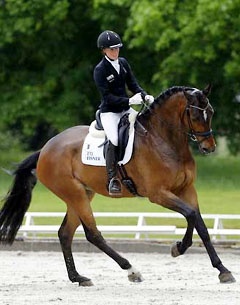 The 5-year old Sirius Black and the 6-year old won the Bundeschampionate qualification classes held at the regional show hosted at Hof Bettenrode on 11 - 13 July 2014. Several of the German based top international Grand Prix riders competed at Hof Bettenrode with their future FEI stars.
Finnish Emma Kanerva topped the leader board with the Hanoverian gelding Sirius Black (by San Remo) scoring 8.6. She edged out Sabine Egbers on the Oldenburg stallion Fiderprinz (by Fidertanz x Prinz Oldenburg) with 8.5.. Tessa Frank rounded out the  top three aboard Best of Nymphenburg, a Westfalian stallion by Basic x Dimension owned by Helmut von Fircks. This pair scored 8.3.
Helen Langehanenberg and Gunther Fielmann's Holsteiner mare Annabelle (by Conteur x Linaro) aced the M-level dressage test for 6-year olds with an 8.3 score. She referred Christoph Koschel on the Oldenburg mare Solitaire (by San Amour x Davignon I)  to second place with 8.2. Belgian Grand Prix rider Carl Cuypers rode Nussbaumhof's Rhinelander stallion Sensation (by San Dior x Lancer II) to a third place with an 8.0 score.
Photo © Stefan Lafrentz
Results - 2014 Bundeschampionate Qualifier - Hof Bettenrode
5-year olds
1. Emma Kanerva  - Sirius Black - 8.6
2. Sabine Egbers  - Fiderprinz - 8.5
3. Tessa Frank  - Best of Nymphenburg - 8.3
4. Isabel Bache  - Dark Fellow WAF - 8.2
5. Sandra Frieling  - Liesel in Red PR - 7.8
6. Sandra Frieling  - Fürst von der Heide 2 - 7.6
7. Maxi Kira Platen  - Danza - 7.5
8. Mayke Liebregts  - Sympathie - 7.4
9. Carde Meyer  - Rhythm Divine M - 7.2
10. Anja Rietbrock  - Wenzels Roomy - 7.0
10. Alexis Vrachoritis  - Fidibus - 7.0
10. Karin Ammeling  - Bonnie Blue - 7.0
10. Alexis Vrachoritis  - Salerno unico - 7.0
14. Julia Riechmann  - D'Amur S - 6.8
14. Karlotta Koperski  - Fool's Paradise - 6.8
16. Wiebke Rittner  - Lexus R - 6.6
17. Meta Christmann  - Placido - 6.5
Fabian Schramm  - Hermine - RET
Christina Drüke  - Silvermoon - RET
6-year olds
1. Helen Langehanenberg  - Annabelle   - 8.3
2. Christoph Koschel  - Solitaire - 8.2
3. Carl Cuypers  - Sensation - 8.0
4. Sabine Egbers  - Roger Moore - 7.8
5. Uta Gräf  - Deliano H - 7.7
5. Maria Peters  - Jakarta  - 7.7
7. Uta Gräf  - Lexington - 7.6
8. Svenja Kämper-Meyer - Bella Colorata M - 7.5
8. Senta Kirchhoff  - Dujardin - 7.5
10. Alexandra Bimschas  - Hampton Court - 7.4
10. Matthias Klatt  -Rochee K - 7.4
12. Alexis Vrachoritis  - Happy Highness - 7.3
12. Friederike Reinke  - Laudon - 7.3
14. Tessa Frank  - Carrisimo von Nymphenburg - 7.2
15. Kira Ripphoff  - Saphir von Nymphenburg - 7.0
16. Valerie Rollwage  - Manolo - 6.9
16. Carl Cuypers  - Senturion - 6.9
Related Link
Eurodressage Coverage of the 2014 Bundeschampionate