2014 World Equestrian Games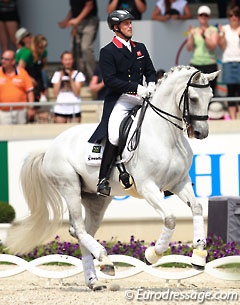 The British Equestrian Federation and British Dressage have announced the team that will represent Great Britain at the 2014 World Equestrian Games in Caen, France, on 25 - 29 August 2014. After winning team gold at the 2012 Olympics and bronze at the 2013 European Championships, Great Britain is out for a new medal in Caen.
The British WEG team includes:
Carl Hester - Nip Tuck (reserve horse Dances with Wolves)
Charlotte Dujardin - Valegro
Gareth Hughes - Stenkjers Nadonna
Michael Eilberg - Half Moon Delphi (reserve horse Marakov)
The non-travelling reserve riders are Lara Griffith (on Andretti) and Daniel Watson (with Fideramber).
Richard Waygood, Chef d'Equipe for the British team commented; "I'm very excited with the announcement of the team and feeling positive as we look forward to WEG. We set our goal after London to qualify at the World Equestrian Games for the Rio 2016 Olympic Games, to do this we need to be in the top three nations. Achieving qualification this summer will allow us to campaign next year with as much flexibility as possible, without having to worry about qualifying. It's going to be a very exciting championship".
Chef de Mission, Will Connell commented; "Gareth and Carl have already competed at the WEG venue, taking part in the recent Test Event; Charlotte and Michael are recently returned from Aachen CHIO where Michael turned in some great scores and Charlotte demonstrated that it is not if you fall but how you pick yourself up again that marks you out as a worthy champion. We head to WEG with an experienced Dressage team who know that to secure Rio 2016 Qualification they must finish on the Team Podium. Once that is achieved then the battle will begin for individual medals; and that will be a very exciting clash of the titans."
Commenting on their selection: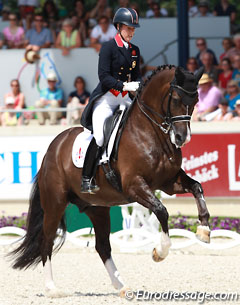 Charlotte Dujardin: "To be taking part in my first World Equestrian Games is really exciting; I'm really looking forward to it. Representing my country is always a great honour and I hope we can give our fans and supporters the results to make them proud. I'm grateful to Carl [Hester] and Roly [Luard] for their generosity in letting me ride such an amazing horse. Thanks also to my sponsors and the World Class Programme for their support."
Michael Eilberg: "It's been brilliant; we [Half Moon Delphi] had a great show out in Aachen, so this is just the icing on the cake. To get to the 80% mark at that show is a fantastic feeling; it felt like she was growing each time we went into the arena. Each year to get on the British team is an achievement and it's been a goal for this season; our whole support team has been fantastic – from my owners, vets, farrier, support team at home – it's been a real team effort to get to here.
"We've had Marakov since a three year old, and he's taken his time to get to this level but for him to go and get his highest international result so far out at Aachen, and to know I've got a second horse on the team, it's a real sense of achievement, particularly as we've owned and produced him."
Carl Hester: "What a great opportunity – I'm certainly looking forward to the chance of bringing home medals for Britain. I'm lucky to have three horses qualified and the three owners have been so supportive of the horses. I know that if we can all post our best results on the day, we're in with a great shot of a medal."
Gareth Hughes: "It's been a great year for her [Nadonna], we've been working towards this but you never really know until you get the call. They're [the other team members] a great bunch and it's great to be on a team with Carl and Charlotte with their experience, and Michael, who was obviously on the team last year at the Europeans, and I'm very proud to be a part of Team GBR again. It will be an exciting event for the public and for equestrian sport; I'm a bit of a closet cowboy, so I'm really hoping I'll be able to go and see some of the reining competition too."
Photos © Astrid Appels
Related Link
Eurodressage Coverage of the 2014 World Equestrian Games