2014 CDIO Aachen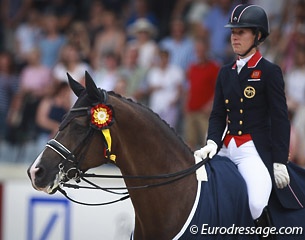 (CHIO Aachen press release) Double Olympic gold medalist Charlotte Dujardin won the Finale of the 2014 CDIO Aachen in the Deutsche Bank Prize, taking the victory in the Grand Prix Freestyle of the CDIO Tour, the Dressage Grand Prix of Aachen. The 29-year-old from Great Britain headed the strong field with a score of 87.900 percent.
Germany's top rider and last year's winner Helen Langehanenberg finished second with Damon Hill NRW (86.025), followed by Isabell Werth with Bella Rose (85.150). Matthias Alexander Rath and Totilas – who won both the Grand Prix and Grand Prix Spécial – had withdrawn from the competition the day before, because the stallion is in preparation phase for the WEG and just came back from injury. Kristina Sprehe took fourth place with Desperados FRH (83.150) and thus completed the strong overall result of the German squad that is trained by the National Coach, Monica Theodorescu.
It was an exciting week with ups and downs. "I didn't get off to a good start. I've never had that many mistakes in the Grand Prix with Valegro, I really made a fool of myself," analysed the British rider. After her big mistakes at the beginning in the flying-changes, the crowd had kept groaning at every further faux pas. "That made me even more nervous," she reported. "But that's life, everyone makes mistakes and I am not perfect and neither is Valegro," she said. The British super stars and World Cup winners had difficulties coping with the heat. Winning the Kur in their final performance in Aachen was a small consolation. "I am very happy with my ride. The transitions and the piaffes were super," she summed up.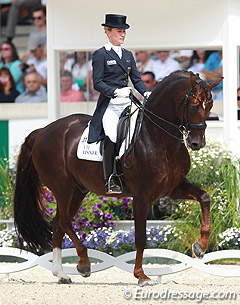 Helen Langehanenberg, who had a mistake in the flying-changes was also satisfied. "I didn't warm up as long as usual because of the heat, so Damon Hill was very fresh," she reported. "I am very much looking forward to the World Equestrian Games," she stated.
Isabell Werth was equally happy. "Michael Erdmann (Werth's freestyle designer) did a wonderful job and managed to get the music finished," said Werth. She hadn't practised the freestyle in advance but had concentrated on the first two competitions instead, not to confuse the horse. "I am delighted that Bella Rose was so concentrated and didn't want to make a mistake. It is the first time she has been in such a big stadium with so many spectators and she got used the situation more every day."
-- CHIO Aachen Press Release
Photos © Astrid Appels / Eurodressage - - NO REPRODUCTION ALLOWED (NO FACEBOOK!! If you want to use the photo, buy it)
Eurodressage's Astrid Appels was on the scene taking photos of all CDIO Riders in Aachen. Contact us if you are interested in photo prints, collages or albums.
Related Link
Eurodressage Coverage of the 2014 CDIO Aachen