British Dressage News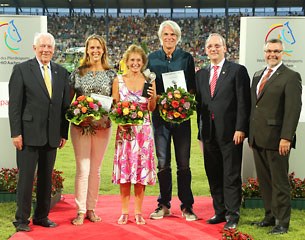 The English photographer Pam Langrish was able to convince the jury with two four-legged stars: A horse and a small cuddly dog speeding past at the front of the photo. The eventer Andrew Nicholson almost goes unnoticed on the winning photo. On Saturday evening, the coveted trophy, the Silver Camera, for the best international equestrian sport photo, was awarded to Langrish.
The curious thing about it. This photo was only taken by chance. Pam Langrish, is actually a dog photographer, she just happened to fill in for her husband, Bob Langrish, a well-known equestrian sport photographer, at the eventing show in Badminton, because he didn't have any time. This is where she took the spontaneous snapshot, which also won her a place on the winners' rostrum. "I sent my wife off to take a photo of a horse and she comes back with one of a dog," is how her husband recounted the story with a wink. It certainly paid off anyway.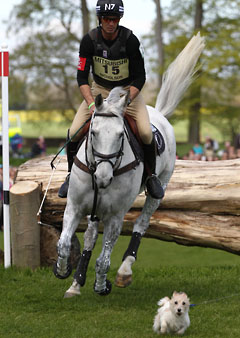 Second place went to the Belgian photographer Astrid Appels, and the Dutch photographer Arnd Bronkhorst came third. The prizes were awarded by Helmut Schiffer, CEO of the Rheinischer Sparkassen- und Giroverband, Hubert Herpers, Chairman of the Sparkasse Aachen, and Hans Kauhsen, Supervisory Board Member of the Aachen-Laurensberger Rennverein e.V.
A jury comprising of Dirk Caremans (last year's winner), Ludo Philippaerts (Belgian show-jumper), Andreas Müller (Executive Director of Zeitungsverlag Aachen (newspaper publisher), Erich Timmermanns (Advertising & PR Director, Sparkasse Aachen) and Frank Kemperman (Chairman of the ALRV) made a preselection of the 74 photographs submitted from all over the globe.
The famous media prize is jointly awarded by the Aachen-Laurensberger Rennverein e.V. the Sparkasse Aachen and the Rheinischer Sparkasse & Giroverband. The winner receives prize-money to the value of 2,500 euro, the first runner-up wins 1,000 euro and the second runner-up 500 euro.
Related Links
Appels, Bronkhorst, Langrish Nominated for 2014 Silver Camera Award
Dirk Caremans Wins 2013 Silver Camera Award
Julia Rau Wins 2011 Silver Camera Award at CDIO Aachen
Silver Camera 2001 for Werner Ernst
Bernhard Kunz, Winner Silver Camera Award 2000