2014 CDIO Aachen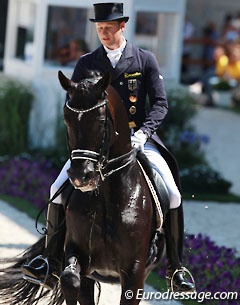 FEI Press Release - Germany threw down a definitive performance to win the fifth leg of the FEI Nations Cup™ Dressage 2014 pilot series on home ground at Aachen today. The powerful side included Kristina Sprehe (Desperados), Isabell Werth (Bella Rose) and Helen Langehanenberg (Damon Hill), but it was Matthias Alexander Rath who stole the show when producing the top mark of the competition with the stallion Totilas.
For Rath this was a pivotal performance. In recent months he and the horse, which already had legendary status long before flying the German flag, have rocketed up the world rankings to 25th place following a long absence from the sport. Today they produced a great score of 82.300, and German supremacy was further cemented when Langehanenberg slotted into second and Werth finished fourth in the individual standings.
Adelinde Cornelissen and Parzival led the Dutch team to runner-up spot, while Spain finished a very creditable third despite the loss of a team combination at the last moment. Great Britain finished fourth, and there was near-disbelief when the world no. 1 partnership of Charlotte Dujardin and Valegro failed to show anything like their usual accuracy and sparkle. For the first time since January 2012 the British duo had to settle for a minor placing, their score of 76.900 only good enough for sixth place in the final analysis.
The Swedish team finished fifth, Denmark sixth, the USA slotted into seventh and Belgium and Austria filled eighth and ninth places respectively.
Acute interest
With the World Equestrian Games™ in Normandy (FRA) just six short weeks away there was more than FEI Nations Cup™ Dressage series points at stake today as riders strove to impress ahead of imminent selection. The newly-extended Deutsche Bank stadium at Aachen was filled to capacity with 6,300 spectators and the atmosphere was tense throughout the long competition that began at 09.00 with The Netherlands' Marlies van Baalen and Miciano first into the arena. The Ground Jury of Dietrich Plewa (GER), Isabelle Judet (FRA), Francis Verbeek-Van Rooy (NED), Stephen Clarke (GBR) and Susan Hoevenaars (AUS) awarded the opening pair with a mark of 69.740, but German pathfinders Sprehe and Desperados FRH posted 73.960 and such was the strength of the host nation side that this proved their discount score.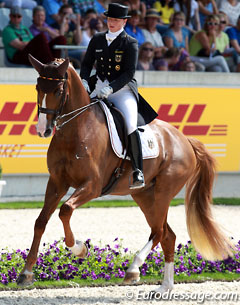 When Werth and Bella Rose posted 79.580 the German position was further strengthened and when Rath and Totilas racked up their 82.300 the writing was already on the wall, even before Langehanenberg and Damon Hill NRW secured 81.220 for a test that finished with an odd moment when the stallion leaped into the air before his final halt. A team score of 243.100 left the Germans almost 20 points clear of their Dutch rivals on a final tally of 223.380, and the Spanish were less than three points further adrift in third.
When Hans Peter Minderhoud and Glock's Flirt scored 72.660, the Dutch runners-up relied heavily on Adelinde Cornelissen's strong mark of 80.980 that earned her third place individually, while the Spanish had every reason to be pleased with evenly-matched scores recorded by Jose Daniel Martin Dockx and Grandioso (74.640), Morgan Barbancon and Painted Black (73.260) and Jose Antonio Garcia Mena and Norte Lovera (72.700) after Alexandra Barbancon's Don Lorean was withdrawn before the veterinary inspection.
The shock of the day was the performance of Britain's star partnership of Dujardin and Valegro who began on a familiar note with multiple scores of nine before suddenly plummeting to threes and fours when the tempi changes and pirouettes went awry. Expectations are so high for this pair who have taken the sport of Dressage by storm over the last two years, setting new world records in Grand Prix, Grand Prix Special and Freestyle, and clinching double-gold at the London 2012 Olympic Games and at last year's FEI European Championship along with the Reem Acra FEI World Cup™ Dressage 2014 title just three months ago. In the intense heat of the late afternoon today they failed to show anything like their usual form. Today it was Totilas and Germany's Matthias Alexander Rath who took centre stage.
Superstar status
The stallion already had superstar status under his previous rider, The Netherlands' Edward Gal, before Rath took up the reins in 2010 but has only returned to top competition in recent times and today they showed why they have soared up the order in the latest rankings having rapidly accumulated 1,939 points. The 29-year-old rider admitted that his horse's piaffe and passage were "not the best he can do" but he said "it was a good test, with one little mistake in the tempi changes". He added "we had a higher score and I had a better feeling at Perl (GER) but here in Aachen, in front of our home crowd, there is so much pressure - from the very beginning every time I come out with Totilas there is pressure, that hasn't changed, but Aachen is more pressure than anywhere else because it is the biggest show of all!"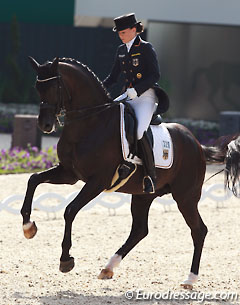 The rest of the German team also reflected on today's victory. Helen Langehanenberg said her test "felt very good but I did make one big mistake and one little one! The big one was in the last passage, I pushed a little too much and he did a jump. He did the same thing at the same place here in Aachen a couple of years ago! He was very fresh because he hasn't had a show for a long time and when we were going into canter there was a little bit of confusion but in general I'm very happy with how it went today. We still have some more work to do to get things completely right before the WEG. We have three tests to do here in Aachen, but no more shows before Normandy. I'm really very happy about how things are going, today again Dami gave me a really good feeling" she explained.
Kristina Sprehe said that Desperados "felt good in the paddock, but not in the arena" while Isabel Werth said she was very happy. "My horse is going better and better" she said of Bella Rose and when the German team were asked if they thought there was room for improvement before the forthcoming World Equestrian Games™ in Normandy they looked at each other before Werth wisely replied - "our job now is to keep our horses well, to keep them healthy and happy over the coming weeks, that is our biggest challenge!"
As the FEI Nations Cup™ Dressage 2014 pilot series moves towards its finale at Hickstead, Great Britain in two weeks' time, The Netherlands maintains the lead with Sweden in second, Denmark in third and Germany now in fourth place.
by Louise Parkes for the FEI
Editor's Note: Eurodressage report on the Grand Prix coming soon - Photo © Astrid Appels
Related Links
Scores 2014 CDIO Aachen
Eurodressage Coverage of the 2014 CDIO Aachen