2014 World Equestrian Games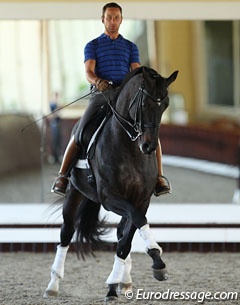 The Dressage Canada Selection Panel announced the names of the Canadian Dressage Team who will compete in the 2014 World Equestrian Games (WEG) in Normandy, FRA August 23 - 29, 2014. Selected according to the qualification thresholds and selection procedures, four rider/horse combinations are named to the Team.


Named to the Team in alphabetical order are
Megan Lane - Caravella (Contango x Riverman), a 13-year-old Canadian-bred Dutch Warmblood mare
David Marcus - Chrevi's Capital (Chrevi's Cavallo x Weinberg), 14-year-old Danish Warmblood gelding
Karen Pavicic - Don Daiquiri (Don Cardinale), a 12-year-old Oldenberg gelding
Belinda Trussell - Anton (Antaeus x Melit), a 14-year-old Sachsen gelding
In addition to selecting the Canadian Dressage Team members, the Panel announces the rider/horse combination as alternate/substitute for the Dressage Team.

Named as a non-travelling alternate
Jacqueline Brooks - D Niro (D Day x Napoleon 625), a 14-year-old Swedish Warmblood gelding
"This Team represents a great combination of experienced, top international competitors and up-and-coming stars," said chef d'équipe Victoria Winter, who was a member of Canada's 2010 WEG Dressage Team.  "I congratulate all of our riders on their success, and I know that we will see some exciting results at WEG."
In addition to the leadership of Winter, the Team will also be supported by Special Advisor, Desi Dillingham, Technical Advisor Dr. Volker Moritz, Veterinarian Dr. Geoff Vernon and Team Manager Christine Peters.
Photo © Astrid Appels
Related Links
Eurodressage Coverage of the 2014 World Equestrian Games
Canadian WEG Team Taking Shape After 2014 CDI Cedar Valley