A Walk on the Premises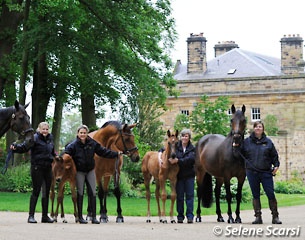 Mount St John, originally an 11th-century preceptory of the Order of St John of Jerusalem and then re-built five centuries later as a stunning manor house set in 1250 acres of farmland, is nestled in the hills overlooking Felixkirk, a tiny hamlet mentioned in the Domesday Book as Fridebi, 'the peace village' – and peaceful indeed it is, with no shops or public transport, just a handful of cottages, an 11th-century church and an award-winning pub. This is where Emma Jane Blundell breeds her superstar foals from a stellar selection of mares
, and while the village near Thirsk, North Yorkshire, may be geographically very distant from Britain's 'dressage hub' in the Cotswolds, it is certainly not distant at all in spirit – in terms of quality being produced, ambition and determination.
Emma doesn't come from a horsey background, but she was horse-crazy from a young age. Eventually, at seven she persuaded her parents to take her for riding lessons at a local riding school and progressed from there onto having her own pony. Her first dip into competitive sport was in showing, as this was the riding school's primary focus; she started showing aged ten and continued until a few years ago. In these 15 years, Emma collected all the big titles, competing a total of over 50 horses in arenas right up to the Horse of the Year Show. "Quite often I'd compete up to ten different horses in a season, but because I had started from when I was young it inevitably got a bit boring even of bringing new novices out each season: so I started doing more dressage-specific training with my show horses, which I found more interesting and stimulating. Some of these horses were ultimately working at medium level and that was the start of me training with John Lassetter of Goodwood in Sussex. When I was 17, I bought a grand prix schoolmaster from John, to teach me the advanced movements at home," she explains.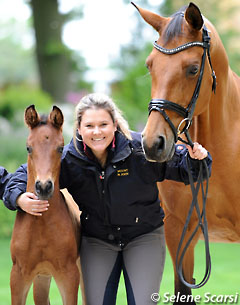 Although initially Emma had no competitive ambitions in dressage, the development training increasingly drew her. When she turned 20, with no previous competitive experience in the sport, she decided to try for the Young Rider team and purchased Fabiola, a former Para team horse. The mare was based at John's, which meant a 14-hour round trip every single weekend to go and ride. "We competed her very successfully at national level, but ten days before our very first international she went lame. It was one of the most depressing episodes of my life. I immediately considered breeding from her, but didn't succeed in getting her in foal." So the family decided to buy a new horse, and at this point it made sense to look for a potential Under-25 grand prix horse. FBW Deja Vu (Dacaprio x Gluckspilz) was purchased from Simon Kohlenbrenner of Pferd24, through whom Emma had already found Fabiola. The 17hh chestnut mare was a former Bundeschampion (2003, as a three-year-old), a bronze medallist two years later at Verden's World Championships for Young Dressage Horses, and, by the time Emma bought her aged seven, was already showing everything for grand prix and was ready to come out at small tour. She sounded absolutely perfect, but unfortunately she picked up a suspensory injury a few months after purchase before even getting to compete and, despite Emma trying everything to get her back to fitness, she just couldn't sustain the intensity of the work at the level.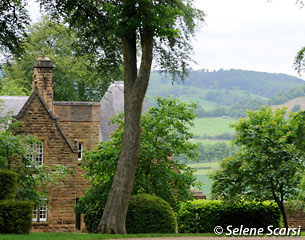 Proof that every cloud, however upsetting, has a silver lining, is that Emma used the recovery time to try ET. The chosen stallion was For Compliment and the resulting filly was Front Row, now five. "We were delighted with her – she is a very good mover, and a strong type. To run alongside her, we bought a Fidermark x Donnerhall filly from the Verden auction, named Freestyle, so that they could grow up together. Unfortunately Front Row got injured in the field and started breeding when she was three, with a foal last year; Freestyle however went on to qualify for the BD Nationals and Badminton and Shearwater young horse classes all on her first attempt." It was the first time Emma had ridden at the Nationals, and a bonus on a horse raised and produced at Mount St John from the start.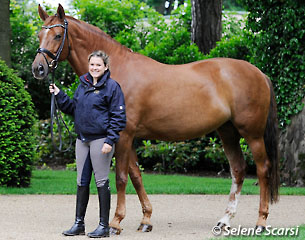 Every year since then, Deja Vu has produced a filly (two by Fürstenball, one by Totilas, and another one by Fürst Heinrich), while for her 2009 For Compliment filly, Front Row, Emma chose Sir Donnerhall in 2012 producing an outstanding filly who has been retained, and San Amour this year, the resulting colt (the first from the Deja Vu line) selling to Paul Schockemöhle.
For the past five years, Emma has also been purchasing foals –up to five per year– mostly from auctions on the continent, acquiring increasingly sound knowledge of bloodlines. Travelling to Holland and Germany was invaluable in helping her develop an eye for what the market wants and to improve her familiarity with the different bloodlines. This thirst for knowledge also applies to the choice of stallions, of course. Although Mount St John's main line is the D blood, with 70% of the broodmares carrying that line through three direct Donnerhall daughters and seven further mares by Donnerhall sons or grandsons, Emma always likes to try different stallions. "I am not normally someone who would repeat things very often. Choosing stallions is 100% my decision and, again, is the result of attending as many shows, auctions, mare championships, and stallion licensings as possible. I go and see as much as I can; I really make an effort to get to know trainers, riders, competitors so I can try and find out what the horses are like 'behind the scenes'. That's fundamental."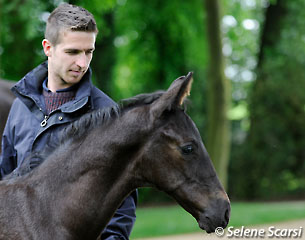 One case in point is Charmeur. One might have been put off by his airs above the ground at the last World Championships, but Emma had also previously seen him cope beautifully with a similarly electric atmosphere in Den Bosch, and was therefore able to put down the Verden performance to simply a bad day. "Because I had seen him in Den Bosch, I could put his Verden antics in context of his breeding duties and immense pressure. I thought that on a calm mare he could complement her and add movement, and I am happy with my decision because he has brought a lot to the mares I selected him for," she says. Indeed, the KWPN stallion has produced one of the best colts of this year's crop, the stunning MSJ Charmer sold to Charlotte Dujardin. "The only way to keep on refining what we have all the time is trying different lines. I am not against unproven stallions if I know their dam line very well. If you know what's behind, it's a lot easier to try different things and even take a risk on an unproven sire." Of course, constantly re-evaluating her programme is also key. "Being over-critical helps me select better and better every time. It helps me refine things all the time; I will always be the most critical person of my horses. If you say everything is wonderful all the time, there's something wrong," she explains. "I am disappointed if every year I don't breed something better than their mother." With such quality mares, that must be a challenge.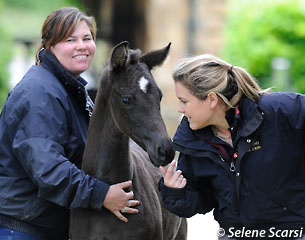 She has invested significantly in a dreamy selection of top-class mares: full sisters to stallions such as Rubinstein, Desperado and Fürst Fugger, half sisters to Fürstenball, Rock Forever and For Romance, Farouche's granddam, and so forth – some of the older ones are mares whom previous owners were struggling to still get in foal, but whom Emma can, thanks to the latest technological advances and having her own vet on site, a decision which is proving to be most efficient both financially and logistically. So, every year, internationally renowned Dutch vet Eric Klaui, a leading authority on equine reproduction, flies in from Australia and lives on site for the duration of the breeding season, "because, when you have over 20 ETs per season, it actually makes sense to have a live-in vet, who can monitor the cycle of every single mare to identify the best moment for fertilization and for the transfer into the surrogate mare." Eric has been fundamental in the development of the business, also aiding with the design of facilities and, three years on, is a key part of the team and business development.
Such sound business foundations are one of the pivotal aspects of Mount St John, and also one of the main traits differentiating this stud from others. Everything in Emma's breeding programme makes complete business sense. And perhaps unsurprisingly, the turning point that really ignited the business was academic rather than sporting: it was Emma's University years, spent in Manchester studying Business Management, that convinced her it really was a possibility to create a viable business out of her passion for dressage.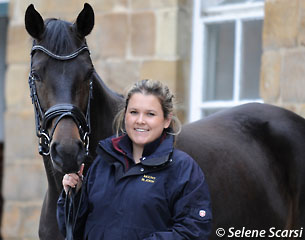 "I chose to write my undergraduate dissertation on developments in equine reproduction and implications for the business of sport breeding. In other words, looking at how things such as AI, frozen semen, embryo transfer, harvesting, would impact the sport – the possibility of having mares in sport, breeding from geldings through cloning, and so forth," Emma says. "I really loved it and was really lucky that my supervisor had a specific interest in cloning. I enjoyed it so much I could have done a PhD in it. My supervisor then put me forward for a fully-funded scholarship for a Masters degree – which I had no intention of doing, but when I won I thought it wrong to give up such an opportunity, and it turned out to be immensely useful. I knew I wanted to work in horses, but didn't know how to make it work. The whole year of the Masters in Entrepreneurship was about how to make a business concept feasible. Having to create my own business plan, thinking of marketing schedules, presenting financial plans to people who had no idea about horses at all, were all incredibly useful. At the end of the year I came home completely raring to go and that was three years ago; I then registered the business two years ago." This strong academic, as opposed to equestrian, background has also helped her think outside the box. For instance, visiting cattle farms taught her about lighting, ventilation and temperature control, which helps the mares cycle sooner in the year.
Part of the meteoric rise of the stud is the fact that Emma kept it quiet at the beginning. "I've always wanted to do things 100%. When I was at University my time was devoted to that – I didn't want to talk about the stud because I wouldn't have been able to give 100% to it. Even though my breeding programme had effectively already started, albeit on a smaller scale, my focus was on my degree, and after that I got enormous confidence from having not told anyone, but having good foals already."
Last year was Mount St John's first big foal crop, from which Emma sold foals to the Eilbergs, the Ryans in Australia, Zoe Sleigh, Darryl Thickitt and others. Emile Faurie's purchase of a youngster was particularly confidence-boosting: "Emile came to Mount St John to train me, and I was proudly showing him round, when he bought a youngster from the field – just like that. That gave me so much belief in what we were doing and he has been a huge support to me and the breeding programme since." This year she went one better, making the news worldwide for selling two colts to Charlotte Dujardin, plus others to Schockemöhle and Fürstenball's owner Lone Bøegh Henriksen.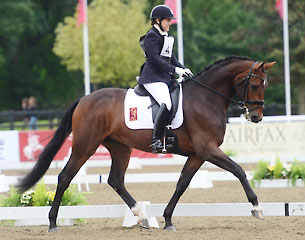 "Now that some of the first foals are turning three or four, they are old enough to start going out in sport. Therefore, my next main objective is finding a suitable rider to be based here. We are in the process of building a 12-horse competition barn, and will keep the breeding mares in the stables we have now for foaling and sports mares."
Emma herself is still active competitively, although she now fits the riding around the breeding rather than vice versa; as well as some of the youngsters, she is also showing Keystone Diaz, her grey Dimaggio x Galant mare who is competing at inter I and training towards grand prix. "I am hoping she can be the first horse I take to grand prix. I feel it's important for me to stay riding at a good level, so that I can keep things in perspective from a rider's point of view. For sure the focus of what I am trying to breed has slightly changed, though; at first I was trying to just get nice horses for me to ride from my injured sport horses, while now I aim for really top horses for the international circuit, whether it is youngsters or grand prix. This combination of developing my riding to a more advanced level and breeding has helped me realize what the pro riders need." And this is what Emma intends to deliver. "It would be amazing if one day we could have Michael, Charlotte, not to forget Laura on her homebreds, all on British-bred horses getting gold medals. It really would be unbelievable – of course as long as Schockemöhle doesn't buy them all," she says tongue-in-cheek.
The official Mount St John webpage is www.mountstjohnequestrian.co.uk
Mount St. John has its annual open day on Saturday 5 July 2014. Don't miss it! More info here
Photos © Selene Scarsi, Thomas Bach Jensen, Kevin Sparrow
Related Links
Dujardin Invests in Future Stars of Dressage from Mount St. John
Half Moon Dynasty Wins Future Elite Championship at 2013 British Horse of the Year Show
What's Happening: January 2010 - Part 3
Eldorado and Romanno Stromboli Win 2013 British Young Horse Championships
Donatella Versace, Top Seller at 2012 Klosterhof Medingen Auction
Clinton Star, Price Highlight of the 2012 AOS Auction
FBW Dejavu, Belle Vue, Bronze at 2005 World Championships
FBW Dejavu and Dablino Complete the Top Five
Here I Am and FBW Dejavu Win Bundeschampionate Qualifier in Prussendorf