German Dressage News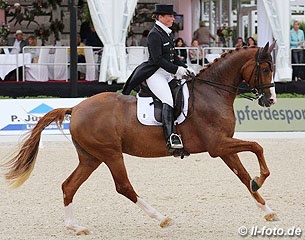 German team trainer Monica Theodorescu has announced the team that will represent Germany on home turf in the Nations' Cup competition at the 2014 CDIO Aachen on 17 - 20 July 2014. The German team for Aachen will most likely be the team for the 2014 World Equestrian Games.
Based on the performances of the riders at the first German WEG Selection Trial at the 2014 CDI Perl this weekend, Theodorescu was able to make her pick.
The selected riders are
Matthias Alexander Rath - Totilas
Kristina Sprehe - Desperados
Isabell Werth - Bella Rose
Helen Langehanenberg - Damon Hill
Aachen is the second German WEG Selection Trial after which the official WEG team will be annpunced.
Photo © Astrid Appels
Related Links
Eurodressage Coverage of the 2014 CDIO Aachen
Totilas Rises to the Top in German Point Fest at 2014 CDI Perl