2014 Bundeschampionate Qualifier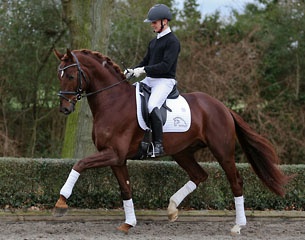 The 5-year olds Step Up and Botero, and the 6-year old Maddoc won the L and M-level dressage horse test that served as qualifier for the 2014 Bundeschampionate at the regional show at Gut Haller in Kaarst-Buttgen on 20 - 22 June 2014. Fourteen 5-year olds and eight 6-year olds lined up at this show to contact the qualifier.
In the 5-year old division two combinations scored the winning mark of 7.8. Annabel Frenzen and the Rhinelander gelding Step Up (by Sir Donnerhall x Ehrentusch) got 8.5 for trot, 7 for walk, 8 for canter, 7.5 for submission and 8 for general impression, while Martin Pfeiffer and the Westfalian stallion Botero (by Biasini x Rosenkavalier) earned 8 for trot and canter, 7.5 for walk and submission and 8 for general impression.
Lydia Camp and her father's Trakehner gelding Maddoc (by Kasimir x Lucito) aced the M-level dressage horse test for 6-year olds, scoring 7.8. Two combinations tied in second place with 7.7. They were Janine Ebben on Karl Klosters' Rhinelander gelding Lord Lucky (by Lord Loxley x Lancer II) and Austrian Christian Reisch on Sandra Meisen-Mohr's Oldenburg gelding Feivel der Mauswanderer (by Fidertanz x Donnerhall). 
Results - 2014 Bundeschampionate Qualifier - Kaarst
5-year olds
1. Step up (by Sir Donnerhall I x Ehrentusch) - Frenzen,Annabel  -  7.80
1. Botero (by Biasini x Rosenkavalier) - Pfeiffer,Martin  -  7.80
3. Dahlie (by Damon Hill x Sandro Hit) - Frenzen,Annabel  -  7.70
3. Rainbowdancer (by Rock Forever I x Dimension) - Liebenstein,Wendy  - 7.70 
5. Bertolino (by Basic x Florestan) - Wyen,Franziska  - 7.60   
6. Finja P (by Flatley x Rotspon) - Knieps,Eva Julia  - 7.50   
7. Fiesta Bonita (by For Compliment x Rubinstein) - Dornbracht,Ann-Kristin  - 7.40   
7. Rotruschels (by Royal Doruto xWelt Hit II) - Ernst,Tanja  - 7.40   
7. Depiereux B (by Damsey ) - Negri,Anna  -  7.40   
10. Bonnie Blue (by Belissimo M) - Ammeling,Karin  - 6.90   
11. La Lutzi (by Lugato x Roman Nature) - Brinckmann,Iris  - 6.70   
11. Fideno (by Fidertanz x De Niro) - Ammeling,Karin  - 6.70   
13. Brentinos Highlight (by Brentano II x Weltmeyer) - Schomaker,Julia  - 6.60   
14. Caline B (by Castellini x Certus) - Brinkmann-Gerlach,Susanne  -  5.90
6-year olds
1. Maddoc (by Kasimir x  Lucito) - Camp,Lydia  - 7.80
2. Lord Lucky (by Lord Loxley x Lancer II) - Ebben,Janine   - 7.70 
2. Feivel der Mauswanderer  (by Fidertanz x Donnerhall ) - Reisch,Christian  - 7.70
4. First Flush  (by Fürst Piccolo x Worldchamp) - Frenzen,Annabel -7.30
4. Jakarta  (by Jazz Rubin x Florestan I) - Peters,Maria - 7.30
6. Simsalabim (by Sir Donnerhall x Fidermark) - Camp,Lydia  - 7.20    
7. Le Schelm (by Lugato x Roman Nature) - Brinckmann,Iris  - 7.10
8. Louisa (by Lord Loxley x Riccione) - Camp,August - 6.80
Related Link
Eurodressage Coverage of the 2014 Bundeschampionate