2014 CDI Caen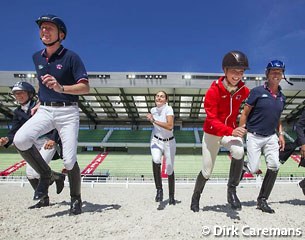 Conditions at the d'Ornano Stadium, main venue for the 2014 World Equestrian Games in Normandy (FRA), have met with extremely favourable reactions from National Federations and athletes attending the final test events before the Games get underway on 23 August.
The focus has been on Dressage over the past two days, with 15 riders from nine nations competing in Grand Prix, Grand Prix Special and Freestyle to test all areas of the organisation, including the field of play and training areas, footing, results and timing systems, as well as the back of house facilities, stabling, horse arrival and departure areas, and media services.
"It's a really fantastic stadium and the sports side is top-class", FEI Dressage Director Trond Asmyr commented after two days of Dressage competitions. "Of course as it's a test event we will need to go through all the small details to be sure that if anything needs to be worked on or improved that it's done, but the starting point is excellent and everyone is very much looking forward to coming back to Normandy in August."
Carl Hester, a member of Britain's Olympic gold medal team at London 2012, acted as foreign rider representative for Dressage and also took top spot in today's Grand Prix Special with Nip Tuck, reversing Monday's Grand Prix placings with team mate Gareth Hughes (DV Stenkjers Nadonna). Hester was also impressed with the venue set-up.
"It's going to be brilliant," he said. "It's absolutely spot-on from a structural perspective. The footing is excellent and it will only improve for staying in place between now and the Games so that we can really ride to the maximum. It was definitely worth coming here and it should give the riders lots of confidence going into the Games."
Nathalie zu Sayn-Wittgenstein (DEN), who finished third on both days with Fabienne, was also complimentary about the venue and organisation. "I came here with no expectations and have been really positively surprised," she said. "The footing is really nice, the stables are good and the access is excellent. I'm very confident that things are going to work out well here."
As CEO of the Games Organising Committee, Fabien Grobon is the man in overall charge of ensuring that everything is in place in time for the Games, and he too was pleased with the first two days of the final test event.
"The two days went as expected, and even though we decided not to have spectators for the Dressage so that we could test other aspects, we had a great show for the horses. Now we need to stay focused for a lot more horses in the Jumping and a big crowd coming tomorrow when our goal is to welcome around 24,000 spectators to the venue. We've had a lot of very positive feedback so far, but although the test events are a vital part of the process, we must remember this is only a test. What really matters is August."
by Louise Parkes for the FEI
Photo © Dirk Caremans
Related Links
Scores 2014 CDI Caen
2014 CDI Caen, Dressage Test Event in Caen for 2014 World Equestrian Games
Eurodressage Coverage of the 2014 World Equestrian Games