KWPN Breeding News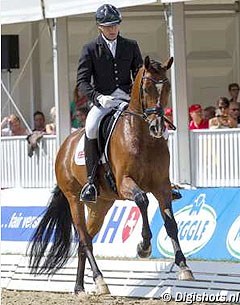 A UK based Pavo Cup qualifier will once again take place during the Festival of Dressage CDI at Hartpury College on Friday 11 July 2014. The Pavo Cup pre-selection will give British riders the opportunity to qualify their Dutch bred horses for the semi-finals in Ermelo.
The Pavo Cup is a competition for talented four- and five-year-old dressage horses in which they are evaluated in groups of two as they perform various dressage movements in front of an experienced panel of KWPN judges. Four-year-olds are required to show the walk, trot, and canter in both directions as well as a few strides of medium trot, medium canter, and leg yield. Five-year-olds must show the basic gaits plus extended trot, extended canter, and shoulder-in. Horses are judged on their basic gaits, carriage & elasticity, overall impression, and functionality & correctness of conformation.
The Pavo Cup qualifier will take place at the CDI 3* on Friday 11 July in Hartpury College's International Arena. The competition is open to four- and five-year-old dressage horses which meet the registration requirements outlined in the competition rules. Only horses registered with the KWPN or KWPN-NA or those which were registered as foals with the NRPS, as described in the competition rules, are eligible to qualify for the semi-finals held at the KWPN Horse Days event in Ermelo.
Over the past years, KWPN is the most succesfull studbook in dressage. Horses like Valegro, Uthopia, Totilas and Parzival stole the hearts of many dressage lovers all over the world. The first two contributed to the Olympic gold of Team Britiain at the unforgettable London Olympics. KWPN has a large number of breeders in the UK. Especially for those and everybody else who ownes or rides a KWPN dressage horse KWPN organizes the Pavo Cup pre-selection in the UK.
Related Links
Eva Vita Shines at 2013 Pavo Cup Qualifier in Hartpury
Cashmir Excels at 2012 Pavo Cup Qualifier in Hartpury
Pavo Cup Qualfiier to be Held at 2012 CDI Hartpury