2014 World Championships for Young Dressage Horses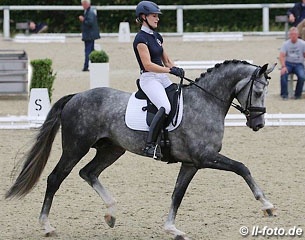 Twenty-seven horses have qualified to move on to the second round for German team selection for the 2014 World Young Horse Championships in Verden after the first observation trial at the DOKR head quarters in Warendorf on 17 - 18 June 2014.
The first trial was a two-day event during which the horses had to be presented in a training session on Tuesday, followed by a test day on Wednesday in which the horse and rider combinations had to perform the 5 or 6-year old preliminary test.
Fourteen 5-year olds and thirteen 6-year olds are invited to contest the second trial in Warendorf on 2 July 2014.
The selected 5-year olds are:
Bodyguard (Hanoverian by Burlington x Pik L) - Jana Freund
Brancusi (Trakehner by Kaiserdom x Cupric xx) - Monika Mittermayer
Cindy (Oldenburg by Sir Donnerhall x Fürst Heinrich) - Hermann Gerdes
Daley Thompson (Westfalian by Damon Hill x Lauries Crusador xx) - Claudia Rüscher
Belantis (Westfalian by Benetton Dream x Expo'se) - Beatrice Buchwald
Ernesto (Westfalian by Ehrenwort x Florestan) - Claudia Rüscher
Escolar (Westfalian by Estobar x Fürst Piccolo) - Hubertus Schmidt
Fairplay H (Württemberger by Fürst Hohenstein x Disco-Tänzer) - Ines Knoll
Ferdinand BB (Hanoverian by Florencio x Lanciano) - Jessica von Bredow-Werndl
Placido Domingo (Trakehner by Dorkas x Hohenstein) -Mikael Ketelsen (Dänemark)
Samoura M (Westfalian by San Amour x Ferragamo) - Ann-Christin Wienkamp
Saphira (Rhinelander by San Amour x Monteverdi), - Kira Wulferding
Soiree d'Amour (Oldenburg by San Amour x Latimer) - Kira Wulferding
Stanford (Rhinelander by Sir Donnerhall x Diamond Hit) - Dorothee Schneider
The selected 6-year olds are:
Cassiopaya (Rhinelander by Cassini Boy Junior x Lanciano) - Jana Freund
Den Haag (Westfalian by Diamond Hit x Florestan) - Beatrice Buchwald
Don Daxau (Oldenburg by Diamond Hit x Sandro Hit) - Eva Möller
Donna Rica (Hanoverian by Don Frederico x Weltmeyer) -  Nicole Kirschnick
For Comtess  (Westfalian by Florenciano x Show Star) -  Stefanie Wolf
Franziskus (Hanoverian by Fidertanz x Alabaster) -  Ingrid Klimke
Hotshot (Hanoverian by Hotline x Donnerhall) - Hermann Burger
Loveliness (Hanoverian by Lord Loxley x Latimer) -  Charlotte Rummenigge
Quaterhall (Hanoverian by Quaterback x Donnerhall ) -  Wolfhard Witte
Flamboyant (Oldenburg by Fidertanz x De Niro) - Marita Pundsack
Sir Heinrich (Oldenburg by Sir Donnerhall x Fürst Heinrich) - Anja Wilimzig
Sir Ricco (Hanoverian by Sir Donnerhall x Riccione) -  Ann-Christin Wienkamp
Steppo (Westfalian by Spielberg x Hohenstein) - Annemarie Finger
Photos © LL-foto
Related Links
Eurodressage Coverage of the 2014 World Young Horse Championships
Two German WCYH Selection Trials Scheduled for 2014