2014 CDN Overijse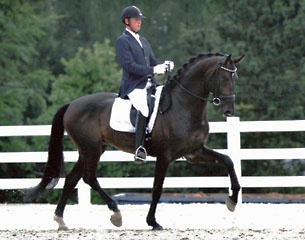 At the fifth and last trial for Belgian team selection for the 2014 World Young Horse Championships, the 5-year old El Capone and the 6-year old Bilan reigned supremen. The last trial was held at the Royal Country Riding Club in Overijse, Belgium, on 14-155 June 2014.
In the 5-year old division Tom Heylen and El Capone (by Tuschinski x Camus) claimed their fourth victory out of five shows. In Overijse they scored 83.80 and secured a definite ticket to Verden. Dominique Mohimont and El Corona Texel (by Wynton x
Goodtimes) were the runners-up with 80.20 points, while Tom Heylen was also third on Jar of Ballmore (by Gribaldi x Sunny Boy) with 79.80%.
The German based Belgian Carl Cuypers won the 6-year old division aboard the Swedish warmblood Bilan (by Bocelli x Donnerschlag). He scored 78.800 points but had Dutch Rob van Puyenbroek on his heels on the Oldenburg bred Seymour (by San Amour x Friedensfurst) with 78.40 points. Tom Franckx and Dolores van de Kwikaar (by Zucchero x Royal Dance x Sion) were third with 76.80.
The show in Overijse also hosted a 4-year old division for the rising youngsters. Dutch Veronique Swagemaekers topped the leader board with 84.00 on the Oldenburg licensed stallion Sixth Sense (by Sir Donnerhall I x Florencio). Mario van Orshaegen and his Oldenburg licensed stallion San Amour II (by Sandro Hit x Plaisir d'Amour) were second with 83.20 points, followed by Domien Michiels with Kokoschka van de Burggrave (by Rubiquil x Krack C) on 80.40. 
Results - 2014 Belgian Young Horse Qualifier - Overijse
4-year olds
1. Swagemakers Veronique  -  Sixth Sense -   84,000 
2. Van Orshaegen Mario  -  San Amour II   -  83,200
3. Michiels Domien   - Kokoschka Van De Burggrave -  80,400
4. Clermont Anemone  -  Future'S Pride  -    78,000  
5. Prevost Amandine -   Quaterdance  -  76,600  
6. Gils Caro  -  Flashpoint  -   76,000
7. Laevens Kevin  -  Kozinsky Vd Dries -  74,400   
8. Verguts Anneleen  -  Stedifee H Z - 73,000
9. Van Hoey Wim  -  Figo -  72,200  
10. Cool Isabel  - Faithfull  -  71,400  
11. Opsomer Laura   - Kwarterline  -  71,000  
12. Vanpottalsberghe Maya  -  Berreaux  -   69,400
13. Kass Martine  -  Barclay    - 69,00
13. Vandenbroucke Stephanie  -  Bridget Jones Lzg - 69,000 
15. Cool Isabel  - Freedom  - 67,800
16. Marchant Julie    Flash  -  64,600    
5-year olds
1. Heylen Tom  - El Capone  - 83,800 
2. Mohimont Dominique   -El Corona Texel -  80,200 
3. Heylen Tom -  J-ar of Ballmore -  79,800 
4. Verreet Katrien   Quorum Y  - 76,600 
5 . Schuurmans Cindy  - Sambuca Tategoi - 75,000  
6. Van Laer Nick -  Just A Little Bit Krack V/h Klaverhof  -   73,400
7. Tonnaer Jacqueline -   Evita - 73,200 
8. D'Hoore Brecht  -  Sicilia van de Helle -  73,000  
9. Masselus Barbara -   Jersey Girl - 72,800  
10. Meisch Linda  -  Jane Toja - 72,600  
11. Franckx Tom  -  Evento d  -  72,200
11. De Keyser Heidi  -  Jebe van het Keysersbos  -    72,200 
13. Himeleers Kelly  -  Espresso De La Fazenda  -  72,000 
14. Van Laer Nick -  Entertainer Win T  -   71,400  
15. Cool Isabel  -  Enjoy Me  -  70,200
16. Graindorge Jean -   Exel - 69,600   
17. Cappon Mieke  -  Jinta  -  68,800  
18. Van der Leest Gigi  -  Evita B  -  68,000   
19. Hassani Naoufal  -  Ariane's Quazotti  -  67,000  
20. van der Horst Dominique  -  Wolfshoeve's Excel -  65,400
21. Urbain Laurent   - Leo - 61,000
6-year olds
1. Cuypers Carl  -  Bilan  -   78,800
2. Van Puyenbroek Rob  - Seymour  -   78,400 
3. Franckx Tom  -  Dolores van de Kwikaard -  76,800 
4. D'Hoore Brecht -   Darcy  - 76,600
5. Vanderbeeken Laurens  -  All Inclusive  -  74,800    5
6. De Cock Isabelle  -  Dinka - 72,000
7. Van Oekel Daphne  -  Faraon Alegria  -  71,200
7. Borrey De Coninck Eline  -  Davinci -   71,200 
9. Baptista de Almeida Antonio   - Dayfony SMH -   65,800 
10. Hassani Naoufal  -  Ariane's Wadest   -    65,200
11. Dieleman Astrid   - QC Loverano - 62,000    
Related Links
Eurodressage Coverage of the 2014 World Young Horse Championships
El Capone and All Inclusive Win Fourth Belgian WCYH Trial at 2014 CDN Flemalle
El Capone and Seymour Win Third Belgian WCYH Trial at 2014 CDN Schilde
El Capone and Bilan Win Second Belgian WCYH Trial at 2014 CDN Moorsele
El Corona Texel and All Inclusive Win First Belgian WCYH Trial at 2014 CDN Zandhoven