2014 Bundeschampionate Qualifier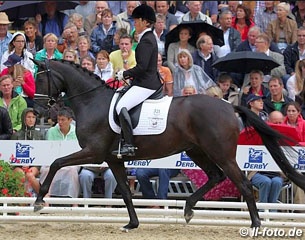 The 5-year old Saphira and the 6-year old Franziskus topped the leader board in the L and M-level Bundeschamionate qualification classes for dressage horses at the regional show in Iserlohn, Germany, on 7 - 9 June 2014. The 5-year olds were judged by Arndt Wiebus, Dieter Scheermann and Ralph Schmidt, the 6-year olds by Scheerman, Wiebus and Heinz Holger Lammers.
In the 5-year old division Kira Wulferding and the Rhinelander mare Saphira (by San Amour x Monteverdi) aced the class with a strong 8.7 total score. Ann Christin Wienkamp and the Westfalian stallion Ray Dance (by Rockwell x Van The Man) were second with 8.2. Two combinations tied in third place with 8.0:  Claudia Ruscher on the Hanoverian stallion Belconi (by Belissimo M x Rubin Royal) and Anja Wilimzig on the Westfalian stallion Rational (by Rock Forever x Bormio xx).
Stallions continued to rule the roost also in the 6-year old class, with Ingrid Klimk ena dthe Hanoverian licensed stallion Franziskus (by Fidertanz x Alabaster) claiming the trophy with an 8.7 earning test. Three pairs finished second with 8.0: Eva Möller on  Victoria Michalke's Don Daxau (by Diamond Hit x Sandro Hit), Martin Pfeiffer on Superlo (by Sorento x Rheingau) and Andrea Ulmker on Davidoff (by Diamond Hit x Matcho AA).
Photo © LL-foto
Results - 2014 Bundeschampionate Qualifier - Iserlohn
5-year olds
1. Kira Wulferding - Saphira (by San Amour x Monteverdi) 8.7
2. Ann Christin Wienkamp - Ray Dance (by Rockwell x Van The Man) - 8.2
3. Claudia Ruscher - Belconi (by Belissimo M x Rubin Royal) - 8.0
3. Anja Wilimzig - Rational (by Rock Forever x Bormio xx) - 8.0
5. Ann Christin Wienkamp - Samoura M (by San Amour x Ferragamo) - 7.7
6. Eva Möller - Flirtfaktor (by Furst Romancier x Prestige Pilot) - 7.5
6. Claudia Ruscher - Ernesto (by Ehrenwort x Florestan) - 7.5
9. Viktor Pomaresch - Dark Berry (by Don Primus x Diamond Hit) - 7.4
10. Frank Ostholt - Serfino V (by Serano Gold x Filigranà - 7.2
11. Juan Manuel Vidal Testal - Charry O (by Casiro x Silvio) - 7.1
12. Jan Steiner - Lugatoni (by Lugato x Artwig) - 7.0
13. Johanna Klippert - Furst Nymphenburg II (by Florencio x De Niro) - 6.9
14. Verena Theymann - Berkeley (by Basic x Consul) - 6.6
15. Christian Ridder - Captain Collin (by Captain Fire x Collin L) - 6.4
Claudius Becher - Soraya (by Sarkozy x Rascalino - RET
Erik Butjer - Supreme (by San Amour x Diamond Hit- - RET
6-year olds
1. Ingrid Klimke - Franziskus (by Fidertanz x Alabaster) - 8.7
2. Eva Möller - Don Daxau (by Diamond Hit x Sandro Hit) - 8.0
2. Martin Pfeiffer - Superio (by Sorento x Rheingau) - 8.0
2. Andrea Ulmker - Davidoff (by Diamond Hit x Matcho AA) - 8.0
5. Johanna Klippert - Hollister (by Hotline x Don Fredrico) - 7.7
5. Charlotte Dassler - Quentin Tarantino (by Quaterback x Wanderkonig) - 7.7
5. Kira Wulferding - Benaglio (by Breitling x Partout) - 7.7
8. Luisa Emmerich - Daytona E (by Dream On x Show Star) - 7.6
8. Ingrid Klimke - Geraldine (by Furst Grandios x Tolstoi) - 7.6
10. Lilian Schilling - Diba (by Damon Hill x Dream of Heidelberg) - 7.5
10. Monica Huppe - La Florence (by Lord Loxley x Rhytmus) - 7.5
10. Christina Hammann - Bella Donna (by Belissimo M x Rubinstein) - 7.5
13. Carola Koppelmann - Looks Like Riccioli (by Lauries Crusador xx x Westwall) - 7.4
14. Senta Kirchhoff - Dujardin (by Dancier x Akatchi) - 7.3
14. Svenja Bachmann - Sapeur (by San Amour x Lancer III) - 7.3
16. Annika Jedrkowiak - Riodoro (by Royal Blend x Cordoba) - 7.2
17. Andrea Timpe - Linley B (by Lord Loxley x Rockwell) - 7.0
18. Claudius Becher - For Set (by Florianus x Royal of Loh) - 6.8
Related Links
Eurodressage Coverage of the 2014 Bundeschampionate