2014 U.S. Dressage Championships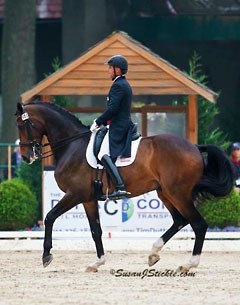 The U.S. Dressage Champions (aka Festival of Champions) got underway on Thursday 12 June 2014 under gloomy, drizzly skies at the USET Foundation Headquarters in Gladstone, NJ. Steffen Peters and Legolas began their quest for a third consecutive Grand Prix  Title with a win in the Grand Prix. Additionally, Peters kicked off the day claiming the top two spot in the first test of U.S. Intermediaire I Championship. Katrin Dagge and Dream of Love impressed in the Under 25 Championship to close out the first day of competition.


The Grand Prix Championship

The Grand Prix Championship and Selection Trial for the U.S. Dressage Team Short List for the 2014 World Equestrian Games got underway with the first of three tests on Thursday. All 16 Big Tour combinations performed the Grand Prix Test to earn the initial 45% of their championship total. The awards ceremony of the opening class having a distinctively Olympic feel as the three top placings were occupied by the U.S. Team members from the 2012 Games with Peters, Jan Ebeling, and Tina Konyot led the victory gallop.
Peters (San Diego, Calif.) and Four Winds Farm's 12-year-old Westphalian gelding earned the top mark in Grand Prix, scoring 75.160%, to finish nearly two points ahead of the second-place combination. The 2012 and 2013 National Champions suffered a bobble in the first piaffe and the two-time changes but produced consistent work through the rest of the test to land atop the leaderboard on Thursday.
"It was not our best test but he made up for it with his half-passes and second and third piaffes," said Peters of Legolas' Grand Prix performance. "It certainly was not our best but we'll be looking to improve on that in the Grand Prix Special."
While the Bronze medalist from the 2010 World Equestrian Games had wished for a better performance for himself, he was pleased to see how well the younger riders and rising stars of the sport did on Thursday.
"I thought it was so exciting to see our youngsters in the Grand Prix," said Peters of the future of dressage in the United States. "That was truly exciting."
Finishing in second place with a score of 73.320% were Ebeling (Moorpark, Calif.) and Beth Meyer, Ann Romney, and Amy Ebeling's 17-year-old Oldenburg mare Rafalca. The Olympic Games and World Cup Final veteran has had a light season in the show ring and arrived in Gladstone ready to peak.
"I'm absolutely thrilled with my horse; she was on, she's fit," said Ebeling. "I think the strategy I've had not showing a lot is really paying off. I'm tickled to death with her."
Finishing in third place on Thursday was Konyot (Palm City, Fla.) with her 16-year-old Danish Warmblood stallion Calecto V on a score of 72.640%.
The Grand Prix Championship and Selection Trial continues on Saturday with all competitors returning to the arena to earn a further 40% of their overall score in the FEI Grand Prix Special.
The Intermediaire I Championship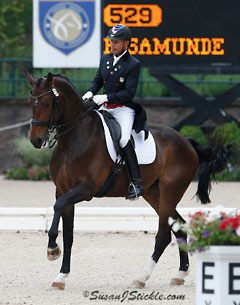 The Intermediaire I Championship started the action on Thursday with 17 Small Tour combinations earning the first 40% of their championship score for the Prix St. Georges Test. In Intermediaire I competition Peters proved doubly unbeatable on Thursday by claiming the first and second spots with Rosamunde and Apassionata, respectively.
"I'm so excited that both mares were so rideable today, now I can get some comments and make some adjustments," said Peters of his two Small Tour horses. "I'm so excited about both of them. I honestly had a blast riding both of them."
As the second horse down centerline on Thursday, Four Winds Farm's Rosamunde, scored 75.974% to stand just over three points ahead of her barn mate after the first leg of competition. The seven-year-old Rheinlander mare displayed athletic and expressive gaits throughout the test as she showcased great potential for the future at the highest level of the sport.
"This is her first championship; it's hard to put into words, she's so special," said Peters of Rosamunde. "She can be spicy but she went right to work. I'm speechless."
Apassionata, Tracy Roenick's eight-year-old Oldenburg mare, was the second ride of the day for Peters and has given the three-time Olympian an excellent chance to earn another National Title as she currently stands second after scoring 72.921%.
Finishing in third place in the Prix St. Georges test was Olivia Lagoy-Weltz (Reston, Va.) with her own 10-year-old Danish Warmblood gelding Rassing's Lonoir on a score of 72.211%.
The Intermediaire I Championship continues on Friday with the FEI Intermediaire I Test with combinations earning a further 45% of their championships score.
US Young Adult 'Brentina Cup' Under 25 Championship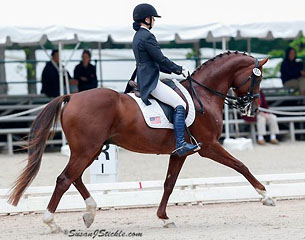 Five pairs performed their US Young Adult "Brentina Cup" Test to earn the first 50% of their championship score in the US Young Adult 'Brentina Cup' Championship. Twenty-two-year-old Katrin Dagge won the class after earning a score of 64.667% with her mother Birgitt Dagge's Dream of Love. The Bonita Springs, Fla., native worked through a moment of resistance with the 13-year-old Oldenburg stallion before entering the arena to perform a lovely test. The pair had quality trot work and good changes, showcasing its partnership.
"We had a moment before we went in where he threw me a curve ball like he has done a time or two before but I rode him forward and through it," Dagge explained. "I was really happy with him and really proud of him."
"Lover," as he is known in the barn, was imported from Germany as a four-year-old and he and Dagge have come up the levels together. On Thursday they had an impressive performance together in their first year competing at the Grand Prix Level.
Hannah Hewitt (Atlanta, Ga.) rode Tammy Pearson's 18-year-old Danish Warmblood gelding Lasall to a second-place finish with a score of 61.795%. They put together a solid test with a nice extended trot and one-time changes.
"He was really good; he had some nervous energy but he listened to me," Hewitt said. "I think our piaffe was better than it has been in the past. He was a very good boy."
Hewitt has been riding Lasall for three years, having previously ridden in the Junior championships at Gladstone in 2012.
Rachel Chowanec (Columbia, Conn.) and Lendon Gray's Embrujado XI finished in third place with a score of 61.487%. Chowanec had a couple mistakes in her test, but performed quite well considering the 16-year-old PRE gelding had his tongue over the bit for most of the test. She was happy to be back competing after her longtime partner "Mouse" had some time off and hopes to improve on Saturday, when the championship comes to a close with the competitors riding the U-25 Grand Prix Test for the remaining 50% of their score.
Related Links
Scores: 2014 U.S. Dressage Championships
2014 U.S. Dressage Champions and WEG Selection Trial Kick off Today