2014 Bundeschampionate Qualifier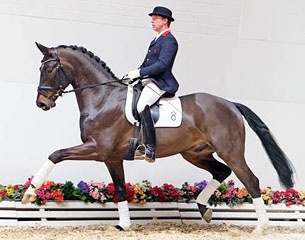 The 5-year old Funfsterne and the 6-year Stern von Afrika were the star horses in the Bundeschampionate qualification classes held at the regional show at Catharinenhof in Wedel, Germany, on 8 - 9 June 2014. The Wedel show attracted a huge field of competitors with no less than 28 five-year olds and 20 six-year olds.
In the 5-year old L-level division Norwegian Isabel Bache bested the field aboard Ilke Boening's Oldenburg mare Funfsterne (by Dimaggio x Karon). The pair scored a very strong 8.7 total score and fended off Stefan Blkanken on Anne-Kathrin Weldt's  Hanoverian mare Best Of (by Belissimo M x Wolkenstein II) who finished second with 8.2. They tied with Kathrin Meyer zu Strohen on her long-time sponsor Detlef Ruddat's Hanoverian mare Sierra Tequila (out of a Conteur dam). This horse, which was previously ridden by Felix Hillmer, also scored 8.2.
In the 6-year old M-level class Frederic Wandres steered Anne Marie Grossmann's Stern von Afrika (by San Amour x Harvard) to victory with an 8.5 total score. Vera Nass and her own Hanoverian mare Fideralala (by Fidertanz x Lauries Crusador xx) were the runners-up with 8.4. Rieke Schnieder and her own Oldenburg mare Sansibar (by Sancisco x Lord Sinclair) completed the top three with an 8.1 score.
Results
5-year olds
1. FünfSterne (by Dimaggio x Karon) - Bache,Isabel - 8.7
2. Best of (by Belissimo M x Wolkenstein II) - Blanken,Stefan - 8.2
2. Sierra Tiquilla (by ? x Conteur) - Meyer zu Strohen,Kathrin-  8.2  
4. Federer (by Fineliner x Longchamp) - Frieling,Sandra  -   8.1  
5. Donziano (by Don Frederico x Lauries Crusador xx) - Gießelmann,Jan-Dirk -  8.0 
5. Setup OLD (by Sieger Hit x Waterford) - Plaster,Nadine -   8.0  
7. Flying Diamant (by Fürst Nymphenburg I x Baroncelli) - Kubelke,Jörn -  7.8 
8. Feu D'Or  (by Fackeltanz x Rohdiamant) - Simon,Anke  -  7.7   
8. Dujardin H.B. (by Dancier x Connery) - Lübbecke,Jolan - 7.7   
10. Schwarzgold (by Imperio x Consul) - Fiebelkorn,Anna-Sophie - 7.6   
10. Dow Jones  (by Kasimir x Hohenstein) - Kracht,Anna-Lena - 7.6   
10. Bellevue  (by Benetton Dream x Weltmeyer) - Brunkhorst,Juliane - 7.6
13. Nightflight (by Elfado x Biotop) - Boer,Wieger Derk de -  7.5   
14. Zauberlord (by Lord Luciano x Friedensfuerst) - Coldewey,Julia- 7.4   
14. Fortissimo (by For Compliment x Taragas x) - Lange,Frank -  7.4   
14. Liesel in Red  (by Locksley II x Crazy Classic) - Frieling,Sandra  - 7.4   
14. Fortuna (by / Fidertanz x De Niro) - Oberdieck,Sabine   - 7.4   
14. Brisbane (by Belissimo M x Fürst Heinrich) - Schnieder,Rieke -7.4   
19. Fairest Cape (by Fidertanz x Canaster I) - Christoph,Nicole - 7.3   
19. Hosianna (by Hofrat x De Niro) - Samuli,Mette -   7.3   
21. David Garrett (by De Niro x/ Caprimond) - Böckmann,Kristina -   7.2   
22. Sherazade (by Scolari x Fürst Heinrich) - Nussbaumer,Jasmin - 7.1   
23. Florence (by Fidertanz x De Niro) - Fiebelkorn,Anna-Sophie -  7.0   
23. Solitario (by Soliman de Hus x Warkant) - Gießelmann,Jan-Dirk - 7.0   
23. Skyfall (by San Remo x A Jungle Prince) - Otten-Willers,Jessica - 7.0   
26. Dark Fellow WAF (by Desperados) - Despontin,Julien - 6.9   
27. Capetown's Chaquita (by Cascari x Calido I) - Giese,Shereen  -   6.7   
28. Christallica (by Cristo x Aurelio) - Johannisson,Lasse-Georg  -    6.2   
6-year olds
1. Stern von Afrika (by San Amour / Harvard) - Wandres,Frederic - 8.5  
2. Fideralala (by Fidertanz / Lauries Crusador xx) - Nass,Vera -  8.4 
3. Sansibar (by Sancisco / Lord Sinclair I) - Schnieder,Rieke -  8.1
4. Lemony's Nicket (by Londonderry / Weltmeyer) - Pape,Susan  - 8.0
5. Kaisertanz (by Kaiserkult / Weltmeyer) - Kracht,Anna-Lena - 7.8
6. Sereno (by Stedinger / Waterford) - Aromaa,Laura  - 7.7   
7. Fritz (by Farewell III / Londonderry) - Fiebelkorn,Anna-Sophie -  7.6   
7. Qantara (by Quaterback / Weltmeyer) - Gießelmann,Jan-Dirk - 7.6   
9. Senor Kampert (by Swarovski / De Niro) - Bruch,Daniela -  7.5   
10. Sarawati (by Sandro Hit / De Niro) - Küppers,Sinja -  7.4   
11. Fürst Doncolo (by Fürst Piccolo / Donnerhall) - Nussbaumer,Jasmin - 7.3   
12. Call me Ana (by Caretino / Quinar) - Sönnichsen,Jana Christin - 7.2   
13. Lorenzio von Nymphenburg (by Londontime / Argentan I) - Waterhues,Markus  - 7.0   
14. For Fantasie (by Fidertanz / De Niro) - Bongardt,Jörg - 6.7   
15. Wanlandi (by Weltmeyer / Matcho AA) - Zimmer,Janine -  6.6   
16. Sunshine  (by San Remo / Frenchman I) - Petereit,Anna Katharina -  6.5   
16. Laurano (by ) - Lens,Jan - 6.5   
16. Deichfürst (by Carpaccio / Cassini I) - Bachmann,Maybritt  - 6.5   
19. Donella (by Don Henrico / Compliment) - Feher,Gabor  - 6.0   
Franny Fine (by Florencio I / Glueckspilz) - Kirschnick,Nicole - RET
Related Links
Eurodressage Coverage of the 2014 Bundeschampionate