Swedish Dressage News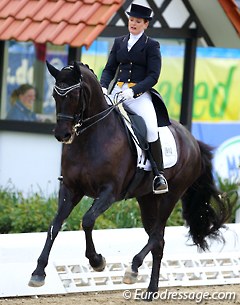 Swedish Grand Prix rider Paulinda Friberg was hospitalized in the intensive care unit in Lund, Sweden, after she fell off a young horse and was kicked in the stomach on the weekend of 18 May 2014.
Friberg was cantering her youngster, when all of a sudden he started bucking. The horse kicked her in the stomach as she fell off. Paulinda was immediately transported to the hospital in Lund and submitted to the Intesive Care Unit. She suffered from a ruptured liver, several cracked ribs and a hole in the pleura.
"I ended up in intensive care for a few days due to bleeding in the liver as a major artery got damaged," Friberg explained. "There was a high risk of an acute hemorrhage."
A hairdresser by profession, Friberg lives close to Flyinge in Sweden, and has made a stellar break through this year on the international Grand Prix show scene. Aboard her talented 13-year old black mare Di Lapponia T (by Donnerhall x Argument). The pair made its national Grand Prix debut in May 2013. One year later they became members of the Swedish A-team.
Friberg has been released from the hospital begin June, but will still have to take it easy.
"I feel much more energetic," she said. "I'm allowed to go on short walks and the doctors told me to rest a lot. Next week I'll be X-rayed again and on midsummer week  I have to visit the doctor again."
Photo © Astrid Appels
Related Links
Scores: 2014 Swedish Dressage Championships
Hogberg and Hendeliowitz Added to Swedish A-Team