2014 CDI Kapellen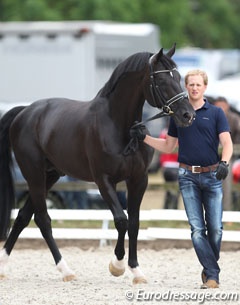 The show grounds of the 2014 CDI Kapellen are buzzing with one word: Totilas. The international 3* dressage event kicked off on Wednesday 21 May 2014 with the youth classes, but lready early in the morning whispers were heard that Totilas might be coming. The news was confirmed when the bright yellow lorry of Matthias Rath arrived on the show grounds at 16h00 with his two black stallions on board, Totilas and Bretton Woods.
On Thursday Rath and Totilas will be competing again in the Grand Prix after an almost two year break from competition due to various fitness and health issues. Trained by Sjef Janssen, Matthias opted for the CDI Kapellen because of its serenity.
"It's very simple. Kapellen gives me the conditions of an international show, but in a quiet surrounding. With Bretton Woods I'll be riding the small tour, while my focus with Totilas will be on the Grand Prix," Rath commented.
Matthias presented a very fit, healthy and well muscled looking Totilas at the vet inspection. The stallion was very relaxed and unimpressed by his surroundings and produced a nice and regular pony trot during the jog in front of the FEI officials and veterinarian.
The 2014 CDI Kapellen Grand Prix starts on Thursday 22 May at 13h00. Eurodressage is on the scene.
Photos © Astrid Appels - NO REPRODUCTION ALLOWED
Related Link
Rath and Totilas to Make Show Come Back Tomorrow at 2014 CDI Kapellen